Begin-run, the race has begun.
You know you gotta 5x get ahead of everyone.
Money talks when you're walking with the living dead.
Dead man walking with the living.
And in the end you stink like shit.
But who's gonna pay for it?
I see the power, one sided struggle.
Spotlight cinema picture via open mind
And if you start to slip through financial pipe
Dreams for a shot at exponential wealth, disgusting.
Look at this blessing, so much integrity.
Lets exploit it and avoid its repercussions
Contributed by Christian R. Suggest a correction in the comments below.
To comment on specific lyrics,
highlight them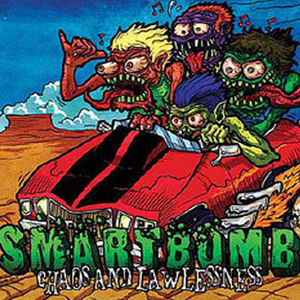 Once dubbed as "No Trigger's side project," Smartbomb is wasting no time shedding the side project ties and is quickly jumping to the frontlines of the punk rock scene. This is evident with their hectic touring schedule but most prominently on their debut full length, "Diamond Heist." With the craft of Jim Siegel (Dropkick Murphys, The Unseen, Give Up The Ghost), "Diamond Heist," which was nearly four years in the making, showcases an obvious progression
Read Full Bio
Once dubbed as "No Trigger's side project," Smartbomb is wasting no time shedding the side project ties and is quickly jumping to the frontlines of the punk rock scene. This is evident with their hectic touring schedule but most prominently on their debut full length, "Diamond Heist." With the craft of Jim Siegel (Dropkick Murphys, The Unseen, Give Up The Ghost), "Diamond Heist," which was nearly four years in the making, showcases an obvious progression since their debut EP "Chaos And Lawlessness" (recorded and self released when they were teenagers and recently re-released on Think Fast!).
-RevHQ
Genre not found
Artist not found
Album not found
Search results not found
Song not found