Defeat
Snuff Lyrics
Your eyes fall
You're staring at your shoes again
Head bowed through a view of the nonsense
A losing streak just left you sitting staring through space
Summer's gone & all the leaves have fallen
On & on the only one to know
Withdrawn
Staring at your shoes again
Same piece of carpet same losing streak
A losing streak just left you sitting staring through space
Summer's gone & all the leaves have fallen
On & on the only one to know
The winter wind blows colder now
The wind blows colder than it's ever blown
Left you sitting staring into space
Summer's gone & all the leaves have fallen
On & on the only one to know
Withdrawn
Staring at your shoes again
Same piece of carpet same losing streak
A losing streak just left you sitting staring through space
Left you sitting staring alone
Your thoughts a thousand miles away
On & on the only one to know
Lyrics © DOMINO PUBLISHING COMPANY
Written by: ANDY CRIGHTON, DUNCAN REDMONDS, SIMON WELLS

Lyrics Licensed & Provided by LyricFind
To comment on specific lyrics,
highlight them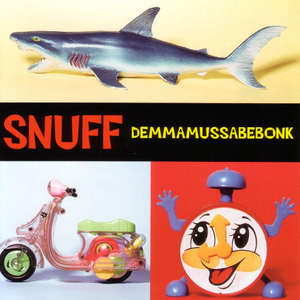 There is more than one artist with this name:

1) Snuff are a British band formed in London, UK in 1986 who primarily play punk rock, but have also veered off into Dub and Ska at times. Their name reportedly came about after a long discussion about names ended up with one of them claiming 'That's Enough', which was then shortened to Snuff. The original line up was Duncan Redmonds on drums and vocals, Simon Wells on guitar and vocals, and Andy Crighton on bass and vocals.
Read Full Bio
There is more than one artist with this name:

1) Snuff are a British band formed in London, UK in 1986 who primarily play punk rock, but have also veered off into Dub and Ska at times. Their name reportedly came about after a long discussion about names ended up with one of them claiming 'That's Enough', which was then shortened to Snuff. The original line up was Duncan Redmonds on drums and vocals, Simon Wells on guitar and vocals, and Andy Crighton on bass and vocals. The band split up in 1991, but re-formed in 1994. The most recent version of Snuff sports Duncan Redmonds still on drums and vocals, Loz Wong on guitar and vocals, Lee Batsford on bass and vocals, Dave Redmonds on trombone and Lee Murphy on keyboard.

Snuff were one of the first British punk bands to be signed onto the influential Fat Wreck Chords label in the USA, and have been credited with paving the way for a second generation of UK bands on the label such as Goober Patrol and Consumed.

02) Snuff is a 4-piece grindcore band from Los Angeles, California, USA. So far, they've had two releases circulate in the underground scene; the 'Violence Solves Everything' demo CD-R from 2008 and their 'Southland Grindcore Assault' full-length CD from 2012.

03) Snuff is a Ukrainian Metalcore band.

04) Snuff is an American Southern (Country) Rock band. The band was active in the 70s and 80s.

05) Snuff is an anonymous Finnish power electronics project. They currently have cassette and LP releases on Bizarre Uproar's Filth & Violence label.

06) Snuff was the name used by Moler for their first EP Driven
Genre not found
Artist not found
Album not found
Search results not found
Song not found