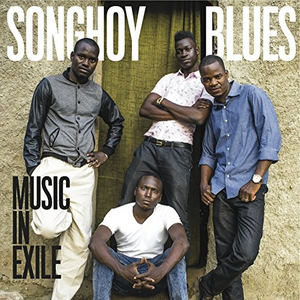 Songhoy Blues are a desert blues-punk band from Timbuktu, Mali. The band were exiled to Bamako during the unrest in Mali. The band features Aliou Toure, Oumar Toure, Garba Toure and Nathanael Dembele.
Genre not found
Artist not found
Album not found
Search results not found
Song not found
We have lyrics for 'Jolie' by these artists:



Al Kooper When I was coming down from someone else ya know You…
Ben Saber Jolie, heute Nacht wird sie sich nur in mich verlieben Ihr…
Mark Chesnutt Well I left Louisiana Lookin' for some higher ground Try…
Rook Monroe Sleeping in your bed While she′s wearing a t-shirt That she …
Roy Orbison Jolie... Jolie, Jolie my Cherie Pretty little french gir…
Shay Pyroman Pédé! Yeah, PMW a tout pété, j'fais des showcases t…



We have lyrics for these tracks by Songhoy Blues:



BAMAKO Samedi soir à Bamako sur ma moto Samedi soir à Bamako…
Kashmir Whoa Let The Sun Beat Down Upon My Face And Stars…
Soubour əməlli başlı sikdirib hər şey Sikdirib hər şey Sikdirib hər …
Worry Don't worry You're gonna be happy Keep working today That sm…

The lyrics can frequently be found in the comments below or by filtering for lyric videos.