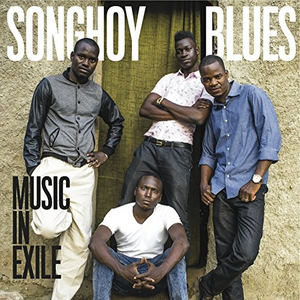 Songhoy Blues are a desert blues-punk band from Timbuktu, Mali. The band were exiled to Bamako during the unrest in Mali. The band features Aliou Toure, Oumar Toure, Garba Toure and Nathanael Dembele.
Genre not found
Artist not found
Album not found
Search results not found
Song not found
We have lyrics for 'Mali' by these artists:



Asala Nasri مالي عمري وحياتي مالي قلبي بهواك مالي علي قلبي يا غالي بشتقل…
Brenda Fassie ngothini mina babo ngothini mina ngawe mali ngolila mina kuz…
Esitu All in all not seeing the lie, locked up holding…
Fadel Shaker مالى وانا مالى وانا مالى بالاحزان انا مالى عايشة باحلى ليالى…
Fadl Shaker مالى وانا مالى وانا مالى بالاحزان انا مالى عايشة باحلى ليالى…
Freshlyground I'm tripping into a whole new era Love-struck bodies twiste…
Ibrahim Al Hakami مالي، مالي، مالي، مالي، مالي ماله حبيبي لحالي وحبيبه لحاله م…
Lira We Mali Ngicela Ungizwe kahle Ye Mali Mina Ngikwesabi Mina N…
Mlindo The Vocalist Webop yaya weyayayaya webo Webafowethi ngicela ningicabangis…
Robbz x Brookz Sound, Sound Kayen She's a one in a milli' Får mig skaka som…
Vieux Farka Touré Naneygo malira – berreygo malira (2 fois) Woka yer magoye…
ابراهيم الحكمي متفكرونيش سيبوني انسى اللي جرحني عشان اعيش متفكرونيش. قولولو…



We have lyrics for these tracks by Songhoy Blues:



BAMAKO Samedi soir à Bamako sur ma moto Samedi soir à Bamako…
Kashmir Whoa Let The Sun Beat Down Upon My Face And Stars…
Soubour əməlli başlı sikdirib hər şey Sikdirib hər şey Sikdirib hər …
Worry Don't worry You're gonna be happy Keep working today That sm…

The lyrics can frequently be found in the comments below or by filtering for lyric videos.