ireonmam cheoeumingeol hanbeondo neukkyeobonjeok eomneungeol
neomunado wonhadeon nado jogeumeun wonhaesseumyeonhae neodo
seoroga seodureuji anheumyeonseo jogeumdeo igibuneul neukkimyeonseo
nuguna cheotkiseuran danhanbeon nanwogajineun tteolliminikka
if ever close your eyes jigeumirago naege allyeojwo I wanna kiss you
nuneulgamajwo jigeumisungan neoreul allyeojwo I wanna kiss you
naenuneul barabwajwo seoroga jinsimingeol aljanha
soljikhi malhae ajigeun jal moreugetjiman hanaman malhalkke
jigeum uri sarang jeoldaero huhoeharireun eobseulkkeorago
nuguna cheotkiseuran danhanbeon gajineun sunganinikka
if ever close your eyes jigeumirago naege allyeojwo I wanna kiss you
nuneul gamajwo jigeum isungan neoreul allyeojwo I wanna kiss you
Contributed by Camden L. Suggest a correction in the comments below.
To comment on specific lyrics,
highlight them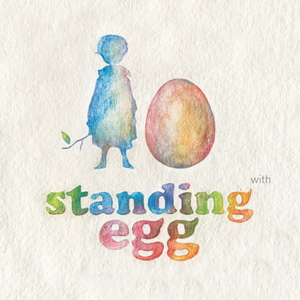 Standing Egg is an indies Korean acoustic pop band that debuted in 2010 under Von Entertainment. The band is made up of three people, Egg 1, Egg 2, and Egg 3, who produce and compose the music. As they don't have a vocalist or musicians, they feature various guest indies artists like Clover (guitar, vocals), Windy (vocals), Han Gyul (double bass), or Hana (djembe) for their songs and performance.
Genre not found
Artist not found
Album not found
Search results not found
Song not found