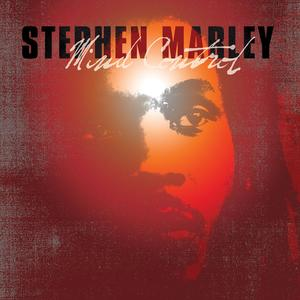 Stephen Robert Nesta Marley, (⋆20 Apr 1972 in Wilmington, Delaware; raised in…
Read Full Bio ↴
Stephen Robert Nesta Marley, (⋆20 Apr 1972 in Wilmington, Delaware; raised in Kingston, Jam) is a reggae artist and producer, son to Bob Marley and Rita Marley and a 6-time Grammy award winner. 8-20 years old, he was a part of Ziggy Marley & The Melody Makers. His solo debut Mind Control came 2007 (acoustic version 2009). He has produced much of his half brother Damian Marley's albums, as 2005's Welcome to Jamrock, and also for half brother Julian Marley. 2011 Stephen begun release a series of albums benamed Revelation...

Jo-Ann Greene writes about "Mind Control" AllMusic.com: "Stephen has continued to grow, adding new sounds and styles to his repertoire over the years. A conduit to the past and a bridge to the future, his music -- like his father's -- sounds timeless: reggae that embraces the world."

2004 he started the 27-city Bob Marley Roots, Rock, Reggae Festival tour with his four brothers and sons of Bob – Ziggy, Julian, Damian and Ky-Mani – each of whom have their own professional recording careers. The tour was the first time the brothers have officially performed together on stage.

Every February in Miami, Marley and his brothers perform at his family's annual Caribbean Festival in honour of their late father Bob Marley.
Jump to: Overall Meaning ↴ Interesting Facts ↴ Line by Line Meaning ↴
I've been gone awhile away from you
And I hope you overstand
That I've got to do what I must do
To be a better man
Cuz if I was to just to act a fool
Do nothing with myself
Then all my blessings would be cursed
My world would crumble in
It's a joy when I sit down and
Think of the good times that we have
And what we do to make it through
When the good turns to the bad
Well I hope you'll find it in your heart
And know these words are true
And please don't fuss
Because I must go do what I must do
Hey baby don't you worry
Even though the road is rocky
I'll be coming home to you again
Cuz if you thought that I was lost
I had to bare my cross
Now I'm free from all these Chains
A time, a space, a different place
How perfect we might be
I would be the wind that blows
You'd be that willow tree
And I could never bare the thought of you not by my side
So I would be the warmth of day
You'd be the cool of night
And everyday I pray to Jah that one day you will see
And overstand the fact I must fulfill my destiny
I hope you'll find it in your heart and know these words are true
And please don't cry
Cuz you know that I must do what I must do
Well and it's not easy
Jah knows how I try, I try
So don't you get weary
Jah knows how I try, I try
God knows
Life is one big road
With alot of signs and turns & twists and curves
Even though the road is rocky
My main thing's to rock and keep on rockin'
From city to city
Backyard to yard
And we be seein' the sights, standin' under the lights
And the spot is hot, it's cold and lonely at night
And I'm feenin' and I'm dreamin' and I'm holding you tight
But hold on, every single road I roll on
Comes to an end and I'm back home again
So baby please don't cry, there's no valley low and there's no mountain high
And our love don't die with the passage of time
It just grows more,
And just keep strong
And even though I'm gone, I am never too far
You're the light through the dark, shining right through my heart
So my journey must start
Overall Meaning
The song Hey Baby by Stephen Marley is a love letter to his significant other, explaining that he has been away from her for some time, but he must do what he must do to become a better man. The lyrics show that the artist understands the sacrifices that come with greatness and that sometimes to achieve destiny, one must take a different path. He pleads with his partner not to worry, and that even though the road may be rocky, he'll always come back home to her. The artist goes even further to affirm his love for his partner, describing how he longs to be holding her tight every moment away from her. In the end, he asks her to be strong while he's away but gives her his assurance that he's never too far away from her.
The lyrics of Hey Baby are relatable, as many people find themselves separated from their loved ones due to one circumstance or another. It portrays the struggle of keeping a long-distance relationship and understanding the sacrifices that come with pursuing success. Also, the song emphasizes that true love never dies with the passage of time, but it only grows.
Interesting facts about Hey Baby by Stephen Marley include:
Interesting Facts
Note: This section uses generative AI, which can be inaccurate.


Line by Line Meaning
I've been gone awhile away from you
I've been away from you for a while
And I hope you overstand
I hope you understand
That I've got to do what I must do
I have to do what I need to do
To be a better man
To improve myself as a person
Cuz if I was to just to act a fool
If I acted foolishly
Do nothing with myself
If I didn't do anything productive
Then all my blessings would be cursed
Then I would lose all my good fortune
My world would crumble in
My life would fall apart
It's a joy when I sit down and
I feel happy when I'm sitting and
Think of the good times that we have
Remember the good times we had
And what we do to make it through
Remembering how we got through tough times
When the good turns to the bad
When things go wrong
Well I hope you'll find it in your heart
I hope you can understand
And know these words are true
That I mean what I say
And please don't fuss
Please don't be upset or argue
Because I must go do what I must do
Because I have to do what I need to do
Hey baby don't you worry
Don't worry, my love
Even though the road is rocky
Despite the difficulties
I'll be coming home to you again
I'll come back to you
Cuz if you thought that I was lost
If you thought I was gone forever
I had to bare my cross
I had to bear my burdens
Now I'm free from all these Chains
Now I'm free from my burdens
A time, a space, a different place
A different place and time
How perfect we might be
We could be perfect together
I would be the wind that blows
I'll be the wind that blows
You'd be that willow tree
You'll be the willow tree
And I could never bare the thought of you not by my side
I could never bear the thought of not having you with me
So I would be the warmth of day
I'll be the warmth of the day
You'd be the cool of night
You'll be the cool of the night
And everyday I pray to Jah that one day you will see
I pray every day that you'll understand
And overstand the fact I must fulfill my destiny
And understand that I have to fulfill my destiny
Well and it's not easy
It's not easy
Jah knows how I try, I try
I try my best
So don't you get weary
Don't get tired
God knows
God knows
Life is one big road
Life is a journey
With alot of signs and turns & twists and curves
With many ups and downs
My main thing's to rock and keep on rockin'
My main goal is to keep going
From city to city
Traveling from place to place
Backyard to yard
Performing everywhere
And we be seein' the sights, standin' under the lights
Seeing new places and performing on stage
And the spot is hot, it's cold and lonely at night
Sometimes it's intense, other times it's difficult and lonely
And I'm feenin' and I'm dreamin' and I'm holding you tight
I'm thinking of you and wishing you were here
But hold on, every single road I roll on
But I have to keep going
Comes to an end and I'm back home again
Eventually, I'll come back home
So baby please don't cry, there's no valley low and there's no mountain high
Don't cry, I'll always be there for you
And our love don't die with the passage of time
Our love won't fade with time
It just grows more,
It just gets stronger
And just keep strong
Stay strong
And even though I'm gone, I am never too far
Even though I'm not physically with you, I'm always there for you
You're the light through the dark, shining right through my heart
You give me hope and light in difficult times
So my journey must start
So I have to continue my journey
Lyrics © Sony/ATV Music Publishing LLC
Written by: Dante Smith, Stephen Marley

Lyrics Licensed & Provided by LyricFind
To comment on or correct specific content,
highlight it
Genre not found
Artist not found
Album not found
Search results not found
Song not found