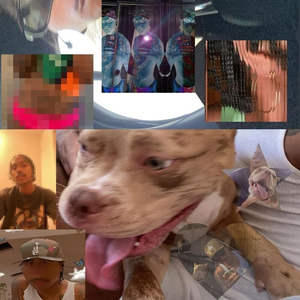 Steve Thomas Lacy-Moya (born May 23, 1998), better known as Steve Lacy, is an Am…
Read Full Bio ↴
Steve Thomas Lacy-Moya (born May 23, 1998), better known as Steve Lacy, is an American musician, guitarist, bassist, singer-songwriter, and record producer. He was born in Compton, California, and gained recognition as a member of the Grammy-nominated R&B band, The Internet, in 2015. In February 2017, Lacy released his debut project, a song series, titled "Steve Lacy's Demo" and his debut album, "Apollo XXI", was released on May 2019. On December 4, 2020, Lacy released a compilation album titled "The Lo-Fis".

(2) Steve Lacy (July 23, 1934 – June 4, 2004), born Steven Norman Lackritz in New York City, was an American jazz saxophonist and composer recognized as one of the important players of soprano saxophone. Coming to prominence in the 1950s as a progressive dixieland musician, Lacy went on to a long and prolific career. He worked extensively in experimental jazz and to a lesser extent in free improvisation, but Lacy's music was typically melodic and tightly structured. Lacy also became a highly distinctive composer, with compositions often built out of little more than a single questioning phrase, repeated several times.
After Lacy was diagnosed with cancer in August 2003, he continued playing and teaching until weeks before his death on June 4, 2004 at the age of 69.
Jump to: Overall Meaning ↴ Line by Line Meaning ↴
Blown
I'm so blown
I'm so blown
I'm so blown
I'm so
Pulled up to the outing
And we off the loud
Feeling good, looking good
They said they fuck with my style (ooh, I could dress)
I kinda smiled, sat on the couch
And then I pulled out my phone
See a text from my mom
Asking when will I be home (where you at nigga?)
Prolly three, I don't know
That shit is always unknown
I heard a girl just say, "Excuse me boy, I like your cologne"
Probably thinks you tryna smash
I'm tryna get you alone
You know I'm kidding, would have said it
But was just too blown
Blown
I'm so blown
I'm so blown
I'm so blown
I'm so
Overall Meaning
In Steve Lacy's song "Atomic Vomit," the lyrics of the chorus repeat the phrase "I'm so blown" four times. The term "blown" typically refers to being high or under the influence of drugs, but its usage in this song is not limited to just that context. The singer of the song talks about his experience at an outing where he and his friends were "off the loud" (likely high on marijuana) and feeling good about themselves. He receives a text from his mother asking when he will be home, but he doesn't have an answer because plans seem to be constantly in flux when you're high.
The singer then interacts with a girl who compliments his cologne but implies that she thinks he's trying to have sex with her. The singer jokes that he would be interested in pursuing her, but he's too "blown" to actually make a move. The word "blown" in this context could also refer to being overwhelmed, distracted, or simply too out of it to act on an opportunity. The lyrics and melody of the song have a dream-like quality to them, which matches the feeling of being under the influence of drugs.
Overall, the song "Atomic Vomit" explores the theme of being "blown" or under the influence, and how it affects one's behavior and decision-making. The singer struggles to make sense of his surroundings and interact with other people while in this state, which makes for a thought-provoking and introspective piece of music.

Line by Line Meaning
Blown
Steve Lacy is expressing how high he is
I'm so blown
He is further emphasizing just how high he is
Pulled up to the outing
Steve has arrived at an event
And we off the loud
He and others are smoking really strong weed
Feeling good, looking good
Steve is feeling confident and looking his best
They said they fuck with my style (ooh, I could dress)
Others are complimenting Steve's sense of fashion and it feels good to him
I kinda smiled, sat on the couch
Steve is trying to play it cool and sits down
And then I pulled out my phone
Steve checks his phone for messages
See a text from my mom
Steve's mom has sent him a text message
Asking when will I be home (where you at nigga?)
His mom is wanting to know when he will be back
Prolly three, I don't know
Steve guesses he might be home around three o'clock
That shit is always unknown
He jokes that he never really knows
I heard a girl just say, "Excuse me boy, I like your cologne"
A girl has complimented Steve's cologne
Probably thinks you tryna smash
Steve assumes the girl is trying to have sex with him
I'm tryna get you alone
He jokingly insinuates he wants to be alone with her
You know I'm kidding, would have said it
Steve clarifies he was just joking about wanting to be alone with her
But was just too blown
He was too high to come up with a clever comeback
Blown
Steve ends the song repeating the same sentiment of being high
I'm so blown
This emphasizes just how incredibly high he is
I'm so blown
He repeats this line again to really drive home the point
I'm so blown
And one last time for good measure
Lyrics © Universal Music Publishing Group
Written by: Steve Thomas Lacy-Moya

Lyrics Licensed & Provided by LyricFind
To comment on or correct specific content,
highlight it
Genre not found
Artist not found
Album not found
Search results not found
Song not found