Savin Hill my starting point,
Down the beach with a few beers
Didn't know what life had in for us
Starting out at St. Margaret's,
Up there on that lonely hill
I got my start in 1970
Moved on down to Motley school,
Down to St. Willie's from there
The catholic golden rule got hooks in me
Sister Robad, Ms. Coughlin the teachers and their authority
I put my fist up to them at every turn
Savin Hill it was my start
Beginning of a lifetime
I still remember those days clearly
Cannot forget my roots,
Or when it really started
Savin Hill down by the beach
Grades one to eight were nuts,
Hijinx, pranks and stunts pulled out
Me and my cousin were the terrible two
Danny, Joey, Bobby, Saxon and Victoria,
Many a long necked bottle cracked down there
Savin Hill it was my start
From the courts back to the park
The weekend time seemed so damn free
If you had my back I took yours,
Our obligatory creed
Savin Hill down by the beach
Do you remember the tennis courts?
The bungalo, or harpo's bench?
Do you remember jumping that bridge?
The risks we took, and our chances?
GO!
The later years brought on alcohol nights,
Coupled with petty arguements and barroom fights
We never broke apart and we stood our ground,
If a cohort was lost he was found
If things got hot Dorchester stayed cool,
No other townies came towards us fools,
Savin Hill down by the beach, it's these memories I'll go preach
Savin Hill down by the beach, it's these memories I'll go preach
Savin Hill is where it all began
Lyrics © O/B/O APRA AMCOS

Lyrics Licensed & Provided by LyricFind
To comment on specific lyrics,
highlight them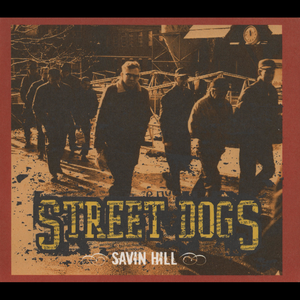 Street Dogs is a punk rock band hailing from Boston, Massachusetts. The lead singer is Mike McColgan, former lead singer of Dropkick Murphys.

In 1998, McColgan left Dropkick Murphys, after releasing their first full-length record, Do or Die, to pursue a life-long dream of becoming a firefighter for the Boston Fire Department. Street Dogs formed in 2002 after McColgan decided he could no longer stay away from music. Their first album Savin Hill was a complete success and resulted in a supporting tour with Celtic punk band Flogging Molly.
Read Full Bio
Street Dogs is a punk rock band hailing from Boston, Massachusetts. The lead singer is Mike McColgan, former lead singer of Dropkick Murphys.

In 1998, McColgan left Dropkick Murphys, after releasing their first full-length record, Do or Die, to pursue a life-long dream of becoming a firefighter for the Boston Fire Department. Street Dogs formed in 2002 after McColgan decided he could no longer stay away from music. Their first album Savin Hill was a complete success and resulted in a supporting tour with Celtic punk band Flogging Molly. The band underwent a complete shuffle in 2004 when McColgan emotionally quit his firefighting career to continue his musical career and to record their second album Back to the World, losing fellow ex-Murphys drummer, Jeff Erna and guitarist, Rob Guidotti. To fill that gap, the band enlisted Markus Hollar on lead guitar, and expanded the range of their sound with the addition of rythmn guitarist Tobe Bean. The spot on the drums was filled by Joe Sirois, who had formerly been with The Mighty Mighty Bosstones.

Their second release, Back To The World, proved to be even more of success for the band. It was hailed critically in the US, Europe and Japan and opened the doors to touring with the notable likes of Social Distortion, Tiger Army, Bad Religion, Millencolin (in Europe), The Bouncing Souls (US And Japan) and The Briefs. The band also toured on the Vans Warped Tour in the summer of 2005 and embarked on their first headlining tours in the US and Europe. Early 2006 saw more headlining shows in northeast US as well as an opening slot with the legendary band The Pogues in Boston on March 14. The rest of 2006 saw the band opening for more notable punk bands, including Rancid for a couple dates in early July, The Adolescents in mid-July–August and The Bouncing Souls in October – December.

After their early 2006 tour dates, the band began pre-production of their next release, which took place in Boston, MA, Houston, TX and Los Angeles, CA. The album, Fading American Dream, was released on October 24th. It was recorded with producer Ted Hutt, who has produced such bands as Flogging Molly, Madcap, and The Bouncing Souls.

In 2009 they toured with The Offspring even making an appearance at the Punk Rocks festival at Red Rocks in Morrison, Colorado.

The Street Dogs are notable as their lyrics relate to the working class and there is no doubt that they draw influence from the likes of Billy Bragg with their "fight for the worker" attitude.

The current line-up of Street Dogs is:

*Mike McColgan – vocals
*Johnny Rioux – bass
*Marcus Hollar – lead guitar
*Paul Rucker – drums
*Tobe Bean – rhythm guitar
Genre not found
Artist not found
Album not found
Search results not found
Song not found