Regeneration
Sumatra Lyrics
Soul gets confused
Pride loses power
It's not the death
It's a start of a new life
Leave your lie
Try to sleep
Try to forget
About this pain
And about sufferings
Try to forget
About this pain
Try to believe
In to this words
They bring the honesty
Try to believe
In to this words
This is the final
Of the regress
You will be honest
More obedient
This is the final
Of the regress
You will be honest
More obedient
Skin is broken off on my body
Heart beats very fast for me
Skin is broken off on my body
Heart beats very fast
This process is not so pleasant
Like deceit of humanity
But it is necessity
This is last way to the full change
Of your minds and of your reason
I hope that you understand
It is my duty and mission
And I will take to you this chance
I am your source, which gives to you life
I can't leave you within this chasm
It is my duty and mission
Look at the sky
You see, it's so perfect
But it is not
Home for your reign
I love you so much
I have to help you
But you should promise
To create only truth
I know, it's so hard
I know it's so painful
But you have to try
You must bring the light
Through tons of clouds
Through set of miles
You must forget mistakes
Here is the end
Of the dreams
You must forget
Here is the end
Of the dreams
You must forget
Get up, my son
Son of the shame
Get up, my son
Son of the shame
This process is not so pleasant
Like deceit of humanity
But it is necessity
This is last way to the full change
Of your minds and of your reason
I hope that you understand
It is my duty and mission
Contributed by Hailey S. Suggest a correction in the comments below.
To comment on specific lyrics,
highlight them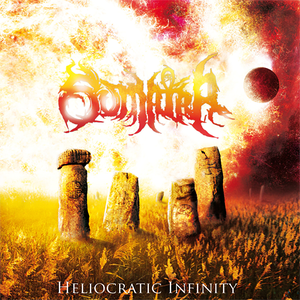 Sumatra was a Technical Death Metal/Deathcore band from Russia, formed on 21 of September 2005 by Alik Galstyan and Andrey Koval. After some period of substitutions in the band membership they begin the work over their debut EP album called "The Sixth Circle" (2008) and Sumatra begins its concert activity on 16 of December 2008 composed of 5 musicians (Alik Galstyan – vocals, Karen Grigoryan – guitars, Ilya Ulanov – guitars, Dmitriy Klimov – bass, Andrey Koval - drums).
Read Full Bio
Sumatra was a Technical Death Metal/Deathcore band from Russia, formed on 21 of September 2005 by Alik Galstyan and Andrey Koval. After some period of substitutions in the band membership they begin the work over their debut EP album called "The Sixth Circle" (2008) and Sumatra begins its concert activity on 16 of December 2008 composed of 5 musicians (Alik Galstyan – vocals, Karen Grigoryan – guitars, Ilya Ulanov – guitars, Dmitriy Klimov – bass, Andrey Koval - drums). In May 2009 the band releases the single to upcoming album called "Heliocratic Infinity" and on 1 of august 2009 band starts the work over its debut full-format album called "Heliocratic Infinity". After some period the band parts the ways with Andrey Koval and takes a new vocalist Konstantine Hemsky (growls, screams and hardcore vox). The band successfully presents its debut album on 3rd of november 2009 with.

In November 2012 they announced having disbanded, due to various reasons.

Alik Galstyan (screaming, growling, guttural vox)
Konstantine Hemsky (screaming, growling, hardcore vox)
Ilya Ulanov (guitars)
Karen Grigoryan (lead guitars, clean vocals)
Evgeniy Nesterov (bass)
Dmitriy Burdin (drums, percussion)

http://www.myspace.com/sumatrametal
Genre not found
Artist not found
Album not found
Search results not found
Song not found