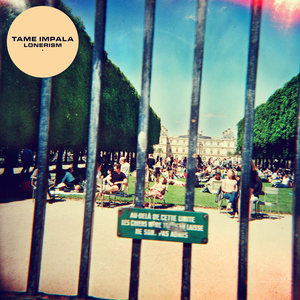 She Just Won't Believe Me
Tame Impala is a psychedelic rock band of Australian musician Kevin Parker, who …
Read Full Bio ↴
Tame Impala is a psychedelic rock band of Australian musician Kevin Parker, who writes, records, produces, and performs. As a touring act, Tame Impala consists of Parker (guitar, vocals), Dominic Simper (guitar, synthesiser), Jay Watson (synthesiser, vocals, guitar), Cam Avery (bass guitar, vocals), and Julien Barbagallo (drums, vocals). Many of the band members, including Parker, are collaborators with fellow Australian psychedelic rock band Pond. Previously signed to Modular Recordings, Tame Impala is now signed to Interscope Records in the US and Fiction Records in the UK.

Parker originally conceived the project in Perth in 2007. After a series of singles and EPs, Tame Impala's debut studio album, InnerSpeaker, was released in 2010; it was certified gold in Australia and well received by critics. Parker's 2012 follow-up, Lonerism, was also acclaimed, reaching platinum status in Australia and receiving a Grammy Award nomination for Best Alternative Music Album. Tame Impala's third album, Currents, was released in July 2015,[6] and like its predecessor, it won ARIA Awards for Best Rock Album and Album of the Year. Parker won the APRA Award for Song of the Year 2016 for Currents' first track, "Let It Happen". The fourth and most recent studio album, The Slow Rush, was released 14 February 2020.
She Just Won't Believe Me
Tame Impala Lyrics
Jump to: Overall Meaning ↴ Interesting Facts ↴ Line by Line Meaning ↴
But she just won't believe me
She just won't believe me
I'd never be deceiving
But she just won't believe me
Overall Meaning
This song depicts a frustrating situation where the singer is trying to convince someone, most likely a romantic partner, of the truth but they just won't believe them. The repetition of "She just won't believe me" highlights the intensity of the singer's desperation to be believed. They emphasize that they would never deceive this person, but for some reason, they are not being taken at their word.
The song may reflect a universal experience of trying to communicate with someone who is not receptive or open to hearing the truth. The singer seems to be at their wit's end as they express their honesty and integrity but it doesn't seem to make a difference. The lyrics suggest that there is something standing in the way of this person's trust or ability to believe the singer.
On a broader level, the song may be a commentary on the difficulties of communication and connection in today's world. The prevalence of deception and false information in media and politics can make it hard for individuals to trust one another. The song may be a call for greater trust and authenticity in relationships and society as a whole.
Interesting facts about "She Just Won't Believe Me":
Interesting Facts
Note: This section uses generative AI, which can be inaccurate.


Line by Line Meaning
But she just won't believe me
Despite my attempts to convince her, she is unwilling to believe what I am saying.
She just won't believe me
No matter how much I try to explain, she refuses to accept my words as truth.
I'd never be deceiving
I am being completely honest and transparent with her, and have no intention of misleading or deceiving her in any way.
But she just won't believe me
Despite my assurances of honesty, she remains skeptical and unwilling to believe my words.
Lyrics © Sony/ATV Music Publishing LLC
Written by: Kevin Parker

Lyrics Licensed & Provided by LyricFind
To comment on or correct specific content,
highlight it
Genre not found
Artist not found
Album not found
Search results not found
Song not found