Blood guts and beer
Tank Lyrics
Blood, Guts and Beer...I got a friend real close to me
With the biggest plane you've ever seen and he likes to use it quite a lot
Just look around and you will see why he isn't scared to me
Just tell him when to stop. What's inside me? Blood, Guts and Beer
If you wonder why he don't look pleased he just caught that new disease
Said "she's coming back to me" but now she's not Well she finally says to me
Well we'll just have to see how long it takes for skin to rot
What's inside me? Blood, Guts and Beer, Blood, Guts and Beer, Blood, Guts and Beer
When he broke down in tears I just couldn't believe my ears I could've used a mirage
I gotta get out, you gotta get out...all right I gotta get out, you gotta get out...tonight
What's inside me? Blood, Guts and Beer, Blood, Guts and Beer, Blood, Guts and Beer
What's inside me? Blood, Guts and Beer, Blood, Guts and Beer, Blood, Guts and Beer
Contributed by Eli N. Suggest a correction in the comments below.
To comment on specific lyrics,
highlight them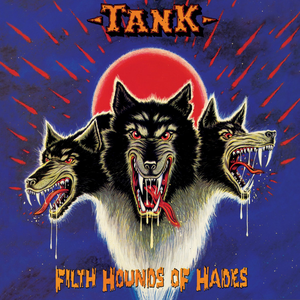 Blood, guts and beer (Live)
There are mutliple artists with this name:


1) Tank (stylized as TANK) is the name of two British heavy metal bands, both of which stem from a band formed in 1980 by Algy Ward (ex-The Saints, ex-The Damned). The band's brand filthy metal was loved by both punk and metal fans. The original band is known as part of the new wave of British heavy metal movement. Tank was often compared to Motörhead as both bands were trios fronted by singing bassists, and played a loose, almost punk-styled metal music with often colourful lyrics.
Read Full Bio
There are mutliple artists with this name:


1) Tank (stylized as TANK) is the name of two British heavy metal bands, both of which stem from a band formed in 1980 by Algy Ward (ex-The Saints, ex-The Damned). The band's brand filthy metal was loved by both punk and metal fans. The original band is known as part of the new wave of British heavy metal movement. Tank was often compared to Motörhead as both bands were trios fronted by singing bassists, and played a loose, almost punk-styled metal music with often colourful lyrics. Lemmy, of Motörhead, helped them get their first record deal, and "Fast" Eddie Clarke was picked as producer for their debut album, "Filth Hounds of Hades". Heavily influenced by bands like Motörhead, they were a productive force of the NWOBHM movement, and are still making music in the 21st century. After legal and creative disputes, Algy Ward led one version of the group while guitarists Mick Tucker and Cliff Evans led the other (Tucker/Evans Tank).


2) Tank is the stage name of an American R&B singer, songwriter, musician, and producer, Durrell Babbs.

Tank was born in Milwaukee, Wisconsin on January 1, 1976 and he was raised in Clinton, Maryland, a suburb of Washington, D.C. Tank took an instant interest in singing and playing the piano, partially due to his alliance to religion — his cousin directed the church choir and helped the aspiring vocalist foster his singing talent from an early age. His stage name comes from his chiseled physique. A multi-sport athlete in high school, he had the opportunity to play college football. However, Tank decided to focus on music, and his talent eventually led him to an opportunity to sing background vocals for Ginuwine during one of Ginuwine's tours. Next, he found himself singing with Aaliyah and then Blackground Records founder Barry Hankerson, and his son (and company president) Jomo Hankerson took notice, offering Tank the opportunity to become a solo artist. In 2001, Tank realized his ambitions, seeing his debut album, Force of Nature, released to a national audience. This LP rendered the Top 10 R&B ballad, "Maybe I Deserve".

The next year, Tank released his second album, One Man. The single of the same name had chart success as well. He also co-produced the smash hit single "One Minute Man" by Missy Elliott in 2002.

Tank has also made a name for himself as a producer and writer, working with artists such as Dave Hollister, Marques Houston, Omarion, Jamie Foxx, Donell Jones, Monica among others. Along with The Underdogs, he has worked with many different artists over the years and was also a contributor to the score of the film adaptation of the musical Dreamgirls, in which he also had a cameo.

Tank sold what was to be the lead single to his 3rd album, "I Luv Dem Girls", to Marques Houston who renamed it "Strip Club" (this song appears on Marques Houston's 3rd solo album "Veteran"). Tank has recently worked on Kelly Rowland's second album Ms. Kelly on the tracks "The Show" (a duet with Tank himself) and "Ghetto" featuring Snoop Dogg. "Ghetto" is also set to be the album's second single.

Tank released his 3rd solo album entitled "Sex, Love & Pain" on May 15, 2007. The first single of this album is "Please Don't Go". Tank has also formed a group with Ginuwine and Tyrese named TGT. Their first single will be a remix of "Please Don't Go", with an international tour entitled "The Shirts Off Tour" and search for a fourth member to follow.

Tank, along with Tyrese, are set to perform in West Oakland at the Paramount Theater on November 2, 2007.


3) Tank Taiwanese (呂建中), is a talented singer composer. TANK was said to be the next big thing after David Tao, Lee Hom and Jay Chou for his talent in composing songs, singing and dancing. Before releasing his debut album, TANK was already well known through his composed songs for S.H.E. Besides that, he was also known through his songs, 三國戀 (Romance in the 3 Kingdom) and 給我你的愛 (Give Me Your Love) which both are the ending themes for two famous Taiwan drama series. TANK also is the spokesperson for computer game, "激戰" (GuildWars) and composed a song for the game.

Since then, "TANK" had became one of the most popular keyword among new artists to be searched in search engines.

While TANK was choosing songs to be fitted to his debut album, he had uploaded several songs and had set a poll on wretch.cc to be listened by his friends and let them vote for songs to be fitted in his new album. To his surprise, thousands of fans came to his blog to listen to his songs.

TANK's debut album, Fighting 生存之道 (Fighting, The Law of Living) is a fusion of Hip Hop, RnB, Rock and traditional Chinese music. The album has been on the Taiwan album sales chart (G-music chart) number 1 spot for 3 weeks beating Tank's own idol, A Mei, Guang Liang and Rainie Yang. He is now still charting in G-music chart and his album has sold over 100,000 copies in Taiwan to date.


4) Tank was also a project by the German producers Christopher von Deylen and Sören Schnakenberg. They produced 5 electronic music tracks and made a few remixes for other artists.

5) Tank is one of the many names under which Guy Blakeslee (Entrance) releases music.

6) Tank is a french melodic death metal band formed in 2007. They define their music as "tank metal". They only released a self-titled EP in 2007, featuring two songs : Tank and Brothers in Arms.

Line-Up:
Raf - Vocals
Symheris - Lead Guitar
Edd - Rhythm Guitar
Olivier - Bass
Reno - Drums
Genre not found
Artist not found
Album not found
Search results not found
Song not found