Help Yourself
Tankard Lyrics
Holy wars, Insane crusaders
Killing in the name of god
Ayatollahs with machine guns
Iran, Iraq must drown in blood
Beirut, Belfast, Sikhs and Hindus
Everywhere you look today
Messages of all religions
Lead their followers astray
Help yourself! (Help yourself)
We need no fucking preachers in our life
Help yourself! (Help yourself)
And all you mighty gods can go to Hell
Opium for brainless masses
Inane blabber from the pope
Always on the side of power
Giving people foolish hopes
Birth control Is called a sin, when
Million don't any bread
Praying in your gothic palace
Doesn't get the hungry fed
TV Jesus, phoney prophets
Halled by supersticious fools
Preach the gospel of the dollar
Praise the lord while money rules
This is not the middle ages
But it seems we haven't grown
Still need ancient faiths to cling to
Can't we make It In our own?
Let everybody hear the message
It's time to heal the deaf and blind
Cast away your false religion
People, start to use your mind
Lyrics © Warner Chappell Music, Inc.
Written by: WERNER OLIVER, ANDREAS GEREMIA, AXEL KATZMANN, OLIVER WERNER

Lyrics Licensed & Provided by LyricFind
To comment on specific lyrics,
highlight them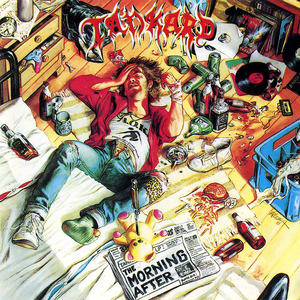 Tankard is a German thrash metal band founded in 1982. Inventors of the "Alcoholic Metal"-genre. The band chose their name after looking through a dictonary and seeing a word defined as "beer mug".

Tankard were formed by three classmates, Andreas "Gerre" Geremia, Axel Katzmann and Frank Thorwarth. At the time, the band was known as Vortex and Avenger until the current name of Tankard was discovered by the band in a dictionary. Their first song written was called "Ray Death"
Read Full Bio
Tankard is a German thrash metal band founded in 1982. Inventors of the "Alcoholic Metal"-genre. The band chose their name after looking through a dictonary and seeing a word defined as "beer mug".

Tankard were formed by three classmates, Andreas "Gerre" Geremia, Axel Katzmann and Frank Thorwarth. At the time, the band was known as Vortex and Avenger until the current name of Tankard was discovered by the band in a dictionary. Their first song written was called "Ray Death", a song about nuclear war and their first gig was played in a local classroom in 1983. As the band were not permitted to drink alcohol in the school, they smuggled their beer in with milk cartons. Soon after, band member Bernhard Rapprich left the band as his conservative father did not want him "hanging around with a bunch of drunks" and was replaced by Andy Bulgaropulos.

In 1984, Tankard signed to Noise Records after narrowly missing out on signing with Steamhammer during a gig where guitarist Andy Bulgaropulous made the mistake of wearing a blue sweatshirt with a deer on the front creating the wrong image and causing Steamhammer to retract their offer of a contract.



Members:
* Andreas "Gerre" Geremia (1982)- Vocals
* Frank Thorwarth (1982) - Bass
* Olaf Zissel (1994)- Drums
* Andy Gutjahr (1998)- Guitars

Former Members:

Guitars:
*Axel Katzmann (1982-1995)
*Andy Bulgaropulos (1982-1998)
*Bernhard Rapprich (1982)

Drums:
*Oliver Werner (1982-89)
*Arnulf Tunn (1989-1993)
Genre not found
Artist not found
Album not found
Search results not found
Song not found