I'll Remember
Taste Lyrics
If you'll be around when I not around
And the whole world looks upside down, I'll remember
f you'll be around when there is no sound
I won't let you down, I'll give you so much love that you'll remember.
Oh, stand with me
When the sky looks black and amber
Look up above
The gods so full of anger.
Doo doo doo ...
Let me here you say that your love won't fail
That I know my luck will never fail foreve
If you'll be around when I not around
And the whole world looks upside down, I'll remember.
Contributed by Zachary H. Suggest a correction in the comments below.
To comment on specific lyrics,
highlight them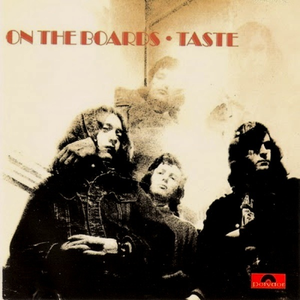 There is more than one artist with this name:
1) an Irish rock and blues band formed in 1966 that featured talented guitarist Rory Gallagher
2) an Australian classic-style rock band based in Melbourne
3) a British Christian rock outfit
4) an independent Japanese musician
5) a Swedish AOR band
6) a Japanese death metal band
7) a Japanese doujin arranger

1) Taste was formed in Cork, Ireland in August 1966 as a trio consisting of Rory Gallagher on guitars & vocals, Eric Kitteringham on bass, and Norman Damery on drums.
Read Full Bio
There is more than one artist with this name:
1) an Irish rock and blues band formed in 1966 that featured talented guitarist Rory Gallagher
2) an Australian classic-style rock band based in Melbourne
3) a British Christian rock outfit
4) an independent Japanese musician
5) a Swedish AOR band
6) a Japanese death metal band
7) a Japanese doujin arranger

1) Taste was formed in Cork, Ireland in August 1966 as a trio consisting of Rory Gallagher on guitars & vocals, Eric Kitteringham on bass, and Norman Damery on drums. In their early years Taste played around the UK before becoming regulars at Maritine Hotel, an R&B club in Belfast, Northern Ireland. In 1968 the original lineup split. The new lineup formed with Richard McCracken on bass and John Wilson on drums.

The new Taste moved permanently to London where they signed with the record label Polydor. In 1969 Taste released their first two studio recordings, the self-titled 'Taste' first with 'On the Boards' soon following, the latter showing Rory and the band's jazz influences with Gallagher playing saxophone on numerous tracks. In November 1968 the band opened for Cream at Cream's farewell concerts in London. Taste then began touring the United States and Canada opening for Eric Clapton and Ginger Bakers new band Blind Faith.

Perhaps their most notable performance came in 1970 as part of the Isle of Wight Festival, joining such notable musicians as Jimi Hendrix and The Who. They were well-received by those in attendance, ultimately being called back for five encores. Later the same year Taste would once more tour Europe before performing their last show on New Year's Eve in Belfast. In 1970] Taste split leaving front man Rory Gallagher to pursue his solo career. Gallagher received a liver transplant in 1995, but died of complications later that year in London, England aged 47.

In the August 2006 issue of Blues in Britain it was revealed that John Wilson had made Taste active once again. John has been at the fore front of the Irish Blues and R&B scene ever since his days in Them with Van Morrison,and of course in Taste with Rory Gallagher. Along with with Richard McCracken on bass and Belfast guitarist and singer Sam Davidson,who worked with John in the Belfast Blues Band.

They are still performing at Blues and R&B festivals around the world with both Richard McCracken (when his other commitments allow), and Albert Mills on bass.

Taste have since signed to label Bad Reputation and released the album 'Wall to Wall'.

Official Site: http://www.taste.uk.com

2) Taste is the name of an Australian classic-style rock band based in Melbourne. http://www.taste.us.com

3) Taste is the name of a British Christian Rock outfit.

4) taste is the name of an independent Japanese musician that specializes in orchestral arrangements of Anime songs and Touhou music.

5) Taste is a Swedish AOR band, grounded by Christopher Borg and Felix Borg. They released their self-titled album in 2012. Taste's music is heavily inspired by mid 1980's AOR and melodic hard rock bands.

6) Taste is the name of a Japanese death metal band.

7) Circle: Melodic Taste Website: http://taste-f.sakura.ne.jp/Melodic/
Genre not found
Artist not found
Album not found
Search results not found
Song not found