Jump to: Overall Meaning | Line by Line Meaning
Loving him is like
Driving a new Maserati down a dead-end street
Faster than the wind
Passionate as sin
Ending so suddenly
Loving him is like
Trying to change your mind once you're already flying through the free fall
Like the colors in autumn, so bright
Just before they lose it all
Losing him was blue like I'd never known
Missing him was dark grey, all alone
Forgetting him was like trying to know somebody you never met
But loving him was red (re-e-e-ed, re-e-e-ed)
(Re-e-e-ed, re-e-e-ed)
Loving him was red (re-e-e-ed, re-e-e-ed)
(Re-e-e-ed, re-e-e-ed)
Touching him was like
Realizing all you ever wanted was right there in front of you
Memorizing him was as
Easy as knowing all the words to your old favorite song
Fighting with him was like
Trying to solve a crossword and realizing there's no right answer
Regretting him was like
Wishing you never found out that love could be that strong
Losing him was blue like I'd never known
Missing him was dark grey, all alone
Forgetting him was like trying to know somebody you never met
But loving him was red (re-e-e-ed, re-e-e-ed)
Oh, red (re-e-e-ed, re-e-e-ed)
Burning red (re-e-e-ed, re-e-e-ed)
(Re-e-e-ed, re-e-e-ed)
Remembering him comes in flashbacks
And echoes
Tell myself it's time now
Gotta let go
But moving on from him is impossible
When I still see it all in my head
In burning red
Burning it was red
Oh, losing him was blue like I'd never known
Missing him was dark grey, all alone
Forgetting him was like trying to know somebody you never met
'Cause loving him was red (re-e-e-ed, re-e-e-ed)
Yeah, yeah, red (re-e-e-ed, re-e-e-ed)
Oh, burning red (re-e-e-ed, re-e-e-ed)
(Re-e-e-ed, re-e-e-ed)
And that's why he's spinning 'round in my head (re-e-e-ed, re-e-e-ed)
Comes back to me, burning red (re-e-e-ed, re-e-e-ed)
Yeah, yeah (re-e-e-ed, re-e-e-ed)
His love was like
Driving a new Maserati down a dead-end street
Overall Meaning
In her hit song "Red," Taylor Swift compares the experience of loving and losing someone to a range of vivid and colorful experiences. She begins with the image of driving a new Maserati down a dead-end street, which is thrilling and exhilarating but ultimately leads nowhere. Loving him is fast and passionate but doomed to end suddenly, like the colors of autumn that burst into brightness before fading away. The song also depicts the difficulty of trying to move on from a past love, as memories and emotions continue to burn bright like the color red.
Swift uses various colors to represent different emotions throughout the song. Losing him was blue, representing sadness and grief. Missing him was dark gray, representing loneliness and isolation. Forgetting him was like trying to know somebody you never met, similar to the color white, representing emptiness and nothingness. Loving him, on the other hand, was red, representing passion, intensity, and all-consuming emotion.
The song is a powerful reflection on the experience of loving someone deeply and then losing them, and the emotions that linger long after the relationship has ended. Swift's use of vivid imagery and symbolism throughout the song brings the listener into her world, making them feel the colors and emotions just as strongly as she does.

Line by Line Meaning
Loving him is like
Comparing the experience of loving him to
Driving a new Maserati down a dead-end street
Taking a risk by diving headfirst into something destined for failure or disappointment with no exit strategy
Faster than the wind
Feeling all-consuming, uncontrollable attraction
Passionate as sin
Feeling desire so strong that it teeters on the edge of being immoral
Ending so suddenly
Suddenly hitting a wall or experiencing a loss with little to no warning
Trying to change your mind once you're already flying through the free fall
Feeling a sense of helplessness and inevitability when facing the end of something
Like the colors in autumn, so bright
Bright moments of happiness and beauty that are fleeting and end quickly
Just before they lose it all
The moment before a happy period ends or something falls apart completely
Losing him was blue like I'd never known
Feeling intense sadness and depression at the end of the relationship
Missing him was dark grey, all alone
Experiencing loneliness and isolation after the breakup
Forgetting him was like trying to know somebody you never met
Finding it impossible to completely forget or erase the memories of the relationship
But loving him was red (re-e-e-ed, re-e-e-ed)
Equating the intense emotions of loving him to the color red, which is often associated with passion, love, and strong emotions
Touching him was like
Describing the sensation of touching him as comparable to
Realizing all you ever wanted was right there in front of you
Feeling a sense of enlightenment and clarity when it comes to what you want in life or in a partner
Memorizing him was as
Suggesting that remembering details about him was as easy as
Easy as knowing all the words to your old favorite song
Recalling something that is so familiar and ingrained in your memory that it requires no effort
Fighting with him was like
Comparing the experience of fighting with him to
Trying to solve a crossword and realizing there's no right answer
Feeling frustrated and stonewalled when dealing with a problem that has no clear solution
Regretting him was like
Explaining that the feeling of regret over the relationship was like
Wishing you never found out that love could be that strong
Regretting ever experiencing such strong emotions for another person because it made it that much harder to lose them
Remembering him comes in flashbacks
Describing memories of him as sudden and unexpected, like a flashback
And echoes
Suggesting that the memories echo and reverberate in the mind
Tell myself it's time now
Trying to convince oneself that it's time to move on
Gotta let go
Recognizing that it's time to let go of the relationship and move on
But moving on from him is impossible
Expressing the difficulty of moving on from the relationship
When I still see it all in my head
Finding it hard to forget or move on because the memories still remain vivid and clear
Burning it was red
The intensity of the relationship is described again using the color red
And that's why he's spinning 'round in my head (re-e-e-ed, re-e-e-ed)
The idea that the memories of the relationship continue to consume and trouble the narrator
Comes back to me, burning red (re-e-e-ed, re-e-e-ed)
The intensity of the relationship continues to resonate with the narrator, manifesting in memories and emotions described as 'burning red'
Lyrics © Universal Music Publishing Group
Written by: Taylor Alison Swift

Lyrics Licensed & Provided by LyricFind
To comment on or correct specific content,
highlight it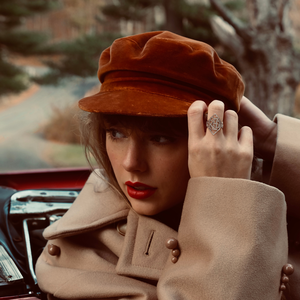 "Red (Taylor's version)" Originally Red written and re-recorded by American singer-songwriter Taylor Swift for the re-recorded version of her 4th studio album Red . It was released on November 12, 2021, served as the album's second official track.
Musically, "Red (Taylor's Version)" is a genre-spanning song; it incorporates elements of country music characteristic of Swift's previous songs, such as acoustic banjo, guitars, and fiddles, and twang.
Genre not found
Artist not found
Album not found
Search results not found
Song not found