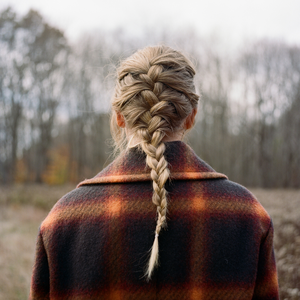 "champagne problems" is the second track from Taylor Swift's ninth studio albu…
Read Full Bio ↴
"champagne problems" is the second track from Taylor Swift's ninth studio album, evermore. It was released on December 11, 2020, through Republic Records.

"champagne problems" tells the story of a woman who shocks her would-be fiancé and their loved ones by turning down a marriage proposal right before Christmas. In an essay about evermore, Swift stated that the song depicts "longtime college sweethearts [who] had very different plans for the same night, one to end it and one who brought a ring."

The song implies that the protagonist has a history of mental illness, which the town subsequently stigmatizes in their gossip surrounding the failed proposal. Mental health is a topic especially personal to Swift, who has been transparent publicly about her own struggles. As quoted in an interview with the Zach Sang show:

"I definitely don't feel good all the time, and I don't think anybody does…there have been times where I needed to take years off because I just felt exhausted, or I felt, like, really low or really bad."

On an interview with Apple Music, Swift explained:

"Well, Joe and I really love sad songs, we've always bonded over music. He started that one and came up with the melodic structure of it. I'd say it was a surprise that we started writing together but, in a way, it wasn't, 'cause we have always bonded over music and have the same musical taste, and he's always the person who's showing me songs by artists, and then they become my favourite songs or whatever. [The "champagne problems" bridge] was one of my favourites to write, I really love a bridge where you tell the full story in a bridge, you really shift gears in that bridge. I'm so excited to, one day, be in front of a crowd when they all sing, 'She would've made such a lovely bride, what a shame she's fucked in the head.' I know it's so sad, but it's those songs like "All Too Well" where performing that song is one of the most joyful experiences I ever go through so, when there's a song like "champagne problems" where you know it's so sad, but… I love a sad song, y'know?"

This song debuted #21 on Billboard's Hot 100, being the second-highest charting song off the album.
champagne problems
Taylor Swift Lyrics
Jump to: Overall Meaning ↴ Line by Line Meaning ↴
You booked the night train for a reason
So you could sit there in this hurt
Bustling crowds or silent sleepers
You're not sure which is worse
Because I dropped your hand while dancing
Left you out there standing
Crestfallen on the landing
Champagne problems
Your mom's ring in your pocket
My picture in your wallet
Your heart was glass, I dropped it
Champagne problems
You told your family for a reason
You couldn't keep it in
Your sister splashed out on the bottle
Now no one's celebrating
Dom Perignon, you brought it
No crowd of friends applauded
Your hometown skeptics called it
Champagne problems
You had a speech, you're speechless
Love slipped beyond your reaches
And I couldn't give a reason
Champagne problems
Your Midas touch on the Chevy door
November flush and your flannel cure
"This dorm was once a madhouse"
I made a joke "Well, it's made for me" how
Evergreen, our group of friends
Don't think we'll say that word again
And soon they'll have the nerve to deck the halls
That we once walked through
One for the money, two for the show
I never was ready, so I watch you go
Sometimes you just don't know the answer
'Til someone's on their knees and asks you
"She would've made such a lovely bride
What a shame she's fucked in the head" they said
But you'll find the real thing instead
She'll patch up your tapestry that I shred
And hold your hand while dancing
Never leave you standing
Crestfallen on the landing
With champagne problems
Your mom's ring in your pocket
Her picture in your wallet
And you won't remember all my
Champagne problems
You won't remember all my
Champagne problems
Overall Meaning
In "Champagne Problems," Taylor Swift sings about a failed engagement, where the singer rejects the proposal, leaving her significant other crestfallen on the landing, surrounded by a bottle of champagne. The opening lines suggest that the proposal might have taken place on a night train, setting the tone for the rest of the song to be a meditation on missed opportunities and missed connections. The singer seems to be torn between the emotions she has for her potential spouse and the fear of the expectations that come with such a substantial commitment.
Swift continues to allude to the dashed hopes and shattered dreams by referencing an engagement ring, represented by the singer's mother's ring. The failed marriage proposal broke their heart transparent as glass. The "champagne problems" reference represents first-world issues so insignificant as to be considered a luxury problem, suitably representative of the problems that come with being in a wealthy relationship. The singer is also reflective; she's worried that the onlookers will judge her, and so she resents that champagne problems have created doubt about her affection.
The song suggests a sense of remorse in realizing that she didn't feel the same level of attraction that her potential spouse did. However, it paints a more significant picture of doomed destiny than mental weakness, in which both partners failed to deal with the complications of a failed proposal maturely. While the lyrics may seem to be about champagne-related struggles, the reality is that they are about the uncertainty of life and its unpredictable nature, interspersed with dealing with the pressures that come with dating and marriage.

Line by Line Meaning
You booked the night train for a reason
You planned the night train journey intentionally
So you could sit there in this hurt
To be alone and contemplate what happened
Bustling crowds or silent sleepers
Both options are equally distressing
You're not sure which is worse
Indecision whether to be surrounded by people or be alone
Because I dropped your hand while dancing
I made a mistake and ruined the moment
Left you out there standing
I left you hanging there in your embarrassment
Crestfallen on the landing
Feeling defeated while standing on the staircase
Champagne problems
Small issues, especially in contrast to the grandeur of champagne
Your mom's ring in your pocket
You intended to propose or symbolize your commitment
My picture in your wallet
You still have a memento of me
Your heart was glass, I dropped it
I shattered your fragile heart
You told your family for a reason
You wanted to share your happiness with them
You couldn't keep it in
You were too excited and overwhelmed
Your sister splashed out on the bottle
Your sister prepared the best champagne for your celebration
Now no one's celebrating
Everything went wrong and the party was ruined
Dom Perignon, you brought it
You brought the most expensive champagne for the occasion
No crowd of friends applauded
Nobody was excited or happy for you
Your hometown skeptics called it
People who doubted your love story had something to say about the champagne
Champagne problems
Similar to first mention, trivial problems compared to the luxury of champagne
You had a speech, you're speechless
You prepared to say something special but now you're lost for words
Love slipped beyond your reaches
You thought you had love but now it's out of your control
And I couldn't give a reason
I don't have the answer or justification to explain what happened
Your Midas touch on the Chevy door
Your skill of turning everything into gold, even the car door
November flush and your flannel cure
The combination of autumn warmth and your favorite flannel shirt cured your troubles
"This dorm was once a madhouse"
This place was once a place of fun chaos and good memories
I made a joke "Well, it's made for me" how
I made a joke about how this place suits me
Evergreen, our group of friends
Our close-knit group of friends is constant and enduring
Don't think we'll say that word again
We won't use certain words or phrases because they remind us of something painful
And soon they'll have the nerve to deck the halls
The decorations and atmosphere that we once enjoyed will soon become unbearable
That we once walked through
The places where we walked and spent time together
One for the money, two for the show
A popular saying for entertainment
I never was ready, so I watch you go
I wasn't ready for the breakup and now I'm just watching you leave
Sometimes you just don't know the answer
We don't always have the answer or know what to do in certain situations
Til someone's on their knees and asks you
Only when someone is desperate and asks for help do we realize what to do or say
"She would've made such a lovely bride
Others had high hopes for your future and saw us getting married
What a shame she's fucked in the head" they said
Others saw me as problematic, which affected our relationship
But you'll find the real thing instead
You will find true and unconditional love in the future
She'll patch up your tapestry that I shred
Someone else will repair the damage I caused in your life
And hold your hand while dancing
Your future love will show you support and encouragement when you need it
Never leave you standing
They won't abandon you, especially in times of trouble
Crestfallen on the landing
You won't be left feeling defeated or hopeless
With champagne problems
Even with minor issues, they will still celebrate with champagne
Your mom's ring in your pocket
Symbolizes commitment and readiness to take the next step
Her picture in your wallet
Carrying a picture or memory of someone you cherish
And you won't remember all my
You are moving on and forgetting the problems associated with me
Champagne problems
A final reminder of the small issues that occurred before moving forward
Lyrics © Universal Music Publishing Group
Written by: Taylor Alison Swift, William Bowery

Lyrics Licensed & Provided by LyricFind
To comment on or correct specific content,
highlight it
Genre not found
Artist not found
Album not found
Search results not found
Song not found