Back up wait a minute
Why you looking at me like that
Do you really wanna trip or you flip in the script
Do you wanna rap with a nigga
Or bang is a whoop in a rip
I don't eva want us to come the bust and shots, nigga misery can't produce enough cops and a'
Don't know if you wallin' or what?
All you wanna do is free stopping cop
Fan or Foe I don't really know
Off at the show niggas they know
But I look light, was a good night and I was looking like a mutha fukka wanna jack all me doe
Come up to me
My kids would be chillin'
Betta think twice I'm a 5-6 villain
All they wanna talk about
I did it
When I did it
Man I thought I was gonna get a bullet in a minute
You Should be care full how you walk upon us
Got a bonus for all the opponents if they want it
I kno they wait for Tecca Ninna moments
Till' the opponent be poppin' up and he's you don't it
We don't if they be tripin' or not (NO)
Probably 'cause all of them live on the block
When you rapping niggas know what you got
Toughest ever, when you up on the top
Show some respect when you approach me
Don't you be mugging me
Might have that drug in me
Plug in a nigga, for nearly shrugging me
Ain't nothing wrong with people peeping,Geeking
Where the man hoe
But the grandma so bama, stama
I don't know if you fan or foe
[Chorus Repeat 2X]
We be tripin', we can go
Peeping like he's seeking doe
Want the doe or want to go
I don't know if you fan or foe
I don't know if you fan or foe
I don't know if you fan or foe
Easy, hang and speak and brawl
I don't know if he fan or foe
Now easy how they speak
With broken teeth
That they did, young flow he can dope be choken
So yo' ass and you be walking off with it broken
Run up poor muthafukas in the open
Making them shut up
Woofing with that cold shit
Can't that shinanigans
Thinking you makes it the manikans
Thinking you silking the lotion
Back up wait a minute why you looking at me like that
I'm just a nigga with a little bit of fame but if you get the tripin' than I'm giving up my game
Never catch me sliping
You can get it out yo brain
Maine Fan or Foe!
Fuck a nigag try to get his hands on my doe
But if you really want come on
Try to get a, you can feed the unpulla
Tuck my hands on your throat
Man I'm a Low
Want a background for sack town
Better watch out from the Blao Blao
BLACK OUT, BLACK OUT, BLACK OUT, BLACK OUT (braararararaa ttataaaaa)
Stay with my kimers, stepping nockle doodle
Waicking there game on blood goca doodle
Think you gon catch me slip at a show
No factor slick Oh slack, shock a zoolu
Watch me do you
With all that fake shit
You fill with hate trade
Hoping wishing you wre my replacement
Courage so viciouse you gon' have to face it
They try to taste it
'cause I laced it like a tennis shoes and I've been a fool
Like Zeepo bitch and X-Raided
But this is a different interview
[Chorus Repeat 2X]
Living a bee a bad idea
If it never go home again
Nigga looking at me
Like imma chicken dinner
Looking back at niggas
Like a shot of hennessy
So I gotta carry the four
I don't really know though
'cause they walking past me
Giving me the eye
When they past me they be asking
When you new shit coming out
At tha picture house
They be huddled up and I think I might pick one out get tha nigga bigger than me
For tha trigger to see
If he tough enough
Make it what he trying to be
But he ain't bad though
Don't know how to approach a vulture
Get to close how I'm post up
can't even live in peace
And when I eat with my peeps In the place
You in my face with your mix-tapes
And if I try to listen to it
We get it to it
And fo' all that fue it
Then its time to do it
Uhhhh...Cuz a nigga from out south out the mouth
Your girl be loving me giving me mouth to mouth
(yea)
But it ain't fair that the music gotta do on what you wanna do when you ain't there.
And if too softly, softy when you see me out you betta get out off me
[Chorus Repeat 2X]
Lyrics © O/B/O APRA/AMCOS

Lyrics Licensed & Provided by LyricFind
To comment on specific lyrics,
highlight them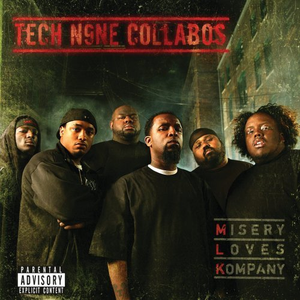 Aaron Dontez Yates (born November 8, 1971 in Kansas City, Missouri), better known by his stage name Tech N9ne or Tecca Nina is an American rapper, co-owner of Strange Music Records and actor. His career has spanned over 24 years, during which he has released eleven albums. According to the He's a Mental Giant Songfacts, his stage name originated from the TEC-9 semi-automatic handgun, given to him by rapper Black Walt due to his fast rhyming style.
Read Full Bio
Aaron Dontez Yates (born November 8, 1971 in Kansas City, Missouri), better known by his stage name Tech N9ne or Tecca Nina is an American rapper, co-owner of Strange Music Records and actor. His career has spanned over 24 years, during which he has released eleven albums. According to the He's a Mental Giant Songfacts, his stage name originated from the TEC-9 semi-automatic handgun, given to him by rapper Black Walt due to his fast rhyming style. (Tech is short for technique and 9 is the number of completion. That's why he says the technique's complete so often.)

His tenth studio album, K.O.D., was released October 27, 2009. He has spent his illustrious career making sure he's been grinding harder than the average rapper, and is the best selling artist out of his hometown. With nine solo albums and two powerhouse collaboration projects under his belt, the Kansas City MC's flow is sharper and slicker than it's ever been.
"This is another roller coaster ride," explains TECH N9NE about the release. "When it came time for Sickology 101, I knew I wanted to do a collabo album based on the study of being sick. It's a beginner's course for people who don't know how to be sick lyrically or how to choose sick beats. It all starts with beats because they tell me exactly what to do." Epic beats from YoungFyre, Wyshmaster, Seven and Matic Lee set the stage for TECH N9NE to weave his introspective and sometimes roguish lyrics around.

Sickology 101 brims with stellar appearances from lyrical heavyweights. On the opening title track, TECH N9NE slays alongside Chino XL and Crooked I, pulling listeners into the Hip-Hop classroom for a lesson in murdering a beat. It's a twisted vision forged on undeniable grooves and quixotic wordplay.

The single, "Nothin,'" is an inspiring, honest anthem that features Messy Marv and Big Scoob. Meanwhile, on "Midwest Choppers 2," TECH N9NE and Krayzie Bone cruise to the depths of darkness. "Krayzie Bone came through and murdered it," says TECH N9NE. "I modeled the song after movies. When you do a sequel, there has to be a bigger body count and more people have to die. 'Midwest Choppers 2' is Autobahn-style. It makes you want to speed."

TECH N9NE's inimitable flow and rhyming take center stage on solo tracks, including the haunting, hypnotic "Red Nose." He doesn't pull any punches on the vitriolic, YoungFyre-produced "Blown Away," either. It's an open letter to several prominent urban artists who refused to play before him at radio festivals despite his massive concert draw.

With hits like "I'm A Playa," "Caribou Lou" (which boasts 7.2 million MySpace plays), "Riotmaker," "Like Yeah" and "Everybody Move," it's no wonder TECH N9NE counts a total of over 4.5 million YouTube video plays and an average of 40,000 MySpace visitors each day. His success knows no limits. The July 2008 release, Killer, debuted at Number 1 on the Billboard Top Independent Albums chart and Number 12 on the Billboard Top 200 Albums chart. He did it all on his own. There was no major label — just TECH N9NE's own record company, Strange Music. TECH N9NE's tracks have appeared in films like Gang Related and Alpha Dog as well as various TV shows, and he recently made his motion picture debut in The Life of Lucky Cucumber alongside members of MTV's "Jackass" crew.

It hasn't been an easy road, but TECH N9NE soldiers on and he'll never stop. "They call me devil worshipper because I'm different. I give you music for my core. They're the people that put me over the million mark. I raise my middle finger to everybody who judges me because my core audience is there for me. They will always love me, but I'm trying to reach others, too. It's not over. My music is supposed to be for everybody, but some people just don't get it. This album is the result; swallow it. It's middle finger music, all-day and all-night."

TECH N9NE never stops bringing that music directly to his fans, constantly reinforcing his status as one of the hardest-touring rap acts in the business. In 2008, TECH N9NE performed over 200 shows and he doesn't show any signs of slowing down in 2009. In April, TECH will head out in support of Sickology 101 and spend two months on the road, performing live for his rabid fans.

Sickology 101 is prepping the world for TECH N9NE's next masterpiece, K.O.D. "I want people to know that I'm getting better and better and I'm a machine. I do these collabo albums to give the fans more. This is a bridge record to K.O.D. It's the farewell to the TECH N9NE you've known lately. It's getting darker. A lot of people might not be able to go to the place I'm going, but this place is my specialty."

"I don't need people to kiss my hand," assures TECH N9NE. "I'm not trippin' on status, and I'm not a narcissist when it comes to rap. It's my heart and soul pouring onto the paper. I write my life and I can't hold back. This is what I know."

Origin: Kansas City, Missouri
Year Formed: 1991
Official Site: http://www.therealtechn9ne.com/
Genre not found
Artist not found
Album not found
Search results not found
Song not found