Hello this is scott mills and I'm sure you'll remember that last year these guys were resbonsible ____
now they kick the umbrella away and say hi to the sunny again. The Baseballs are back, this time, without their shaking rain dance, with sweet taste of summer. And if I say sweet, take it literally. ___ It's Candy Shop.
Contributed by Jayce T. Suggest a correction in the comments below.
To comment on specific lyrics,
highlight them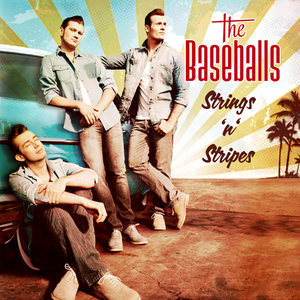 Intro (feat. Scott Mills)
The Baseballs are a German Rock & Roll / Rockabilly cover band, founded in 2007 in Berlin, most famous for singing contemporary pop songs in a "'50s and '60s Rock 'n' Roll" style. The band consists of 3 male singers: Digger, Sam, and Basti. The band is relatively new; their website was launched on 9th May (2009) and their first album release was out on 15th May, 2009.

More info at their official site: www.thebaseballs.com

Official Album Releases:
Read Full Bio
The Baseballs are a German Rock & Roll / Rockabilly cover band, founded in 2007 in Berlin, most famous for singing contemporary pop songs in a "'50s and '60s Rock 'n' Roll" style. The band consists of 3 male singers: Digger, Sam, and Basti. The band is relatively new; their website was launched on 9th May (2009) and their first album release was out on 15th May, 2009.

More info at their official site: www.thebaseballs.com

Official Album Releases:
Strike (2009)
Strike! Back (2010)
Strings 'n' Stripes (2011)
Strings 'n' Stripes - Live (2012)
Good Ol' Christmas (2012)
Game day (2014)

Singles:
Umbrella (2009)
Hot n Cold (2009)
Last in Line (2010)
Chasing Cars (2010)
Hello (2011)
Candy Shop (2011)
Umbrella - Live (2012)
Let it Snow (2012)

DVD:
Strings 'n' Stripes - Live (2012)
Genre not found
Artist not found
Album not found
Search results not found
Song not found