We come on the sloop John B
My grandfather and me
Around Nassau town we did roam
Drinking all night
Got into a fight
Well, I feel so broke up
I wanna go home
So hoist up the John B's sail
See how the mainsail sets
Call for the captain ashore
Let me go home
Let me go home
I wanna go home, yeah, yeah
Well, I feel so broke up
I wanna go home
The first mate, he got drunk
And broke in the captain's trunk
The constable had to come and take him away
Sheriff John Stone
Why don't you leave me alone? Yeah, yeah
Well, I feel so broke up
I wanna go home
So hoist up the John B's sail (hoist up the John B's sail)
See how the mainsail sets (see how the mainsail sets)
Call for the captain ashore
Let me go home
Let me go home
I wanna go home
Let me go home (hoist up the John B's sail)
(Why don't you let me go home?)
Hoist up the John B's sail (hoist up the John B's sail)
Feel so broke up
I wanna go home
Let me go home
The poor cook, he caught the fits
And threw away all my grits
And then he took and he ate up all of my corn
Let me go home
Why don't they let me go home?
This is the worst trip I've ever been on
So hoist up the John B's sail (hoist up the John B's sail)
See how the mainsail sets (see how the mainsail sets)
Call for the captain ashore
Let me go home
Let me go home
I wanna go home
Let me go home
Lyrics © Universal Music Publishing Group, O/B/O CAPASSO
Written by: Brian Wilson

Lyrics Licensed & Provided by LyricFind
To comment on specific lyrics,
highlight them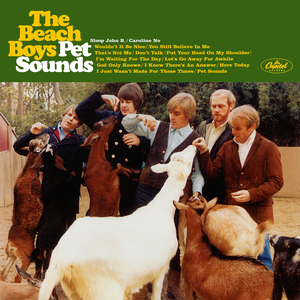 "Sloop John B" is the seventh track on The Beach Boys' Pet Sounds album and was also a single which was released in 1966 on Capitol Records. It was originally a traditional West Indies folk song, possibly recorded earliest by The Weavers under the title "Wreck of the John B", the song taken from a collection by Carl Sandburg (1927). Alan Lomax made a field recording of the song in Nassau, 1935, under the title "Histe Up the John B. Sail". This recording appears on the album Bahamas 1935: Chanteys And Anthems From Andros And Cat Island.
Read Full Bio
"Sloop John B" is the seventh track on The Beach Boys' Pet Sounds album and was also a single which was released in 1966 on Capitol Records. It was originally a traditional West Indies folk song, possibly recorded earliest by The Weavers under the title "Wreck of the John B", the song taken from a collection by Carl Sandburg (1927). Alan Lomax made a field recording of the song in Nassau, 1935, under the title "Histe Up the John B. Sail". This recording appears on the album Bahamas 1935: Chanteys And Anthems From Andros And Cat Island. The song was adapted by Weavers member Lee Hays. The recording of the song which directly influenced The Beach Boys was by The Kingston Trio, who used the title "The Wreck Of The John B".

This version was ranked #271 on Rolling Stone's list of The 500 Greatest Songs of All Time
Genre not found
Artist not found
Album not found
Search results not found
Song not found