Jump to: Overall Meaning | Line by Line Meaning
You're kinda small
And your such a doll
I'm glad you're mine
You're so good to me
How come you are
You take my hand
And you understand
When I get in a bad mood
You're so good to me
And I love it, love it
You're my baby, oh yeah
Don't mean maybe, oh yeah
I know your eyes
Are not on 'ther guys
When we're apart
You're so true to me
How come you are
And every night
You hold me so tight
When I kiss you goodbye
You're so good to me
And I love it, love it
You're my baby, oh yeah
Don't mean maybe, oh yeah
You're my baby, oh yeah
Don't mean maybe, oh yeah
You're my baby, oh yeah
Don't mean maybe, oh yeah
Overall Meaning
The Beach Boys' song "You're So Good to Me" seems to be a simple love song at first. The speaker addresses a small and doll-like person and expresses gratitude for their presence in their life. The singer then praises their partner for always being there for them, even when they are in a bad mood. The chorus repeats the sentiment that the partner is "so good" and the singer loves it.
However, there is an edge to the song that makes it more complex than just a simple love song. There is a sense of insecurity in the singer's tone, as if they can't believe that their partner is so good to them. The lines "How come you are" and "When we're apart/You're so true to me/How come you are" suggest that the singer may have trust issues or a difficult past that has led them to doubt the authenticity of their partner's love. The fact that the singer repeats the phrase "You're my baby, oh yeah/Don't mean maybe, oh yeah" reinforces this feeling of uncertainty.
This song therefore explores the complexity of love and trust in a relationship. It shows that even when someone has been hurt in the past, there is always the possibility of finding someone who is truly good to them.

Line by Line Meaning
You're kinda small
Although you're petite, you have a very attractive physical appearance
And you're such a doll
Furthermore, you're adorable, pretty, and sweet
I'm glad you're mine
I feel fortunate that you belong to me and we're together as a couple
You're so good to me
You treat me very well, have a positive impact on my life, and help me feel loved
How come you are
I appreciate your kindness and I'm curious as to why you're so good to me
You take my hand
You hold my hand in times of need, indicating to me that you care about me and want to offer support
And you understand
In addition, you're empathetic and intuitive, making it easier for you to know what I'm feeling
When I get in a bad mood
When I'm upset or angry, you're very patient and try to help me feel better
You're so good to me
You never give up on me and always stand by my side even when things get tough
And I love it, love it
I cannot express enough how grateful and happy I am that you're such a wonderful partner
You're my baby, oh yeah
I call you my baby because you're so dear to me and I treasure our relationship
Don't mean maybe, oh yeah
I am certain that I love you and that we belong together
I know your eyes
I trust and have faith in you because I know you're faithful and committed to our relationship
Are not on 'ther guys
When you're away from me, I'm confident that you're not looking at other men out of respect for our relationship
When we're apart
Although we're physically separated, I feel that we're still very close and intimately connected
You're so true to me
You're loyal and devoted to me, and I know that I can depend on you no matter what
How come you are
I'm impressed by your honesty and integrity, and I'm curious as to how you became such a trustworthy and nurturing person
And every night
Whenever we're together at night, I feel a sense of security, love, and comfort
You hold me so tight
You physically embrace me, which communicates your affection and strengthens our bond
When I kiss you goodbye
When we part, I feel sad but grateful that we had such a wonderful time together and look forward to seeing you again soon
You're so good to me
Once again, I'm amazed by your kindness and generosity, and I cherish the time we spend together
And I love it, love it
I feel incredibly lucky that I have you in my life, and I cannot imagine living without you
You're my baby, oh yeah
I remind you once again that you're my sweetheart and partner, and I appreciate all that you do for me
Don't mean maybe, oh yeah
I want you to know how much I care for you and that my love for you is real and sincere
Lyrics © BMG Rights Management, Universal Music Publishing Group
Written by: MICHAEL LOVE, BRIAN WILSON

Lyrics Licensed & Provided by LyricFind
To comment on or correct specific content,
highlight it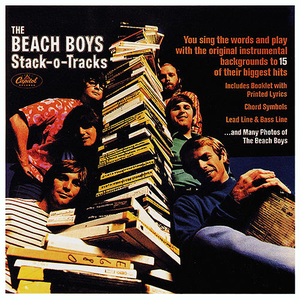 The Beach Boys are an iconic American rock band, frequently cited as one of the most influential and commercially successful groups in the history of popular music due to their intricate vocal harmonies, studio experiments, and novel approaches to pop songwriting. Rooted in doo-wop and rock and roll, their early string of vocal surf hits defined the '60s California Sound. For a period afterward, they notably delved into progressive pop styles. often combining elements from classical and jazz in innovative ways.
Read Full Bio
The Beach Boys are an iconic American rock band, frequently cited as one of the most influential and commercially successful groups in the history of popular music due to their intricate vocal harmonies, studio experiments, and novel approaches to pop songwriting. Rooted in doo-wop and rock and roll, their early string of vocal surf hits defined the '60s California Sound. For a period afterward, they notably delved into progressive pop styles. often combining elements from classical and jazz in innovative ways.

Formed in Hawthorne, California in 1961, the original group comprised singer-musician-composer and bandleader Brian Wilson, his brothers Carl Wilson and Dennis Wilson, their cousin Mike Love, and friend Al Jardine. Wilson neighbor David Marks appeared on their first four albums and was a member from 1962 to 1963 as a temporary replacement for Jardine, who had left the group to pursue a career in dentistry.

On their first few studio albums, the group primarily played surf music, but this changed after 1964 as their songs became more sophisticated and autobiographical. The 1965 album Today! particularly represented this shift in sound. Bruce Johnston joined the group that same year. Session drummer Hal Blaine is quoted: "We all studied in conservatories; we were trained musicians. We thought it was a fluke at first, but then we realized Brian was writing these incredible songs. This was not just a young kid writing about high school and surfing."

Following their most esteemed work, Pet Sounds (1966), the band became symbols of psychedelic counterculture. The highly anticipated follow-up, Smile, was left unfinished, and Brian soon relinquished his creative hold on the group. A trilogy of lo-fi releases followed: Smiley Smile (1967), Wild Honey (1967), and Friends (1968). Brian would not be credited as a primary composer for any Beach Boys album until 1977's Love You, an album on the fringe of synth-pop, new wave, and punk.

In Brian's absence, the Beach Boys still managed to release music that was regarded favorably by fans and critics despite poor sales: Sunflower (1970) and Surf's Up (1971). South African musicians Blondie Chaplin and Ricky Fataar played and sang with the band on the next two albums: Carl & the Passions - So Tough (1972), and Holland (1973).

Many changes in both musical style and personnel have occurred in their sometimes-stormy career: Brian Wilson's mental illness and drug addiction; the deaths of Dennis Wilson in 1983 and Carl Wilson in 1998; and continuing legal battles among surviving members of the group. With the release of 1974's Endless Summer they became a more popular touring act, playing their greatest hits. They have recorded 36 Billboard Top 40 hits (including four number-one singles), have had over 100 million sales, and were inducted into the Rock and Roll Hall of Fame in 1988.

Official site: http://www.thebeachboys.com
Genre not found
Artist not found
Album not found
Search results not found
Song not found