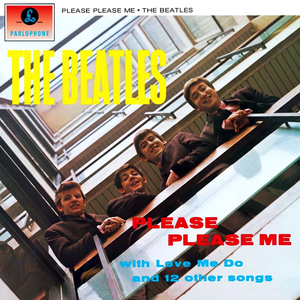 The Beatles were an English rock band formed in Liverpool in 1960. With the line…
Read Full Bio ↴
The Beatles were an English rock band formed in Liverpool in 1960. With the line-up comprising John Lennon, Paul McCartney, George Harrison and Ringo Starr, they are regarded as one of the most influential bands of all time. The group was integral to the development of 1960s counterculture and popular music's recognition as an art form. Rooted in skiffle, beat and 1950s rock and roll, their sound incorporated elements of classical music and traditional pop in innovative ways; the band later explored music styles ranging from ballads and Indian music to psychedelia and hard rock. As pioneers in recording, songwriting and artistic presentation, the group revolutionized many aspects of the music industry and were often publicized as leaders of the era's youth and socio-cultural movements.

Led by primary songwriters Lennon and McCartney, the Beatles built their reputation playing clubs in Liverpool and Hamburg over three years from 1960, initially with Stuart Sutcliffe playing bass. The core trio of Lennon, McCartney and Harrison, together since 1958, went through a succession of drummers, including Pete Best, before asking Starr to join them in 1962. Manager Brian Epstein molded them into a professional act and producer George Martin guided and developed their recordings, greatly expanding their domestic success after their first hit, "Love Me Do", in late 1962. As their popularity grew into the intense fan frenzy dubbed "Beatlemania", the band acquired the nickname "the Fab Four", with Epstein, Martin and other members of the band's entourage sometimes given the informal title of "fifth Beatle".

By early 1964, the Beatles were international stars, leading the "British Invasion" of the United States pop market and breaking numerous sales records. They soon made their film debut with A Hard Day's Night (1964). From 1965 onwards, they produced increasingly innovative recordings, including the albums Rubber Soul (1965), Revolver (1966) and Sgt. Pepper's Lonely Hearts Club Band (1967), and enjoyed further commercial success with The Beatles (also known as "the White Album", 1968) and Abbey Road (1969). In 1968, they founded Apple Corps, a multi-armed multimedia corporation that continues to oversee projects related to the band's legacy. After the group's break-up in 1970, all four members enjoyed success as solo artists. Lennon was shot and killed in December 1980, and Harrison died of lung cancer in November 2001. McCartney and Starr remain musically active.

The Beatles are the best-selling music act of all time, with estimated sales of 600 million units worldwide. They hold the record for most number-one albums on the UK Albums Chart, most number-one hits on the Billboard Hot 100 chart, and most singles sold in the UK. The group was inducted into the Rock and Roll Hall of Fame in 1988, and all four main members were inducted individually between 1994 and 2015. In 2008, the group topped Billboard's list of the all-time most successful artists on the Billboard Hot 100. The band received seven Grammy Awards, four Brit Awards, an Academy Award (for Best Original Song Score for the 1970 film Let It Be) and fifteen Ivor Novello Awards. Time magazine named them among the 20th century's 100 most important people.

Former Rolling Stone associate editor Robert Greenfield compared the Beatles to Picasso, as "artists who broke through the constraints of their time period to come up with something that was unique and original "... In the form of popular music, no one will ever be more revolutionary, more creative and more distinctive ..." The British poet Philip Larkin described their work as "an enchanting and intoxicating hybrid of African-American rock-and-roll with their own adolescent romanticism", and "the first advance in popular music since the War".

They not only sparked the British Invasion of the US, they became a globally influential phenomenon as well. From the 1920s, the US had dominated popular entertainment culture throughout much of the world, via Hollywood films, jazz, the music of Broadway and Tin Pan Alley and, later, the rock and roll that first emerged in Memphis, Tennessee. The Beatles are regarded as British cultural icons, with young adults from abroad naming the band among a group of people that they most associated with UK culture.

Their musical innovations and commercial success inspired musicians worldwide. Many artists have acknowledged the Beatles' influence and enjoyed chart success with covers of their songs. On radio, their arrival marked the beginning of a new era; in 1968 the programme director of New York's WABC radio station forbade his DJs from playing any "pre-Beatles" music, marking the defining line of what would be considered oldies on American radio. They helped to redefine the album as something more than just a few hits padded out with "filler", and they were primary innovators of the modern music video. The Shea Stadium show with which they opened their 1965 North American tour attracted an estimated 55,600 people, then the largest audience in concert history; Spitz describes the event as a "major breakthrough ... a giant step toward reshaping the concert business". Emulation of their clothing and especially their hairstyles, which became a mark of rebellion, had a global impact on fashion.

According to Gould, the Beatles changed the way people listened to popular music and experienced its role in their lives. From what began as the Beatlemania fad, the group's popularity grew into what was seen as an embodiment of socio-cultural movements of the decade. As icons of the 1960s counterculture, Gould continues, they became a catalyst for bohemianism and activism in various social and political arenas, fuelling movements such as women's liberation, gay liberation and environmentalism. According to Peter Lavezzoli, after the "more popular than Jesus" controversy in 1966, the Beatles felt considerable pressure to say the right things and "began a concerted effort to spread a message of wisdom and higher consciousness".


Other commentators such as Mikal Gilmore and Todd Leopold have traced the inception of their socio-cultural impact earlier, interpreting even the Beatlemania period, particularly on their first visit to the US, as a key moment in the development of generational awareness. Referring to their appearance on the Ed Sullivan Show Leopold states: "In many ways, the Sullivan appearance marked the beginning of a cultural revolution ... The Beatles were like aliens dropped into the United States of 1964.

In 1965, Queen Elizabeth II appointed Lennon, McCartney, Harrison and Starr Members of the Order of the British Empire (MBE). The Beatles won the 1971 Academy Award for Best Original Song Score for the film Let It Be (1970). The recipients of seven Grammy Awards and fifteen Ivor Novello Awards, the Beatles have six Diamond albums, as well as 20 Multi-Platinum albums, 16 Platinum albums and six Gold albums in the US. In the UK, the Beatles have four Multi-Platinum albums, four Platinum albums, eight Gold albums and one Silver album. They were inducted into the Rock and Roll Hall of Fame in 1988.

The best-selling band in history, the Beatles have sold more than 800 million physical and digital albums as of 2013. They have had more number-one albums on the UK charts, fifteen, and sold more singles in the UK, 21.9 million, than any other act. In 2004, Rolling Stone ranked the Beatles as the most significant and influential rock music artists of the last 50 years. They ranked number one on Billboard magazine's list of the all-time most successful Hot 100 artists, released in 2008 to celebrate the US singles chart's 50th anniversary. As of 2017, they hold the record for most number-one hits on the Billboard Hot 100, with twenty. The Recording Industry Association of America certifies that the Beatles have sold 178 million units in the US, more than any other artist. They were collectively included in Time magazine's compilation of the 20th century's 100 most influential people. In 2014, they received the Grammy Lifetime Achievement Award.

There are two holidays celebrated for the Beatles: Global Beatles Day on 25 June each year. On that date in 1967, the band performed "All You Need Is Love" on television. In 2001, UNESCO created World Beatles Day on 16 January each year. This date has direct relation to the opening of The Cavern Club in 1957.

Five asteroids, 4147 Lennon, 4148 McCartney, 4149 Harrison, 4150 Starr and 8749 Beatles are named after the Beatles.
Jump to: Overall Meaning ↴ Interesting Facts ↴ Line by Line Meaning ↴
Sha-la-la-la-la-la-la
Sha-la-la-la-la-la-la
Sha-la-la-la-la-la-la
Sha-la-la-la-la
It's not the way you smile that touched my heart
(Sha-la-la-la-la)
It's not the way you kiss that tears me apart
Wa-oh, many many many nights go by
I sit alone at home and cry over you
What can I do, can't help myself
'Cause, baby, it's you (sha-la-la-la-la-la-la)
Baby, it's you (sha-la-la-la-la-la-la)
(Sha-la-la-la-la)
You should hear what they say about you (cheat, cheat)
(Sha-la-la-la-la)
They say, they say you never never never ever been true (cheat, cheat)
Wa-oh, it doesn't matter what they say
I know I'm gonna love you any old way
What can I do? Then it's true
Don't want nobody, nobody
'Cause, baby, it's you (sha-la-la-la-la-la-la)
Baby, it's you (sha-la-la-la-la-la-la)
Wa-oh, it doesn't matter what they say
I know I'm gonna love you any old way
What can I do? When it's true
Don't want nobody, nobody
'Cause, baby, it's you (sha-la-la-la-la-la-la)
Baby, it's you (sha-la-la-la-la-la-la)
Don't leave me all alone (sha-la-la-la-la-la-la)
Come on home (sha-la-la-la-la-la-la)
Overall Meaning
"Baby It's You" is a song originally recorded by The Shirelles in 1962, but it was covered by The Beatles in the same year for their debut album "Please, Please Me." The song was written by Burt Bacharach, Mack David, and Barney Williams. In the beginning, we hear the repetition of "Sha-la-la-la-la-la-la" which is like a signature sound in the song. As we continue to listen to the lyrics, we find a man who is deeply in love with a woman, and even though he knows she has a bad reputation and cheats, he can't help but love her. The repetition of "sha-la-la-la-la-la-la" throughout the song adds to the emotional intensity of the song, and conveys the desperation of the man's love for the woman.
The song has a very simple structure of four verses and a chorus. In the first verse, we hear that it's not the way the woman smiles or kisses that has touched the man's heart, but it is her as a whole. In the next verse, we hear that the man has been crying over the woman after many nights alone. The chorus reaffirms that it's only her that he wants, even though people talk about her negatively. The "sha-la-la-la-la-la-la" refrain is heard again before the third and fourth verses repeat the same sentiments as the first two.
Overall, "Baby It's You" is a love song that expresses the strong emotions and attachment the man has for the woman, even though there are negative rumors about her. It communicates the idea of loving someone despite their flaws and mistakes.
Interesting facts about "Baby It's You":
Interesting Facts
Note: This section uses generative AI, which can be inaccurate.


Line by Line Meaning
Sha-la-la-la-la-la-la
Repetitive sound to set the tone and mood of the song
It's not the way you smile that touched my heart
The singer is stating that it wasn't just the subject's smile that caught their attention
(Sha-la-la-la-la)
Repetitive sound to set the tone and mood of the song
It's not the way you kiss that tears me apart
The artist is stating that the subject's kiss is not what causes heartache
Wa-oh, many many many nights go by
The artist has been experiencing heartbreak and loneliness for a long time
I sit alone at home and cry over you
The singer is confessing their sorrow and heartbreak over the subject
What can I do, can't help myself
The singer is feeling powerless to their emotions
'Cause, baby, it's you (sha-la-la-la-la-la-la)
The subject of the artist's affection is the focus and cause of their emotions
Baby, it's you (sha-la-la-la-la-la-la)
The repetitive line reinforces that the subject is the focus and cause of the artist's emotions
You should hear what they say about you (cheat, cheat)
There are rumors and gossip about the subject's dishonesty
(Sha-la-la-la-la)
Repetitive sound to set the tone and mood of the song
They say, they say you never never never ever been true (cheat, cheat)
The rumors and gossip are accusing the subject of never being honest
Wa-oh, it doesn't matter what they say
The singer doesn't care about the rumors and gossip about the subject
I know I'm gonna love you any old way
The singer is expressing that they will continue to love the subject despite the rumors and gossip
What can I do? Then it's true
The singer can't help their feelings, which are true and sincere
Don't want nobody, nobody
The artist only wants the subject, and no one else
'Cause, baby, it's you (sha-la-la-la-la-la-la)
The subject of the artist's affection is the focus and cause of their emotions
Baby, it's you (sha-la-la-la-la-la-la)
The repetitive line reinforces that the subject is the focus and cause of the singer's emotions
Don't leave me all alone (sha-la-la-la-la-la-la)
The singer is expressing their fear of being alone without the subject
Come on home (sha-la-la-la-la-la-la)
The artist is pleading with the subject to come back to them
Lyrics © SOROKA MUSIC LTD., Universal Music Publishing Group, Sony/ATV Music Publishing LLC
Written by: Burt Bacharach, Mack David, Barney Williams

Lyrics Licensed & Provided by LyricFind
To comment on or correct specific content,
highlight it
Genre not found
Artist not found
Album not found
Search results not found
Song not found