Magical Mystery Tour
The Beatles Lyrics
Roll up roll up for the Mystery Tour
Roll up roll up for the Mystery Tour
Roll up
That's an invitation
Roll up for the Mystery Tour
Roll up
To make a reservation
Roll up for the Mystery Tour
The Magical Mystery Tour
Is waiting to take you away
Waiting to take you away
Roll up
Roll up for the Mystery Tour
Roll up
Roll up for the Mystery Tour
Roll up
They've got everything you need
Roll up for the Mystery Tour
Roll up
Satisfaction guaranteed
Roll up for the Mystery Tour
The Magical Mystery Tour is hoping to take you away
Hoping to take you away
The Mystery Tour
Ah
The Magical Mystery Tour
Roll up
Roll up for the Mystery Tour
Roll up
That's an invitation
Roll up for the Mystery Tour
Roll up
To make a reservation
Roll up for the Mystery Tour
The Magical Mystery Tour
Is coming to take you away
Coming to take you away
The Magical Mystery Tour
Is dying to take you away
Dying to take you away
Take you today
Lyrics © Sony/ATV Music Publishing LLC
Written by: John Lennon, Paul Mccartney

Lyrics Licensed & Provided by LyricFind
To comment on specific lyrics,
highlight them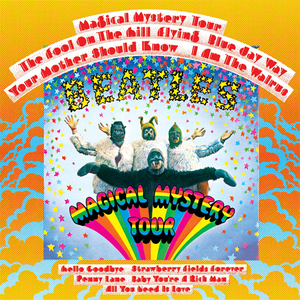 "Magical Mystery Tour" is a song by The Beatles, the opening track and theme song for the album and TV film of the same name. Unlike the theme songs for their other film projects, it was not released as a single.
The song is credited to Lennon/McCartney, and Paul McCartney said it was co-written. John Lennon said, "Paul's song. Maybe I did part of it, but it was his concept.". Lennon also said to the Hit Parader in 1972:"Paul wrote it. I helped with some of the lyric."
Read Full Bio
"Magical Mystery Tour" is a song by The Beatles, the opening track and theme song for the album and TV film of the same name. Unlike the theme songs for their other film projects, it was not released as a single.
The song is credited to Lennon/McCartney, and Paul McCartney said it was co-written. John Lennon said, "Paul's song. Maybe I did part of it, but it was his concept.". Lennon also said to the Hit Parader in 1972:"Paul wrote it. I helped with some of the lyric."

McCartney said the "Roll up! Roll up!" introduction was inspired by a barker. The remaining lyrics explain in a general way the premise of the film: a mystery tour of the type that was popular in Britain when the Beatles were young. Lennon and McCartney expanded the tour to make it magical, which allowed it to be "a little more surreal than the real ones."
Recording began on 25 April 1967, less than a week after the final sessions for Sgt. Pepper's Lonely Hearts Club Band. The song was not complete when the session began and much of the evening was spent in rehearsals, but by the end of the evening the basic rhythm track was complete. The Beatles added bass guitar and vocal overdubs on 26 and 27 April. On 3 May, the brass fanfare and other parts were added in a disorganized session where the trumpet players began the evening without a score. According to Philip Jones, a friend of one of the players who was present, one of the players eventually took matters into his own hands and wrote a score out for them
Genre not found
Artist not found
Album not found
Search results not found
Song not found