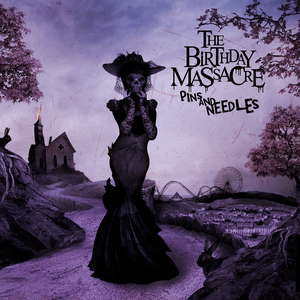 The Birthday Massacre is a synth-rock band formed in 1999 and based in Toronto, …
Read Full Bio ↴
The Birthday Massacre is a synth-rock band formed in 1999 and based in Toronto, Ontario, Canada. From 1999 until 2002, the band name was Imagica. The current lineup consists of Chibi (vocals), Rainbow (guitars and programming), Michael Falcore (guitars), Owen (keyboards), Brett Carruthers (bass), and Philip Elliot (drums). Their sound is mostly a fusion of alternative rock, new wave, industrial, and synthpop.

So far, TBM have released eight studio albums: Nothing and Nowhere (2002), Violet (2005), Walking With Strangers (2007), Pins and Needles (2010), Hide and Seek (2012), Superstition (2014), Under Your Spell (2017), and Diamonds (2020). They have also issued the DVD Blue (2005), the live album/DVD Show and Tell (2009), and the EPs Violet (2004), Looking Glass (2008), Imaginary Monsters (2011), and Imagica (2016).

The group originated in London, Ontario under the name Imagica, inspired from the novel "Imajica" by Clive Barker. The band's original lineup consisted of: Chibi, Rainbow, Michael Falcore, and Aslan (bass). Dank played live keyboards and O.E. joined the group on live drums. A seven-song limited edition demo was released.

In 2001, Dank left the group, and the others relocated from London to Toronto, Ontario, to begin recording. There, they recorded another limited edition demo, this time with five songs. In 2002, the band adopted the name The Birthday Massacre in order to avoid confusion with a metal band. They chose the name "The Birthday Massacre" since people were already familiar with the song of the same title. The song was later retitled as "Happy Birthday".

In July of 2002, The Birthday Massacre independently released their debut album entitled Nothing and Nowhere. In 2003, Adm joined the band on live keyboards and Rhim on drums.

On 20 July 2004, The Birthday Massacre released a nine song EP entitled Violet and at the end of the year, re-released Nothing and Nowhere with new sleeve artwork. Adm soon left thereafter to explore his own projects.

In the fall of 2004, the band was signed to Repo Records in Germany, and released a remastered and expanded version of Violet in Europe. The expanded version of Violet included four re-recorded and slightly reworked tracks from Nothing and Nowhere.

In 2005 the band signed to Metropolis Records and released Violet in the United States, Canada, United Kingdom, and most of South America. Owen joined on live keyboards and in August, the band began a series of international tours taking them to Switzerland, Germany, the Netherlands, Hungary, the Czech Republic, and Belgium.

Also in August 2005, a DVD consisting of a video for the song "Blue" was released. It also included behind-the-scenes footage, interviews, a studio performance of "Nevermind" as well as live performances of "Violet" and "Video Kid". The centerpiece of the DVD was the Dan Ouellette-directed video for "Blue".

In early 2006, the Birthday Massacre toured North America, playing across Canada, the United States, and Mexico on their "Broken Minds" tour. They also played Europe in the summer of 2006.

In June 2007, it was announced that the band was working on a new record with Canadian producer/engineer Dave "Rave" Ogilvie (producer of many industrial acts such as Skinny Puppy), and that bass player Aslan had left the band for his own project named Aslan Osiris. Aslan was replaced on bass by former drummer O.E. .

On 11 September 2007 the band released their third album Walking With Strangers in North America, entering at #10 on the Billboard "Top Heatseekers" chart for 29 September. The album was released in Europe on 21 September and in the UK on 22 October. Walking With Strangers included the singles "Kill the Lights" and "Looking Glass". An EP, Looking Glass followed in 2008.

In spring 2009, The Birthday Massacre issued their first live album, Show and Tell. It was recorded in Hamburg, Germany in Autumn 2007. A DVD with the Hamburg show and extra video content was released later in Europe (2009) and North America (2010).

The band's fourth studio album, Pins and Needles was issued on 14 September 2010 in North America, debuting at #152 on the Billboard 200, #6 on the heatseekers, and #34 on independent. O.E. left the group and was replaced by Nate Manor.

On 9 August 2011 the band released the EP Imaginary Monsters. In 9 October 2012, TBM released the fifth studio album, Hide and Seek.

Superstition is the sixth studio album by Canadian electronic rock band The Birthday Massacre, released on November 11, 2014 through Metropolis Records. The album was funded through PledgeMusic. To promote the album, a subsequent North America tour and music video for "Beyond" followed the album's release.

Under Your Spell is the seventh studio album by Canadian electronic rock band The Birthday Massacre, released on June 9, 2017 through Metropolis Records. The album was funded, once again, through PledgeMusic.

Official site: www.thebirthdaymassacre.com
Jump to: Overall Meaning ↴ Interesting Facts ↴ Line by Line Meaning ↴
Repeating words until they're true
It slows the breathing
Pretend they never came from you
It kills the feeling
I'm not what you want
You said what I never could
We're falling apart
You said that we never would
It's not what I want
It's wearing you down
We're back where we started
No turning around
We're falling apart
I'm tearing you down
It's not what I want now
Before you walk, you'll learn to fall
Well stop and count to ten
We'll take these pictures off the wall
We'll stop and start again
I'm not what you want
You said what I never could
We're falling apart
You said that we never would
It's not what I want
It's wearing you down
We're back where we started
No turning around
We're falling apart
I'm tearing you down
It's not what I want
For always
Always
And always
Always
(Always)
We only go so far
It's not what I want for
(Always)
We only go so far
It's not what I want now
You're not in my heart
I'm wearing you down
I'm back where we started
No turning around
You're falling apart
I'm tearing you down
It's not what I want
For always
Always
And always
Always
Overall Meaning
The lyrics of this song by The Birthday Massacre speak about a relationship that is not going well, where both parties are falling apart and going back to the beginning. There is a sense of desperation and frustration with repeating the same patterns and failing to move forward. The first stanza is particularly poignant, with the repetition of words until they become true, which can be interpreted as a form of self-delusion and a coping mechanism to deal with the pain of the situation. The second stanza has a clear indication of both parties being aware of the situation, but not knowing how to fix it. The chorus repeats the word "always" as if to suggest that this is a never-ending cycle of the same issues and problems being faced.
The bridge provides some insight into what could be done to fix the situation, but there is a sense of reluctance from one party to take that step. The phrase "before you walk, you'll learn to fall" suggests that the solution requires some risk-taking and vulnerability, and it may not be easy. In the end, there is a sense of resignation and acceptance that things may not work out as hoped, with the final lines "you're falling apart, I'm tearing you down, it's not what I want" indicating that one party may have to walk away for the sake of their own sanity.
Some interesting facts about the song include:
Interesting Facts
Note: This section uses generative AI, which can be inaccurate.


Line by Line Meaning
Repeating words until they're true
Saying words over and over until they become your reality
It slows the breathing
The repetition provides a sense of calmness and control
Pretend they never came from you
Denying ownership of the words, making it easier to accept them
It kills the feeling
The repetition removes the emotion from the words, making them more bearable
I'm not what you want
Acknowledging that the relationship is not fulfilling for both parties
You said what I never could
Admitting that the other person was able to express the problem better than oneself
We're falling apart
Realizing that the relationship is deteriorating
You said that we never would
Remembering past assurances from the other person that the relationship would survive
It's not what I want
Admitting that the current state of the relationship is not desirable
It's wearing you down
Recognizing that the relationship is causing strain for the other person
We're back where we started
Feeling like no progress has been made in the relationship
No turning around
Not willing or able to change the course of events
I'm tearing you down
Acknowledging that one's actions or words are damaging the other person emotionally
Before you walk, you'll learn to fall
There will be obstacles and failures along the way to finding what you truly want
Well stop and count to ten
Take a step back and gain perspective before making a decision
We'll take these pictures off the wall
Removing physical reminders of the relationship to facilitate moving on
We'll stop and start again
Putting aside the past and trying again
For always
Referring to the constant struggles and difficulties of relationships
We only go so far
Acknowledging that every relationship has its limits
You're not in my heart
Admitting that the love has gone and the relationship is over
Lyrics © Universal Music Publishing Group, Songtrust Ave, Kobalt Music Publishing Ltd., Warner Chappell Music, Inc.
Written by: ANDREW JOHN STONE, NICHOLAS PAUL EVERSFIELD, JAMES BENJAMIN STONE, JOSEPH WILLIAM WILSON

Lyrics Licensed & Provided by LyricFind
To comment on or correct specific content,
highlight it
Genre not found
Artist not found
Album not found
Search results not found
Song not found