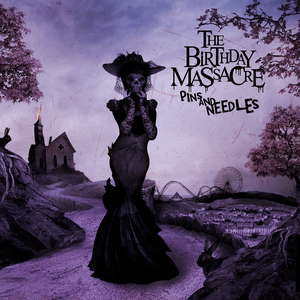 The Birthday Massacre is a synth-rock band formed in 1999 and based in Toronto, …
Read Full Bio ↴
The Birthday Massacre is a synth-rock band formed in 1999 and based in Toronto, Ontario, Canada. From 1999 until 2002, the band name was Imagica. The current lineup consists of Chibi (vocals), Rainbow (guitars and programming), Michael Falcore (guitars), Owen (keyboards), Brett Carruthers (bass), and Philip Elliot (drums). Their sound is mostly a fusion of alternative rock, new wave, industrial, and synthpop.

So far, TBM have released eight studio albums: Nothing and Nowhere (2002), Violet (2005), Walking With Strangers (2007), Pins and Needles (2010), Hide and Seek (2012), Superstition (2014), Under Your Spell (2017), and Diamonds (2020). They have also issued the DVD Blue (2005), the live album/DVD Show and Tell (2009), and the EPs Violet (2004), Looking Glass (2008), Imaginary Monsters (2011), and Imagica (2016).

The group originated in London, Ontario under the name Imagica, inspired from the novel "Imajica" by Clive Barker. The band's original lineup consisted of: Chibi, Rainbow, Michael Falcore, and Aslan (bass). Dank played live keyboards and O.E. joined the group on live drums. A seven-song limited edition demo was released.

In 2001, Dank left the group, and the others relocated from London to Toronto, Ontario, to begin recording. There, they recorded another limited edition demo, this time with five songs. In 2002, the band adopted the name The Birthday Massacre in order to avoid confusion with a metal band. They chose the name "The Birthday Massacre" since people were already familiar with the song of the same title. The song was later retitled as "Happy Birthday".

In July of 2002, The Birthday Massacre independently released their debut album entitled Nothing and Nowhere. In 2003, Adm joined the band on live keyboards and Rhim on drums.

On 20 July 2004, The Birthday Massacre released a nine song EP entitled Violet and at the end of the year, re-released Nothing and Nowhere with new sleeve artwork. Adm soon left thereafter to explore his own projects.

In the fall of 2004, the band was signed to Repo Records in Germany, and released a remastered and expanded version of Violet in Europe. The expanded version of Violet included four re-recorded and slightly reworked tracks from Nothing and Nowhere.

In 2005 the band signed to Metropolis Records and released Violet in the United States, Canada, United Kingdom, and most of South America. Owen joined on live keyboards and in August, the band began a series of international tours taking them to Switzerland, Germany, the Netherlands, Hungary, the Czech Republic, and Belgium.

Also in August 2005, a DVD consisting of a video for the song "Blue" was released. It also included behind-the-scenes footage, interviews, a studio performance of "Nevermind" as well as live performances of "Violet" and "Video Kid". The centerpiece of the DVD was the Dan Ouellette-directed video for "Blue".

In early 2006, the Birthday Massacre toured North America, playing across Canada, the United States, and Mexico on their "Broken Minds" tour. They also played Europe in the summer of 2006.

In June 2007, it was announced that the band was working on a new record with Canadian producer/engineer Dave "Rave" Ogilvie (producer of many industrial acts such as Skinny Puppy), and that bass player Aslan had left the band for his own project named Aslan Osiris. Aslan was replaced on bass by former drummer O.E. .

On 11 September 2007 the band released their third album Walking With Strangers in North America, entering at #10 on the Billboard "Top Heatseekers" chart for 29 September. The album was released in Europe on 21 September and in the UK on 22 October. Walking With Strangers included the singles "Kill the Lights" and "Looking Glass". An EP, Looking Glass followed in 2008.

In spring 2009, The Birthday Massacre issued their first live album, Show and Tell. It was recorded in Hamburg, Germany in Autumn 2007. A DVD with the Hamburg show and extra video content was released later in Europe (2009) and North America (2010).

The band's fourth studio album, Pins and Needles was issued on 14 September 2010 in North America, debuting at #152 on the Billboard 200, #6 on the heatseekers, and #34 on independent. O.E. left the group and was replaced by Nate Manor.

On 9 August 2011 the band released the EP Imaginary Monsters. In 9 October 2012, TBM released the fifth studio album, Hide and Seek.

Superstition is the sixth studio album by Canadian electronic rock band The Birthday Massacre, released on November 11, 2014 through Metropolis Records. The album was funded through PledgeMusic. To promote the album, a subsequent North America tour and music video for "Beyond" followed the album's release.

Under Your Spell is the seventh studio album by Canadian electronic rock band The Birthday Massacre, released on June 9, 2017 through Metropolis Records. The album was funded, once again, through PledgeMusic.

Official site: www.thebirthdaymassacre.com
Jump to: Overall Meaning ↴ Interesting Facts ↴ Line by Line Meaning ↴
Their on the side of caution
They're taking in the new girls
Two faced, too poised to shed a tear
No memory to speak of
Past in the night we didn't hear
The fading breath of your love
We lose control of the moments
Another trend goes out of season
A new love, forever
Look the other way
You see through me
A new trend, indifference
You are a child of privilege
Your reputation leads you
All trace of light will disappear
You're falling into season
Their every word is insincere
There is no time for reason
We lose control of the moments
Another trend goes out of season
A new love, forever
Look the other way
You see through me
A new trend, indifference
Remember our childhood
It's not quite the same
A pale hue of new blood
They all know your name
We lose control of the moments
Another trend goes out of season
A new love, forever
Look the other way
You see through me
A new trend, indifference
Overall Meaning
The lyrics to The Birthday Massacre's "Control" discuss the theme of conformity and how individuals can lose control of their identity and memories due to societal pressure. The opening lines "They're on the side of caution, they're taking in the new girls, two-faced, too poised to shed a tear" sets the tone for the rest of the song, introducing the idea of a group of people who are cautious and calculating in their actions. The lines "No memory to speak of, past in the night we didn't hear, the fading breath of your love" are particularly poignant, emphasizing the loss of memory and identity that can occur when conformity is prioritized over individuality.
The chorus, "We lose control of the moments, another trend goes out of season, a new love, forever, look the other way, you see through me, a new trend, indifference," echoes the idea of losing control and identity in the face of societal trends. The lyrics describe how individuals can become apathetic towards their own desires and feelings, instead adopting "new trends" to fit in with the crowd. The bridge of the song, "Remember our childhood, it's not quite the same, a pale hue of new blood, they all know your name" recalls a time when conformity was not as prevalent, and helps to emphasize the loss of identity that can occur in adulthood.
Overall, "Control" is a powerful commentary on the dangers of conformity and the importance of maintaining one's individuality and identity in the face of societal pressure.
Interesting facts about the song:
Interesting Facts
Note: This section uses generative AI, which can be inaccurate.


Line by Line Meaning
Their on the side of caution
The people around are being cautious
They're taking in the new girls
They're accepting new people into their group
Two faced, too poised to shed a tear
They are insincere and won't show their emotions
No memory to speak of
They don't remember anything in particular
Past in the night we didn't hear
We didn't pay attention to what happened in the past
The fading breath of your love
Your love is fading away
We lose control of the moments
We can't control what happens
Another trend goes out of season
Another trend is fading away
A new love, forever
A new love will last forever
Look the other way
Ignore what's happening
You see through me
You can see right through me
A new trend, indifference
A new trend of apathy and disinterest
You are a child of privilege
You were born into a life of privilege
Your reputation leads you
Your reputation is the reason for your success
All trace of light will disappear
Everything good will fade away
You're falling into season
You're conforming to the current trend
Their every word is insincere
They don't mean what they say
There is no time for reason
There's no reason or logic behind their actions
Remember our childhood
Think back to our childhood
It's not quite the same
Things have changed since then
A pale hue of new blood
New people, but they're not quite like us
They all know your name
Everyone knows who you are
Lyrics © Universal Music Publishing Group, Sony/ATV Music Publishing LLC
Written by: CLIVE JOHN WEBBE, JEFFREY ROSE, MARTYN FORD, RICHARD FRANCIS GLOVER

Lyrics Licensed & Provided by LyricFind
To comment on or correct specific content,
highlight it
Genre not found
Artist not found
Album not found
Search results not found
Song not found