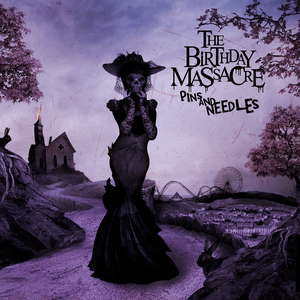 The Birthday Massacre is a synth-rock band formed in 1999 and based in Toronto, …
Read Full Bio ↴
The Birthday Massacre is a synth-rock band formed in 1999 and based in Toronto, Ontario, Canada. From 1999 until 2002, the band name was Imagica. The current lineup consists of Chibi (vocals), Rainbow (guitars and programming), Michael Falcore (guitars), Owen (keyboards), Brett Carruthers (bass), and Philip Elliot (drums). Their sound is mostly a fusion of alternative rock, new wave, industrial, and synthpop.

So far, TBM have released eight studio albums: Nothing and Nowhere (2002), Violet (2005), Walking With Strangers (2007), Pins and Needles (2010), Hide and Seek (2012), Superstition (2014), Under Your Spell (2017), and Diamonds (2020). They have also issued the DVD Blue (2005), the live album/DVD Show and Tell (2009), and the EPs Violet (2004), Looking Glass (2008), Imaginary Monsters (2011), and Imagica (2016).

The group originated in London, Ontario under the name Imagica, inspired from the novel "Imajica" by Clive Barker. The band's original lineup consisted of: Chibi, Rainbow, Michael Falcore, and Aslan (bass). Dank played live keyboards and O.E. joined the group on live drums. A seven-song limited edition demo was released.

In 2001, Dank left the group, and the others relocated from London to Toronto, Ontario, to begin recording. There, they recorded another limited edition demo, this time with five songs. In 2002, the band adopted the name The Birthday Massacre in order to avoid confusion with a metal band. They chose the name "The Birthday Massacre" since people were already familiar with the song of the same title. The song was later retitled as "Happy Birthday".

In July of 2002, The Birthday Massacre independently released their debut album entitled Nothing and Nowhere. In 2003, Adm joined the band on live keyboards and Rhim on drums.

On 20 July 2004, The Birthday Massacre released a nine song EP entitled Violet and at the end of the year, re-released Nothing and Nowhere with new sleeve artwork. Adm soon left thereafter to explore his own projects.

In the fall of 2004, the band was signed to Repo Records in Germany, and released a remastered and expanded version of Violet in Europe. The expanded version of Violet included four re-recorded and slightly reworked tracks from Nothing and Nowhere.

In 2005 the band signed to Metropolis Records and released Violet in the United States, Canada, United Kingdom, and most of South America. Owen joined on live keyboards and in August, the band began a series of international tours taking them to Switzerland, Germany, the Netherlands, Hungary, the Czech Republic, and Belgium.

Also in August 2005, a DVD consisting of a video for the song "Blue" was released. It also included behind-the-scenes footage, interviews, a studio performance of "Nevermind" as well as live performances of "Violet" and "Video Kid". The centerpiece of the DVD was the Dan Ouellette-directed video for "Blue".

In early 2006, the Birthday Massacre toured North America, playing across Canada, the United States, and Mexico on their "Broken Minds" tour. They also played Europe in the summer of 2006.

In June 2007, it was announced that the band was working on a new record with Canadian producer/engineer Dave "Rave" Ogilvie (producer of many industrial acts such as Skinny Puppy), and that bass player Aslan had left the band for his own project named Aslan Osiris. Aslan was replaced on bass by former drummer O.E. .

On 11 September 2007 the band released their third album Walking With Strangers in North America, entering at #10 on the Billboard "Top Heatseekers" chart for 29 September. The album was released in Europe on 21 September and in the UK on 22 October. Walking With Strangers included the singles "Kill the Lights" and "Looking Glass". An EP, Looking Glass followed in 2008.

In spring 2009, The Birthday Massacre issued their first live album, Show and Tell. It was recorded in Hamburg, Germany in Autumn 2007. A DVD with the Hamburg show and extra video content was released later in Europe (2009) and North America (2010).

The band's fourth studio album, Pins and Needles was issued on 14 September 2010 in North America, debuting at #152 on the Billboard 200, #6 on the heatseekers, and #34 on independent. O.E. left the group and was replaced by Nate Manor.

On 9 August 2011 the band released the EP Imaginary Monsters. In 9 October 2012, TBM released the fifth studio album, Hide and Seek.

Superstition is the sixth studio album by Canadian electronic rock band The Birthday Massacre, released on November 11, 2014 through Metropolis Records. The album was funded through PledgeMusic. To promote the album, a subsequent North America tour and music video for "Beyond" followed the album's release.

Under Your Spell is the seventh studio album by Canadian electronic rock band The Birthday Massacre, released on June 9, 2017 through Metropolis Records. The album was funded, once again, through PledgeMusic.

Official site: www.thebirthdaymassacre.com
Jump to: Overall Meaning ↴ Interesting Facts ↴ Line by Line Meaning ↴
All these broken pieces left unglued
Should never find their way
Into the hands of someone like you
I'm in the dark
I'm alone around you
I've never been here before
Nobody here to get me through
Oh I'm in the dark
Every minute shed is never mine
Frozen in this fog and hiding
Every second in time
I'm in the dark
I'm alone around you
I've never been here before
Nobody here to get me through
Oh I'm losing my faith in every way
It points to you
Oh I'm in the dark
I'm alone around you
Oh I'm in the dark
The more bleak the day
The less I behave as if
Everything black can wash away
Why can't I just trade a dream for a way
To peel back the shade behind the gray
I'm in the dark
I'm alone around you
I've never been here before
Nobody here to get me through
Oh I'm in the dark
Overall Meaning
The lyrics to The Birthday Massacre's song "In the Dark" suggest a feeling of vulnerability and fear. The first two lines describe the singer's broken pieces that have been left unglued, which they feel should not fall into the hands of someone like the addressee. The imagery of broken pieces suggests that the singer's emotional state is fragmented, and the fact that they fear giving these pieces to someone else suggests that they may struggle with trust.
The chorus consists of the repetition of "I'm in the dark," which reinforces the feeling of vulnerability and isolation that the singer is experiencing. They feel alone, and there is nobody there to get them through their dark feelings. However, in the last verse, the lyrics suggest a desire for a way out of the darkness. The singer seems to be losing their faith, which points to the addressee, suggesting that they are the cause of the singer's pain. Despite this, the singer is looking for a way to "peel back the shade behind the gray," perhaps suggesting a desire to uncover the truth and move towards a brighter future.
Overall, the lyrics of "In the Dark" convey a sense of emotional fragility and a desperate need to escape from the dark feelings that are consuming the singer.
Interesting facts about the song:
Interesting Facts
Note: This section uses generative AI, which can be inaccurate.


Line by Line Meaning
All these broken pieces left unglued
All these shattered fragments left unrepaired
Should never find their way
Should never reach
Into the hands of someone like you
Into the grasp of someone unworthy
I'm in the dark
I'm in a state of confusion
I'm alone around you
I'm lonely even when I'm with you
I've never been here before
I've never experienced this before
Nobody here to get me through
No one here to help me overcome
Every minute shed is never mine
Every tear shed is wasted
Frozen in this fog and hiding
Stuck in this confusion and concealing
Every second in time
Every moment in existence
Oh I'm losing my faith in every way
I'm losing my trust completely
It points to you
It all leads back to you
The more bleak the day
The darker the day
The less I behave as if
The less I act as though
Everything black can wash away
Everything dark can be cleansed
Why can't I just trade a dream for a way
Why can't I exchange my aspirations for a solution
To peel back the shade behind the gray
To reveal the truth behind the obscurity
Lyrics © Sony/ATV Music Publishing LLC, Peermusic Publishing
Written by: MICHAEL HANMER, MATTHEW O'HALLORAN, MICHAEL RAINBOW

Lyrics Licensed & Provided by LyricFind
To comment on or correct specific content,
highlight it
Genre not found
Artist not found
Album not found
Search results not found
Song not found