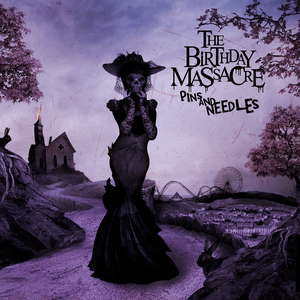 The Birthday Massacre is a synth-rock band formed in 1999 and based in Toronto, …
Read Full Bio ↴
The Birthday Massacre is a synth-rock band formed in 1999 and based in Toronto, Ontario, Canada. From 1999 until 2002, the band name was Imagica. The current lineup consists of Chibi (vocals), Rainbow (guitars and programming), Michael Falcore (guitars), Owen (keyboards), Brett Carruthers (bass), and Philip Elliot (drums). Their sound is mostly a fusion of alternative rock, new wave, industrial, and synthpop.

So far, TBM have released eight studio albums: Nothing and Nowhere (2002), Violet (2005), Walking With Strangers (2007), Pins and Needles (2010), Hide and Seek (2012), Superstition (2014), Under Your Spell (2017), and Diamonds (2020). They have also issued the DVD Blue (2005), the live album/DVD Show and Tell (2009), and the EPs Violet (2004), Looking Glass (2008), Imaginary Monsters (2011), and Imagica (2016).

The group originated in London, Ontario under the name Imagica, inspired from the novel "Imajica" by Clive Barker. The band's original lineup consisted of: Chibi, Rainbow, Michael Falcore, and Aslan (bass). Dank played live keyboards and O.E. joined the group on live drums. A seven-song limited edition demo was released.

In 2001, Dank left the group, and the others relocated from London to Toronto, Ontario, to begin recording. There, they recorded another limited edition demo, this time with five songs. In 2002, the band adopted the name The Birthday Massacre in order to avoid confusion with a metal band. They chose the name "The Birthday Massacre" since people were already familiar with the song of the same title. The song was later retitled as "Happy Birthday".

In July of 2002, The Birthday Massacre independently released their debut album entitled Nothing and Nowhere. In 2003, Adm joined the band on live keyboards and Rhim on drums.

On 20 July 2004, The Birthday Massacre released a nine song EP entitled Violet and at the end of the year, re-released Nothing and Nowhere with new sleeve artwork. Adm soon left thereafter to explore his own projects.

In the fall of 2004, the band was signed to Repo Records in Germany, and released a remastered and expanded version of Violet in Europe. The expanded version of Violet included four re-recorded and slightly reworked tracks from Nothing and Nowhere.

In 2005 the band signed to Metropolis Records and released Violet in the United States, Canada, United Kingdom, and most of South America. Owen joined on live keyboards and in August, the band began a series of international tours taking them to Switzerland, Germany, the Netherlands, Hungary, the Czech Republic, and Belgium.

Also in August 2005, a DVD consisting of a video for the song "Blue" was released. It also included behind-the-scenes footage, interviews, a studio performance of "Nevermind" as well as live performances of "Violet" and "Video Kid". The centerpiece of the DVD was the Dan Ouellette-directed video for "Blue".

In early 2006, the Birthday Massacre toured North America, playing across Canada, the United States, and Mexico on their "Broken Minds" tour. They also played Europe in the summer of 2006.

In June 2007, it was announced that the band was working on a new record with Canadian producer/engineer Dave "Rave" Ogilvie (producer of many industrial acts such as Skinny Puppy), and that bass player Aslan had left the band for his own project named Aslan Osiris. Aslan was replaced on bass by former drummer O.E. .

On 11 September 2007 the band released their third album Walking With Strangers in North America, entering at #10 on the Billboard "Top Heatseekers" chart for 29 September. The album was released in Europe on 21 September and in the UK on 22 October. Walking With Strangers included the singles "Kill the Lights" and "Looking Glass". An EP, Looking Glass followed in 2008.

In spring 2009, The Birthday Massacre issued their first live album, Show and Tell. It was recorded in Hamburg, Germany in Autumn 2007. A DVD with the Hamburg show and extra video content was released later in Europe (2009) and North America (2010).

The band's fourth studio album, Pins and Needles was issued on 14 September 2010 in North America, debuting at #152 on the Billboard 200, #6 on the heatseekers, and #34 on independent. O.E. left the group and was replaced by Nate Manor.

On 9 August 2011 the band released the EP Imaginary Monsters. In 9 October 2012, TBM released the fifth studio album, Hide and Seek.

Superstition is the sixth studio album by Canadian electronic rock band The Birthday Massacre, released on November 11, 2014 through Metropolis Records. The album was funded through PledgeMusic. To promote the album, a subsequent North America tour and music video for "Beyond" followed the album's release.

Under Your Spell is the seventh studio album by Canadian electronic rock band The Birthday Massacre, released on June 9, 2017 through Metropolis Records. The album was funded, once again, through PledgeMusic.

Official site: www.thebirthdaymassacre.com
Jump to: Overall Meaning ↴ Interesting Facts ↴ Line by Line Meaning ↴
Her voice cuts through the walls
Rings through everything that's hollow
These bitter words recall
All that's left and hard to swallow
She was always good for nothing when the good broke bad
All she's got to lose is everything she never has
(Every back turned to her)
We put her down in a shallow grave
She wears a dress like a body bag every day
And this way she won't have to run away
And she can keep her regrets at bay every day
Her blood runs hot to cold
Always breaking while she borrows
Her favors bought and sold
She lives like she's dead tomorrow
Just another reason looking for the next because
Just another has been wishing that she never was
(Every back turned to her)
We put her down in a shallow grave
She wears a dress like a body bag every day
And this way she won't have to run away
And she can keep her regrets at bay every day
Tomorrow's not a new day
Or time to think things through
As patience starts to fall away
A day can feel like two
When we gave her a new face
The past was out of view
She never fooled us
Because she could never fool herself
We put her down in a shallow grave
She wears a dress like a body bag every day
And this way she won't have to run away
And she can keep her regrets a bay every day
Overall Meaning
In "Shallow Grave," The Birthday Massacre paints a morbid picture of a young woman who has been mistreated and rejected by those who were supposed to care for her. The lyrics suggest that this woman has been subjected to harsh criticism, and that she has adopted an attitude of helpless resignation as a result. Her voice "cuts through the walls," suggesting that she is desperately seeking connection, but no one is listening. She wears a "dress like a body bag" because she feels as if she is already dead. The chorus repeats the phrase "we put her down in a shallow grave," a grim metaphor for how society has rejected her and cast her out.
The lyrics also hint at a deep sense of regret that permeates the woman's life. She is constantly "borrowing" favors from others, and she knows that she is trading on their goodwill for her own benefit. She is "living like she's dead tomorrow," meaning that she feels like she has nothing to look forward to in her future. Even her attempt to "keep her regrets at bay" by burying them in the shallow grave of her life is ultimately unsuccessful.
"Shallow Grave" is a song that reflects the darker side of human nature. It's a reminder that people are often quick to judge and slow to forgive, and that the consequences of such behavior can be devastating. At the same time, however, the song offers a glimmer of hope: even in the face of our worst mistakes and our deepest regrets, we still have the power to rise above our circumstances and create a better future for ourselves.
Interesting facts about the song:
Interesting Facts
Note: This section uses generative AI, which can be inaccurate.


Line by Line Meaning
Her voice cuts through the walls
Her words are strong and they can resonate even through solid walls.
Rings through everything that's hollow
Her voice echoes loudly in empty or hollow spaces.
These bitter words recall
Her unpleasant words bring up bad memories or feelings.
All that's left and hard to swallow
Her words remind us of the painful things that are difficult to accept.
She was always good for nothing when the good broke bad
She was never useful or helpful, especially when things went wrong.
All she's got to lose is everything she never has
She has nothing to lose, but also nothing to gain.
(Every back turned to her)
Everyone has turned their back on her, leaving her alone.
We put her down in a shallow grave
We metaphorically buried her alive and left her to suffer and die.
She wears a dress like a body bag every day
She dresses like she's always ready to be buried in a coffin.
And this way she won't have to run away
By remaining trapped in her shallow grave, she doesn't have to face her problems or make difficult decisions.
And she can keep her regrets at bay every day
She avoids feeling remorseful or guilty by not facing the consequences of her actions.
Her blood runs hot to cold
Her emotions are unstable and can change quickly.
Always breaking while she borrows
She often finds herself in a state of disrepair while depending on others for help.
Her favors bought and sold
She uses her abilities or favors as a commodity to trade for something she needs.
She lives like she's dead tomorrow
She lives a life that makes her feel like she has no future or hope of survival.
Just another reason looking for the next because
She is always searching for the next excuse or problem to blame for her own failures.
Just another has been wishing that she never was
She is someone who has been forgotten and wishes she was never born or existed.
Tomorrow's not a new day
She doesn't believe that things will get better or change for the better in the future.
Or time to think things through
She feels like she doesn't have the time or mental capacity to process her thoughts or emotions.
As patience starts to fall away
Her ability to tolerate or be patient is diminishing over time.
A day can feel like two
Time seems to pass slowly and painfully for her.
When we gave her a new face
We tried to change her outward appearance, but it didn't fix the inner issues.
The past was out of view
We tried to ignore or erase the past, but it still lingers and affects the present.
She never fooled us
We knew all along that she was struggling and unhappy, despite her attempts to hide it.
Because she could never fool herself
She was never able to convince or lie to herself that things were okay, and that's why she struggled.
Lyrics © Sony/ATV Music Publishing LLC, Peermusic Publishing, Warner Chappell Music, Inc.
Written by: MATTHEW O'HALLORAN, MICHAEL HANMER, MICHAEL RAINBOW, SARA TAYLOR

Lyrics Licensed & Provided by LyricFind
To comment on or correct specific content,
highlight it
Genre not found
Artist not found
Album not found
Search results not found
Song not found