I Don't Like It Like That
The Bobbettes Lyrics
[CHORUS]
Oh, no (oh, no, I don′t like it like that)
Oh, no (oh, no, I don't like it like that)
No, no, no, no, no, no
(Oh, no, I don′t like it like that)
I been to the place and it ain't like that
[Repeat CHORUS]
I been to the place across the track
That place called I like it like that
I've been with Tony, I′ve been with Lou
I′m here to tell you that place won't do
[Repeat CHORUS 2x]
Well, I was down there when you lost a shoe
That′s when some cat was yelling at you
Things got so bad, I couldn't stand no more
I made the scene and ran out the door
[Repeat CHORUS 2x]
Writer(s): Chris Kenner

Contributed by Maya M. Suggest a correction in the comments below.
To comment on specific lyrics,
highlight them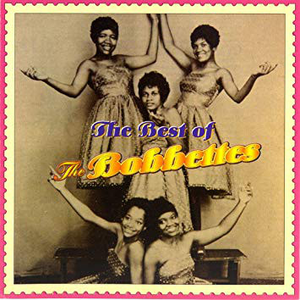 I Don't Like It Like That
The Bobbettes were a girl group who had a 1957 top 10 hit song called "Mr. Lee".

The group, which originally formed in Harlem, New York, in 1955, was first known as 'The Harlem Queens.' The girls first met while singing at the Glee Club at P.S. 109 in Harlem. They were soon discovered by James Dailey, a record producer, who also became their manager, while playing a concert at the legendary Apollo Theater's amateur night, and were quickly signed to a contract on the Atlantic Record Label.
Read Full Bio
The Bobbettes were a girl group who had a 1957 top 10 hit song called "Mr. Lee".

The group, which originally formed in Harlem, New York, in 1955, was first known as 'The Harlem Queens.' The girls first met while singing at the Glee Club at P.S. 109 in Harlem. They were soon discovered by James Dailey, a record producer, who also became their manager, while playing a concert at the legendary Apollo Theater's amateur night, and were quickly signed to a contract on the Atlantic Record Label.

In 1957, the girls released their first hit single, "Mr. Lee", a song based on a former grade school teacher of theirs. The song became their best recording ever. Over the next few years they followed up that single with such other recordings as, "I Shot Mr. Lee", "Have Mercy Baby", "You Are My Sweetheart", and "Dance With Me Georgie." The recording of "I Shot Mr. Lee", was originally refused by the Atlantic Record Label, but the song started to climb the charts rapidly, and Atlantic was forced to release their own version of the song. In 1960, the group left the Atlantic Record Label and signed a contract with the End Records Label. For that label the girls released the songs, "Teach Me Tonight", "I Don't Like It Like That", and the follow-up, "I Like It Like That." Although the recording of, "I Like It Like That", was the girls' last chart topper, they continued to record for a series of record labels, including Diamond and Mayhew, before disbanding in 1974. They also toured the oldies circuits for many years after their breakup. Other recordings by the Bobbettes include, "Oh My Pa-Pa", "Speedy", "Zoomy", and "Rock And Ree-Ah-Zole (The Teenage Talk)".

€ Jannie Pought (8 November 1945 - September 1980) was a Rhythm and Blues musician and a native of Harlem. She died at the age of 34, stabbed to death while walking down a street in Jersey City, New Jersey.
€ Laura Webb, later known as Laura Webb-Childress (8 November 1941 - 8 January 2000), another native of Harlem, died at the age of 59 from the effects of colon cancer.
€ Emma Pought
€ Helen Gathers
€ Reather Dixon
Genre not found
Artist not found
Album not found
Search results not found
Song not found