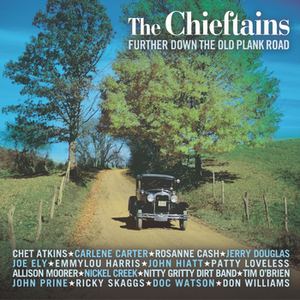 The Chieftains are a Grammy winning Irish musical group founded in 1962 (Dublin, Ireland), known for performing and popularizing Irish traditional music.

The band has recorded many albums of instrumental Irish folk music, as well as multiple collaborations with popular musicians of many genres, including Country music, Galician traditional music, Cape Breton and Newfoundland music, and rock and roll. They have performed with Van Morrison, The Rolling Stones
Read Full Bio
The Chieftains are a Grammy winning Irish musical group founded in 1962 (Dublin, Ireland), known for performing and popularizing Irish traditional music.

The band has recorded many albums of instrumental Irish folk music, as well as multiple collaborations with popular musicians of many genres, including Country music, Galician traditional music, Cape Breton and Newfoundland music, and rock and roll. They have performed with Van Morrison, The Rolling Stones, Sting, Roger Daltrey, Elvis Costello, Tom Jones, Sinéad O'Connor, James Galway, Jackson Browne, Nancy Griffith and numerous Country-western artists. In 1975, the group won praise for their playing of "Women of Ireland" for Stanley Kubrick's movie Barry Lyndon.

They have won six Grammy Awards and have been nominated eighteen times. In 2002 they were given a Lifetime Achievement Award by the UK's BBC Radio 2. The front covers of the first four albums were designed by Edward Delaney.

Paddy Moloney is the band's leader, and composes or arranges most of the band's music. While the band's members changed numerous times in the band's early history, the membership solidified in 1979 when Matt Molloy replaced Michael Tubridy.

From then until 2002, members included:
Paddy Moloney (uilleann pipes, tin whistle, button accordion, bodhrán)
Matt Molloy (flute, tin whistle)
Kevin Conneff (bodhrán, vocals)
Seán Keane (fiddle, tin whistle)
Martin Fay (fiddle, bones) (born 1938; died 14 November 2012)
Derek Bell (Irish harp, keyboard instruments, oboe) (born 21 October 1935; died 17 October 2002)

In 2002, Fay retired from active membership. In the same year, Bell died due to complications following a minor operation. Fay died on 14 November 2012.
Genre not found
Artist not found
Album not found
Search results not found
Song not found
We have lyrics for 'Three Little Babes' by these artists:



Joanna Newsom There was a knight and a lady bright And three little…
Newsom Joanna There was a knight and a lady bright And three little…



We have lyrics for these tracks by The Chieftains:



A Breton Carol Péh trouz zou ar en doar Péh kan a gleúan me Na…
A la Orilla de un Palmar A la orilla de un palmar Yo vi de una joven…
A Stór Mo Chroí A Stor Mo Chroi, when you're far away From the house…
Behind Blue Eyes No one knows what it's like To be the bad man,…
Canción Mixteca Que lejos estoy del suelo donde he nacido! Inmensa nostalgia…
Carolina Rua Stories never end 'til you come to conclusions Carolina Rua …
Carrickfergus I wished I had you in Carrickfergus, Only for nights in…
Casadh an tSúgáin CASADH AN TSÚGÁIN A Rí na bhfeart cad do chas ins…
Changing Your Demeanour Here we are we've come to call with pipes and…
Coast of Malabar Far away across the ocean Underneath an Indian star Dwells a…
Come All Ye Fair and Tender Ladies [Featuring: Pistol Annies] Come all ye fair and tender ladi…
Cotton-Eyed Joe If it hadn't been for cotton-eye Joe I'd been married long…
Country Blues Come all you good, kind people While I've got money to…
Danny Boy Oh Danny boy, the pipes, the pipes are calling From glen…
Dark as a Dungeon Oh come all you young fellers so young and so…
Ding Dong Merrily On High Ding dong merrily on high, In heaven the bells are ringing: …
Down In The Willow Garden [Featuring: Bon Iver] Down in the willow garden Where me…
Dueling Chanters Track is instrumental and has no lyrics…
Ev Chistr 'ta Laou! Ev' chistr 'ta Laou rak chistr 'zo mat, lonla, Ev' chistr…
Factory Girl As I went out walking one fine summer morning The birds…
Factory Girl (feat. Sinéad O'Connor) As I went out walking one fine summer morning, The birds…
Fionnghuala Thuirt an gobha fuirighidh mi 'S thuirt an gobha falbhaidh…
foggy Dew I was down the glen one Easter morn To a city…
God Rest Ye Merry Gentlemen God rest ye merry, gentlemen Let nothing you dismay Remember…
Goodnight Irene Last Saturday night I got married Me and my wife settled…
Hard Times Come Again No More [Featuring: Paolo Nutini] Let us pause in life's pleasure…
Have I Told You Lately That I Love You Have I told you lately that I love you? Have I…
He Moved Through the Fair My own love said to me "My mother won't mind.…
Here's a Health to the Company Kind friends and companions, come join me in rhyme Come lift…
I Can't Stop Loving You I can't stop loving you So I made up my mind To…
I Know My Love I know my love by his way of walking And I…
I Saw Three Ships A Sailing I saw three ships come sailing in On Christmas Day, on…
I'll Be All Smiles Tonight I'll be all smiles tonight, love I'll be all smiles tonight …
I'll Tell Me Ma I'll tell me Ma when I go home, The boys won't…
Il Est Né / Ca Berger Il est né le divin enfant jouez hautbois, résonnez musettes…
Jack of All Trades I'm a roving jack of many a trade Of ev'ry trade Of…
Jimmy Mó Mhíle Stór Bliain an taca seo d'imigh uaim rún mo chléibh Ní thiocfaid…
Jordan Am a Hard Road to Travel I'm gonna sing you a brand new song It's all the…
Katie Dear Oh Katie dear, go ask your mama If you can be…
Killybegs My heart was warm with family love, as I slipped…
Lily Love [Featuring: Civil Wars] Down, down by the sea, there is a…
Lily of the West When first I came to Ireland some pleasure for to…
Little Love Affairs When I wake in the night And find that I'm dreaming You're…
Long Journey Home If on every ocean the ship is a throne And…
Love Is Teasin' I wish, I wish, I wish in vain, I wish I…
Luz de Luna Yo quiero luz de luna Para mi noche triste Para…
Millennium Celtic Suite Quand j'étais jeune à dix-huit ans J'étais belle et galante…
Mo Ghile Mear Chorus: 'Se/ mo laoch, mo Ghile Mear 'Se/ mo Chaesar Gile Me…
Molly Ban Come all ye young fellas That handle a gun Beware of night…
Morning has broken Morning has broken Like the first morning Blackbird has spok…
My Bonnie My Bonnie lies over the ocean, My Bonnie lies over…
My Lagan Love Where Lagan streams sing lullabies There blows a lily fair. …
Never Give all the Heart Never give all the heart For love will hardly seem worth…
Nobody's Darlin' but Mine Come sit by my side little darlin' Come lay your…
North Amerikay Ye lovers all both great and small, who dwell in…
O Come All Ye Faithful O Come All Ye Faithful Joyful and triumphant, O come ye, O…
O Holy Night Oh holy night! The stars are brightly shining It is the ni…
O The Holly She Bears A Berry Oh the Holly, she bears a berry, as white as…
Once in Royal David's City Once in royal David's city Stood a lowly cattle shed, Wher…
Opening Medley: Dóchas / King of Laois / Paddy's Jig / O'Keefes / Chattering Magpie Our bed we live, our bed we sleep Making love and…
Paddy's Green Shamrock Shore From Derry Quai we sailed away On the 23rd of May We…
Past Three O' Clock CHORUS past three o'clock, on a cold frosty morn, past th…
Peggy Gordon O Peggy Gordon, you are my darling Come sit you down…
Pretty Little Girl Pretty little girl with a blue dress on Pretty little girl…
Rachamid a Bhean Bheag She drove west from Salt Lake City to the California…
Raglan Road On Raglan Road on an Autumn Day, I saw her first…
Rain and Snow I married me a wife She gave me trouble all my…
Red is the Rose Come over the hills, my handsome Irish lad Come over the…
Redemption Song Old pirates, yes, they rob I Sold I to the merchant…
Rocky Road to Dublin In the merry month of May From me home I started Left…
School Days Over Schooldays over, come on then, John Time to be gettin' your…
Shenandoah Oh, Shenandoah I long to see you Away you rolling river O…
Sisters of Mercy All the sisters of mercy, they are not departed or…
St. Stephen's Day Murders I knew of two sisters whose name it was Christmas, And…
Star Of The County Down In Banbridge Town in the County Down One morning last July, …
Tennessee Waltz / Tennessee Mazurka I was dancing with my darlin' to the Tennessee Waltz When…
The Boar's Head The boar's head in hand bear I, Bedeck'd with bays and…
The Foggy Dew I was down the glen one Easter morn To a city…
The Frost Is All Over What would you do if the kettle boiled over? What would…
The Green Fields of America Farewell to the groves of shillelagh and the shamrock Farewe…
The Lark In The Clear Air / Olam Punch Ólaim puins is ólaim tae Is an lá ina dhiaidh sin…
The Lily of the West When first I came to Ireland some pleasure for to…
The long black veil Ten years ago on a cold dark night Someone was…
The Lovely Sweet Banks Of The Moy One day as I went on my rambles From Swinford to…
The Lowlands of Holland On the night that I was married And upon my marriage…
The Magdalene Laundries I was an unmarried girl I'd just turned twenty-seven When …
The May Morning Dew How pleasant in winter To sit by the hob Just listening to…
The Raggle Taggle Gypsy There were three old gypsies came to our house door They…
The Rebel Jesus All the streets are filled with laughter and light And the…
The Rocky Road to Dublin In the merry month of May From me home I started Left…
The Stone Rising early out of bed Across the fields I steered O, Whe…
The Wexford Carol Near Bethlehem did shepherds keep Their flocks of lambs and …
Wabash Cannonball I stood on the Atlantic Ocean The wide Pacific shore To th…
When The Ship Comes In [Featuring: The Decemberists] Oh the time will come up When…
Whole Heap of Little Horses Go to sleep, go to sleep Go to sleep you little…
Wild Mountain Thyme Oh the Summer time is coming And the trees are…
Winnie The Pooh Deep in the hundred acre wood Where Christopher Robin plays …
Winnie-the-Pooh Deep in the hundred acre wood Where Christopher Robin plays…

The lyrics can frequently be found in the comments below or by filtering for lyric videos.