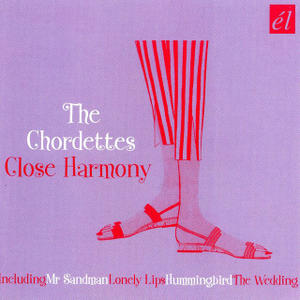 The Chordettes were a female popular singing quartet, usually singing a cappella…
Read Full Bio ↴
The Chordettes were a female popular singing quartet, usually singing a cappella, and specializing in traditional pop music.

They were first organized in Sheboygan, Wisconsin in 1946. The original members of the group were Janet Ertel (1913-November 4, 1988), Carol Bushman (her sister-in-law), Dorothy Schwartz, and Jinny Osborn (or Lockard) (April 25, 1927-May 19, 2003). In 1952, Lynn Evans replaced Schwartz, and in 1953, Margie Needham replaced Osborn (who was having a baby), though Osborn later returned to the group. Nancy Overton also was a member of the group at a later time. Originally they sang folk music in the style of The Weavers, but eventually changed to a harmonizing style of the type known as barbershop harmony. Part of this change seems to be influenced by Osborn's father.

Jinny Osborn was born in Seattle, Washington. She was born Virginia Cole, the daughter of O. H. "King" Cole, who was president of the Barbershop Harmony Society (then known as SPEBSQSA), and Katherine Flack.

After performing locally in Sheboygan, they went on Arthur Godfrey's radio program, Talent Scouts in 1949.They went on to feature status on Godfrey's daily program, and then went on to make a number of recordings for Columbia Records.

In 1953, Godfrey's music director and orchestra leader, Archie Bleyer, founded Cadence Records. He signed a number of Godfrey regulars and former regulars, including the Chordettes, who had a number of hit records for Cadence.

Their biggest hit was Mr. Sandman in 1954. Archie Bleyer himself is on that record along with the group, Bleyer stripping the sound down the better not to clutter the girls' voices. They also hit the top twenty with 1958's "Lollipop," and also charted with a vocal version of the themes from television's Zorro (1959) and the film Never on Sunday (1961). Other hits for the girls included "Eddie My Love," "Born to Be With You," and "Lay Down Your Arms" in 1956 and "Just Between You and Me" in 1957.

Janet Ertel married Bleyer in 1954. Her daughter Jackie married another Cadence recording star, Phil Everly of The Everly Brothers. She died of cancer in 1988.

The Chordettes appeared on American Bandstand August 5, 1957, kicking off the first episode of the show over the ABC Television Network.

In 1961, Jinny Osborn left the group, and they were unable to find a replacement with whom they were happy, leading to a breakup.

The group was inducted into the Vocal Group Hall of Fame in 2001.

Jinny Osborn (by that time Jinny Janis) died in 2003
Jump to: Overall Meaning ↴ Line by Line Meaning ↴
I once had a gown, it was almost new
The daintiest thing, it was sweet Alice blue
With little forget-me-nots placed here and there
When I had it on, I walked on the air
And it wore, and it wore, and it wore
'Til it went, and it wasn't no more
In my sweet little Alice blue gown
When I first wandered down into town
I was both proud and shy, as I felt every eye
But in every shop window I primped passing by
Then in manner of fashion, I'd frown
And the world seemed to smile all around
'Til it wilted, I wore it, I'll always adore it
My sweet little Alice blue gown
My sweet little Alice blue gown
My sweet little Alice blue gown
Overall Meaning
The lyrics of The Chordettes' song Alice Blue Gown describe a beautiful and delicate blue dress that the singer used to have. The dress was adorned with little forget-me-not flowers that added to its charm. The singer reminisces about wearing the dress, feeling as though she was walking on air, and proudly strutting through town, catching everyone's attention. She was initially self-conscious and shy, but as she passed shop windows, admiring herself, she grew more confident. The dress became a symbol of her happiness as the world seemed to smile around her. However, as time went on, the dress became worn out until it was no longer wearable. Despite this, the singer will always adore her "sweet little Alice blue gown."
The song's lyrics are an ode to nostalgia and the past, longing for a time when everything seemed perfect and beautiful. It's a bittersweet reminder that everything eventually fades and wears out, making room for new experiences and memories to be made. Additionally, the lyrics talk about the importance of appearance and how it affects one's confidence and perception of the world.

Line by Line Meaning
I once had a gown, it was almost new
I used to own a dress, that was nearly brand new
The daintiest thing, it was sweet Alice blue
It was a delicate and beautiful dress, colored in a sweet shade of blue called Alice blue
With little forget-me-nots placed here and there
The dress had small flowers known as forget-me-nots, scattered in different places
When I had it on, I walked on the air
Whenever I wore it, I felt as if I was walking on air due to the dress's beauty and my own joy in wearing it
And it wore, and it wore, and it wore
As time passed, the dress became old and started to wear out
'Til it went, and it wasn't no more
Until the dress was completely worn out and no longer usable
In my sweet little Alice blue gown
I treasured that dress, so beautiful and precious to me
When I first wandered down into town
I remember wearing that dress when I first walked into town
I was both proud and shy, as I felt every eye
I was proud of the dress and yet, a bit shy as all eyes were on me while I wore it
But in every shop window I primped passing by
Whenever I saw a shop window, I couldn't resist primping and admiring myself in the reflection
Then in manner of fashion, I'd frown
As if I was following fashion etiquette, I would frown a bit
And the world seemed to smile all around
Despite my frowns, everything else in the world seemed so bright and full of joy
'Til it wilted, I wore it, I'll always adore it
I kept wearing the dress, even when it wilted, and I will always cherish it
My sweet little Alice blue gown
That beautiful, delicate, and sweet blue dress will forever remain mine
My sweet little Alice blue gown
That sweet blue dress will always be a cherished memory for me
My sweet little Alice blue gown
That dress, oh that dress! How much it means to me!
Writer(s): Joseph Joe Mc Carthy, Harry Tierney

Contributed by Colton G. Suggest a correction in the comments below.
To comment on or correct specific content,
highlight it
Genre not found
Artist not found
Album not found
Search results not found
Song not found