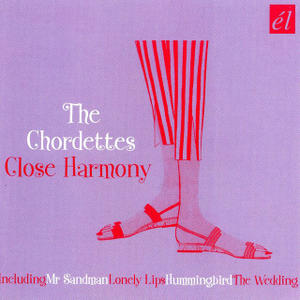 Down Among The Sheltering Palms
The Chordettes were a female popular singing quartet, usually singing a cappella…
Read Full Bio ↴
The Chordettes were a female popular singing quartet, usually singing a cappella, and specializing in traditional pop music.

They were first organized in Sheboygan, Wisconsin in 1946. The original members of the group were Janet Ertel (1913-November 4, 1988), Carol Bushman (her sister-in-law), Dorothy Schwartz, and Jinny Osborn (or Lockard) (April 25, 1927-May 19, 2003). In 1952, Lynn Evans replaced Schwartz, and in 1953, Margie Needham replaced Osborn (who was having a baby), though Osborn later returned to the group. Nancy Overton also was a member of the group at a later time. Originally they sang folk music in the style of The Weavers, but eventually changed to a harmonizing style of the type known as barbershop harmony. Part of this change seems to be influenced by Osborn's father.

Jinny Osborn was born in Seattle, Washington. She was born Virginia Cole, the daughter of O. H. "King" Cole, who was president of the Barbershop Harmony Society (then known as SPEBSQSA), and Katherine Flack.

After performing locally in Sheboygan, they went on Arthur Godfrey's radio program, Talent Scouts in 1949.They went on to feature status on Godfrey's daily program, and then went on to make a number of recordings for Columbia Records.

In 1953, Godfrey's music director and orchestra leader, Archie Bleyer, founded Cadence Records. He signed a number of Godfrey regulars and former regulars, including the Chordettes, who had a number of hit records for Cadence.

Their biggest hit was Mr. Sandman in 1954. Archie Bleyer himself is on that record along with the group, Bleyer stripping the sound down the better not to clutter the girls' voices. They also hit the top twenty with 1958's "Lollipop," and also charted with a vocal version of the themes from television's Zorro (1959) and the film Never on Sunday (1961). Other hits for the girls included "Eddie My Love," "Born to Be With You," and "Lay Down Your Arms" in 1956 and "Just Between You and Me" in 1957.

Janet Ertel married Bleyer in 1954. Her daughter Jackie married another Cadence recording star, Phil Everly of The Everly Brothers. She died of cancer in 1988.

The Chordettes appeared on American Bandstand August 5, 1957, kicking off the first episode of the show over the ABC Television Network.

In 1961, Jinny Osborn left the group, and they were unable to find a replacement with whom they were happy, leading to a breakup.

The group was inducted into the Vocal Group Hall of Fame in 2001.

Jinny Osborn (by that time Jinny Janis) died in 2003
Down Among The Sheltering Palms
The Chordettes Lyrics
Jump to: Overall Meaning ↴ Line by Line Meaning ↴
Down among the sheltering palms
Oh honey, wait for me
Oh honey, wait for me
Don't be forgettin' we've got a date
Out where the sun goes down about eight
How my love is burning, burning, burning
How my heart is yearning, yearning, yearning
To be down among the sheltering palms
Oh honey, wait for me
Down among the sheltering palms
Oh honey, wait for me
Oh honey, wait for me
Don't be forgettin' we've got a date
Out where the sun goes down about eight
How my love is burning, burning, burning
How my heart is yearning, yearning, yearning
To be down among the sheltering palms
Oh honey, wait for me
Overall Meaning
The Chordettes's song, "Down Among the Sheltering Palms", is a classic love song that talks about two lovers who are supposed to meet up at a certain place and time. The singer is asking their lover to wait for them under the sheltering palms where the sun goes down about eight. The lyrics convey a sense of longing and urgent desire to be with the lover, as the singer expresses how their love is burning and their heart is yearning to be together despite being apart.
The use of the metaphorical "sheltering palms" in the song symbolizes a safe haven where the two lovers can meet and be together without any outside interference. The sheltering palms represent the intimacy and privacy that the lovers seek for their time together. The repetition of the plea, "Oh honey, wait for me", emphasizes the singer's desperation to be with their lover, indicating that they do not want to miss their date despite any obstacles that may come in their way.
Overall, "Down Among the Sheltering Palms" is a beautiful and passionate love song that captures the essence of two lovers who are eager to be together in a special place and time.

Line by Line Meaning
Down among the sheltering palms
Let's escape from reality and get lost in the peaceful oasis of the palm trees.
Oh honey, wait for me
Let's enjoy this experience together and wait for each other to explore this new world.
Don't be forgettin' we've got a date
Don't break this promise we've made to each other to take this adventure together.
Out where the sun goes down about eight
Let's chase the setting sun and live in the moment until the stars appear in the sky.
How my love is burning, burning, burning
I'm filled with passion and longing for this experience with you.
How my heart is yearning, yearning, yearning
My heart is filled with desire to be with you in this paradise by the palm trees.
To be down among the sheltering palms
To find peace and comfort in a world away from trouble and stress.
Oh honey, wait for me
Let's take our time to appreciate this wondrous place together before we return to reality.
Contributed by Caleb K. Suggest a correction in the comments below.
To comment on or correct specific content,
highlight it
Genre not found
Artist not found
Album not found
Search results not found
Song not found