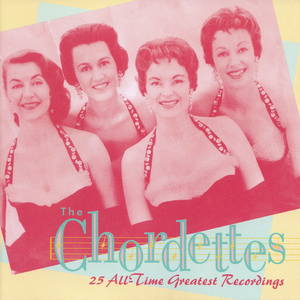 The Chordettes were a female popular singing quartet, usually singing a cappella…
Read Full Bio ↴
The Chordettes were a female popular singing quartet, usually singing a cappella, and specializing in traditional pop music.

They were first organized in Sheboygan, Wisconsin in 1946. The original members of the group were Janet Ertel (1913-November 4, 1988), Carol Bushman (her sister-in-law), Dorothy Schwartz, and Jinny Osborn (or Lockard) (April 25, 1927-May 19, 2003). In 1952, Lynn Evans replaced Schwartz, and in 1953, Margie Needham replaced Osborn (who was having a baby), though Osborn later returned to the group. Nancy Overton also was a member of the group at a later time. Originally they sang folk music in the style of The Weavers, but eventually changed to a harmonizing style of the type known as barbershop harmony. Part of this change seems to be influenced by Osborn's father.

Jinny Osborn was born in Seattle, Washington. She was born Virginia Cole, the daughter of O. H. "King" Cole, who was president of the Barbershop Harmony Society (then known as SPEBSQSA), and Katherine Flack.

After performing locally in Sheboygan, they went on Arthur Godfrey's radio program, Talent Scouts in 1949.They went on to feature status on Godfrey's daily program, and then went on to make a number of recordings for Columbia Records.

In 1953, Godfrey's music director and orchestra leader, Archie Bleyer, founded Cadence Records. He signed a number of Godfrey regulars and former regulars, including the Chordettes, who had a number of hit records for Cadence.

Their biggest hit was Mr. Sandman in 1954. Archie Bleyer himself is on that record along with the group, Bleyer stripping the sound down the better not to clutter the girls' voices. They also hit the top twenty with 1958's "Lollipop," and also charted with a vocal version of the themes from television's Zorro (1959) and the film Never on Sunday (1961). Other hits for the girls included "Eddie My Love," "Born to Be With You," and "Lay Down Your Arms" in 1956 and "Just Between You and Me" in 1957.

Janet Ertel married Bleyer in 1954. Her daughter Jackie married another Cadence recording star, Phil Everly of The Everly Brothers. She died of cancer in 1988.

The Chordettes appeared on American Bandstand August 5, 1957, kicking off the first episode of the show over the ABC Television Network.

In 1961, Jinny Osborn left the group, and they were unable to find a replacement with whom they were happy, leading to a breakup.

The group was inducted into the Vocal Group Hall of Fame in 2001.

Jinny Osborn (by that time Jinny Janis) died in 2003
Jump to: Overall Meaning ↴ Line by Line Meaning ↴
Love never changes
As time marches on
Love never changes
It's there with each dawn
Once in a lifetime
It comes your way
Deep in your heart
It is there to stay
Filled with devotion
Your life is complete
Filled with emotion
In every so sweet
Life is a song
And your dreams all come true
This love that I feel dear
Is love that is real dear
My love never changes for you
Life is a song
And your dreams all come true
This love that I feel dear
Is love that is real dear
My love never changes for you
Never changes for you
Overall Meaning
The lyrics of the song Love Never Changes by The Chordettes convey a timeless message about the eternal nature of love. The first two lines assert that love is a constant force, unaffected by the passage of time. Love is always present, like the dawn of a new day, and provides a sense of completeness and emotional fulfillment.
The next few lines express the rarity of finding true love, which comes only once in a lifetime. In this context, the song speaks of a deep, abiding love that emanates from the heart and remains steadfast no matter what happens. The singer's life is complete because of this love, and it brings a sense of sweetness to every aspect of her existence.
The final lines of the song wrap up the message by reiterating how love never changes, and how it remains a constant force that makes life feel like a beautiful song. The singer's love for the person she is addressing is both intense and real, a fact that will never alter or diminish. Overall, the lyrics of Love Never Changes highlight the idea that true love is a rare gift that should be cherished and celebrated whenever it is found.

Line by Line Meaning
Love never changes
True love always remains the same, unaffected by time or circumstances.
As time marches on
Regardless of the passing years, it always remains just as strong.
It's there with each dawn
Every day brings new opportunities to experience and express this love.
Once in a lifetime
This kind of deep and meaningful love only comes along once in a lifetime.
It comes your way
This love will find its way to you when the time is right.
Deep in your heart
This love is not superficial or fleeting, but rather something deeply felt in the heart.
It is there to stay
This love is permanent and enduring, never to leave or fade away.
Filled with devotion
This love is accompanied by feelings of dedication, loyalty, and commitment.
Your life is complete
Having this love means feeling fulfilled and satisfied in life.
Filled with emotion
This love evokes strong feelings and emotions, overwhelming in their intensity.
In every so sweet
This love is sweet, pleasant, and deeply satisfying in every way.
Life is a song
Having this love means feeling a sense of harmony and musicality in all aspects of life.
And your dreams all come true
Having this love means feeling content and fulfilled in terms of one's goals and aspirations.
This love that I feel dear
The singer is expressing her deep and abiding love for someone.
Is love that is real dear
This love is genuine, authentic, and true.
My love never changes for you
Regardless of the passage of time or changing circumstances, the singer's love for this person remains constant and unwavering.
Contributed by Allison E. Suggest a correction in the comments below.
To comment on or correct specific content,
highlight it
Genre not found
Artist not found
Album not found
Search results not found
Song not found