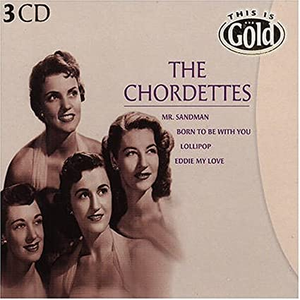 The Chordettes were a female popular singing quartet, usually singing a cappella…
Read Full Bio ↴
The Chordettes were a female popular singing quartet, usually singing a cappella, and specializing in traditional pop music.

They were first organized in Sheboygan, Wisconsin in 1946. The original members of the group were Janet Ertel (1913-November 4, 1988), Carol Bushman (her sister-in-law), Dorothy Schwartz, and Jinny Osborn (or Lockard) (April 25, 1927-May 19, 2003). In 1952, Lynn Evans replaced Schwartz, and in 1953, Margie Needham replaced Osborn (who was having a baby), though Osborn later returned to the group. Nancy Overton also was a member of the group at a later time. Originally they sang folk music in the style of The Weavers, but eventually changed to a harmonizing style of the type known as barbershop harmony. Part of this change seems to be influenced by Osborn's father.

Jinny Osborn was born in Seattle, Washington. She was born Virginia Cole, the daughter of O. H. "King" Cole, who was president of the Barbershop Harmony Society (then known as SPEBSQSA), and Katherine Flack.

After performing locally in Sheboygan, they went on Arthur Godfrey's radio program, Talent Scouts in 1949.They went on to feature status on Godfrey's daily program, and then went on to make a number of recordings for Columbia Records.

In 1953, Godfrey's music director and orchestra leader, Archie Bleyer, founded Cadence Records. He signed a number of Godfrey regulars and former regulars, including the Chordettes, who had a number of hit records for Cadence.

Their biggest hit was Mr. Sandman in 1954. Archie Bleyer himself is on that record along with the group, Bleyer stripping the sound down the better not to clutter the girls' voices. They also hit the top twenty with 1958's "Lollipop," and also charted with a vocal version of the themes from television's Zorro (1959) and the film Never on Sunday (1961). Other hits for the girls included "Eddie My Love," "Born to Be With You," and "Lay Down Your Arms" in 1956 and "Just Between You and Me" in 1957.

Janet Ertel married Bleyer in 1954. Her daughter Jackie married another Cadence recording star, Phil Everly of The Everly Brothers. She died of cancer in 1988.

The Chordettes appeared on American Bandstand August 5, 1957, kicking off the first episode of the show over the ABC Television Network.

In 1961, Jinny Osborn left the group, and they were unable to find a replacement with whom they were happy, leading to a breakup.

The group was inducted into the Vocal Group Hall of Fame in 2001.

Jinny Osborn (by that time Jinny Janis) died in 2003
Jump to: Overall Meaning ↴ Line by Line Meaning ↴
My gal and I, we had a fight
And I'm all by myself
I guess she thinks now that she's gone
I'll lay right on the shelf
I'm gonna show her she's all wrong
No lonesome stuff for mine
I won't sit home, all alone
She'll soon find that I'm
Runnin' wild, lost control
Runnin' wild, mighty bold
Feelin' gay, reckless too
Care free mind all the time, never blue
Always goin' don't know where
Always showin', I don't care
Don't love nobody, it's not worth while
All alone, runnin' wild. Runnin' wild
When I first met that gal of mine
It seemed just like a dream
But when she tho't she had me right
She started actin' mean
Like mary led her little lamb
She led me all the time
Until the worm had to turn
That's the reason I'm
Runnin' wild, lost control
Runnin' wild, mighty bold
Feelin' gay, reckless too
Care free mind all the time, never blue
Always goin' don't know where
Always showin', I don't care
Don't love nobody, it's not worth while
All alone, runnin' wild. Runnin' wild
No gal will ever make a fool of me
No gal! I mean just what I say
I ain't the simpleton I used to be
Wonder how I got that way
Once I was full of sentiment, it's true
But now I got a cruel heart
With all that other foolishness I'm through
Gonna play the Villain part
Runnin' wild, lost control
Runnin' wild, mighty bold
Feelin' gay, reckless too
Care free mind all the time, never blue
Always goin' don't know where
Always showin', I don't care
Don't love nobody, it's not worth while
All alone, runnin' wild. Runnin' wild
Overall Meaning
The Chordettes' song "Runnin' Wild" is a classic tune that highlights the emotions and actions of an individual after a fight with their lover. The song is sung from the perspective of a man who has had a disagreement with his girlfriend and is feeling lonely and rejected. However, instead of wallowing in his misery, he decides to embrace his newfound freedom and go out and have fun. He becomes reckless and carefree, enjoying the freedom that comes from being single.
The song is about the joys of being single and carefree, but it also highlights the risks that come with such a lifestyle. The man in the song is running wild, lost control, and has become reckless. He doesn't love anyone and doesn't care about anything, which is a recipe for disaster.
The chorus of the song repeats the phrase "Runnin' wild" and emphasizes the man's newfound sense of freedom and independence. He is bold and adventurous, and he doesn't care about the consequences of his actions. In the end, the man is proud of his newfound independence and vows never to let a woman make a fool of him again.
Overall, "Runnin' Wild" is a lively and upbeat song that celebrates the joys of being single and free. However, it also highlights the dangers of being too reckless and impulsive without considering the consequences. It is a cautionary tale for those who may be tempted to throw caution to the wind and embrace a carefree lifestyle.

Line by Line Meaning
My gal and I, we had a fight
My girlfriend and I had an argument.
And I'm all by myself
I am alone now.
I guess she thinks now that she's gone
I assume she believes that since she left me, I will just be lazy and do nothing.
I'll lay right on the shelf
She thinks I will just sit around and do nothing.
I'm gonna show her she's all wrong
I will prove her wrong.
No lonesome stuff for mine
I will not be alone or stay in one place.
I won't sit home, all alone
I will not stay at home alone.
She'll soon find that I'm
She will soon see that I am.
Runnin' wild, lost control
I am living recklessly and uncontrollably.
Runnin' wild, mighty bold
I am acting fearlessly and confidently.
Feelin' gay, reckless too
I am happy and carefree, but also taking risks.
Care free mind all the time, never blue
I am always carefree and never sad.
Always goin' don't know where
I am always on the move and do not have a plan.
Always showin', I don't care
I am always showcasing my carefree attitude.
Don't love nobody, it's not worth while
I do not want to love anyone because it is not worth it.
All alone, runnin' wild. Runnin' wild
I am alone and living recklessly.
When I first met that gal of mine
When I initially met my girlfriend.
It seemed just like a dream
It seemed like a perfect and ideal relationship.
But when she tho't she had me right
Once she believed that she had me where she wanted me.
She started actin' mean
She began to behave badly and cruelly.
Like mary led her little lamb
Like she led me around.
She led me all the time
She controlled me entirely.
Until the worm had to turn
Until I had to take control of the situation.
That's the reason I'm
That is why I am.
No gal will ever make a fool of me
I will not allow myself to be fooled by any woman.
No gal! I mean just what I say
I am serious about this.
I ain't the simpleton I used to be
I am no longer gullible or naive.
Wonder how I got that way
I am not sure how I changed.
Once I was full of sentiment, it's true
I used to be full of romantic emotions.
But now I got a cruel heart
But now I have a harsh and uncaring attitude.
With all that other foolishness I'm through
I am done with all the foolish romantic stuff.
Gonna play the Villain part
I will play the part of a villain.
Lyrics © BMG Rights Management, Sony/ATV Music Publishing LLC, Royalty Network, Warner Chappell Music, Inc.
Written by: ARTHUR GIBBS, ARTHUR HARRINGTON GIBBS, JOSEPH GREY, JOSEPH W GREY, LEO WOOD

Lyrics Licensed & Provided by LyricFind
To comment on or correct specific content,
highlight it
Genre not found
Artist not found
Album not found
Search results not found
Song not found