A STORY UNTOLD
Crew Cuts
Well here in my heart, there's a story untold
of a girl who left me standing, standing in the cold
and since she's been away
I've never had a happy day
I hope and I pray, that she'll hear my plea
and maybe someday, she'll come back to me
for, here in my heart, there's a story untold
For all you've said and done
you said we'd be as one
but darling I found I was wrong
but what did you do,
right from the start
you made of fool of me and then you broke my heart well
I hope and I pray, that she'll hear my plea
and maybe someday, she'll come back to me
For, here in my heart, there's a story untold
A story, story untold
From: russ gould
Writer(s): L. Griffin Copyright: Three Wise Boys Music LLC

Contributed by Hudson I. Suggest a correction in the comments below.
To comment on specific lyrics,
highlight them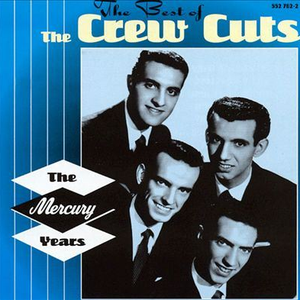 The Crew-Cuts were a Canadian vocal quartet (formed in 1952 - Toronto, Ontario, Canada) that made a number of popular records that charted in the United States and worldwide. They named themselves after the popular crew cut haircut, one of the first connections made between pop music and hairstyle. While the crew-cut hair style came as a result of the name change, the original intent was that the name crew-cuts denoted the music they sang (pop) as opposed to Longhair (classical).
Read Full Bio
The Crew-Cuts were a Canadian vocal quartet (formed in 1952 - Toronto, Ontario, Canada) that made a number of popular records that charted in the United States and worldwide. They named themselves after the popular crew cut haircut, one of the first connections made between pop music and hairstyle. While the crew-cut hair style came as a result of the name change, the original intent was that the name crew-cuts denoted the music they sang (pop) as opposed to Longhair (classical). They were most famous for their recording of The Chords "Sh-Boom."

The group moved from Mercury to RCA Records in 1958 and eventually broke up in 1964, but they all moved to the U.S. and reunited in Nashville, Tennessee, in 1977. In the 1990s they were inducted into the Juno Hall of Fame. In recent years, the three remaining members have appeared on a PBS special filmed in Atlantic City's Trump's Taj Mahal. The program. "Magic Moments: The Best of '50s Pop" continues to air as part of the fund raising efforts for the Public Broadcasting System.

The Crew-Cuts were

* Rudi Maugeri (January 21, 1931 - May 7, 2004) (baritone)
* John Perkins (born August 28, 1931) (lead)
* Ray Perkins (born November 28, 1932) (bass) (John Perkins' brother)
* Pat Barrett (born September 15, 1933) (1st or high tenor)
Genre not found
Artist not found
Album not found
Search results not found
Song not found