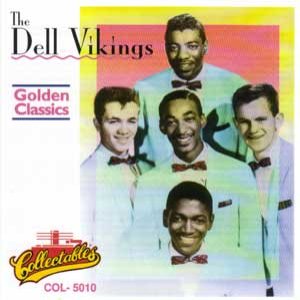 The Del-Vikings also known as The Dell-Vikings were an American doo-wop group that recorded several hit singles in the 1950s and continued to record and tour with various lineups in later decades. The group is notable for the hit songs "Come Go with Me" and "Whispering Bells", and for having been a successful racially mixed musical group during a period of time when such groups were rare. The Del-Vikings were formed in 1955 by members of the United States Air Force stationed in Pittsburgh, Pennsylvania, with Clarence Quick (February 2, 1937 – May 5, 1983), Kripp Johnson (May 16, 1933
Read Full Bio
The Del-Vikings also known as The Dell-Vikings were an American doo-wop group that recorded several hit singles in the 1950s and continued to record and tour with various lineups in later decades. The group is notable for the hit songs "Come Go with Me" and "Whispering Bells", and for having been a successful racially mixed musical group during a period of time when such groups were rare.

The Del-Vikings were formed in 1955 by members of the United States Air Force stationed in Pittsburgh, Pennsylvania, with Clarence Quick (February 2, 1937 – May 5, 1983), Kripp Johnson (May 16, 1933 – June 22, 1990), Don Jackson, Samuel Paterson, Bernard Robertson and Clarence Harvey Ringo. Because all of the members were in the armed forces, the group constantly ran the risk of being disrupted by members being stationed in other places. This happened soon after the group's forming when Paterson and Robertson were sent to Germany. They were replaced by baritone David Lerchey, the group's first white member, and tenor Norman Wright. Norman Wright had started a group with Lawrence "Prince" Lloyd called The Valverteens from Amarillo Air Force Base,Texas before joining The Del-Vikings.

The band's name was created by Clarence Quick while talking to Clarence Ringo at the library on base. Some sources say that the band members had read about Vikings with the prefix "Del" being "added to give the group name an air of mystery." Another suggestion is that Clarence Quick had known of a basketball team in Brooklyn, New York, called the Vikings and had suggested the name. The name may also have originated from the popular Viking Press, publisher of paperbacks that group members liked to read. Clarence Harvey Ringo is vehement about the name being created by him and Clarence Quick at the Greater Pittsburgh airbase library, although he is largely uncredited for his contribution.

Their first hit came in December 1956 with "Come Go with Me", released on Fee Bee Records as catalog number FB-205. In January 1957 Dot Records re-released "Come Go With Me" as Dot 45-15538, taking it nationally. The group quickly found itself in greater demand following Dot's re-release which propelled the group into the Top 10 on Billboard's pop chart. It sold over one million copies, and was awarded a gold disc. Soon after, Jackson left and was replaced by Gus Backus, the group's second white member.

All of the group members, other than Kripp Johnson, were under 21 when they signed their recording contract with Fee Bee (a tiny Pittsburgh label, which was later distributed by Dot Records). Having signed the contract as minors, they had the right to be released from it. In 1957, under the direction of their manager, Alan Strauss, they left to record at Mercury Records. Johnson, who was still bound to Fee Bee/Dot, stayed, thus creating two Del Viking groups. The original group replaced Johnson with Quick's friend William Blakely and recorded the Backus-led song "Cool Shake". Kripp Johnson constructed a new group with the returning Don Jackson, Chuck Jackson, Arthur Budd, and Ed Everette. This group recorded the Kripp Johnson-led "I'm Spinning", billing themselves as the Dell Vikings. Dot also released "Whispering Bells", with Kripp Johnson again featured on lead. The Dot label added an 's' to his name which read "featuring 'Krips' Johnson". It reached number nine on Billboard's Top 100 chart. Around this time, some old Fee Bee demo tracks had been sold to an up-and-coming record company, Luniverse, who overdubbed a backing track on these accapella songs, which included an early version of "Come Go with Me". The overdubbed demo was included as a track on an eight-song album subsequently released by Luniverse. Only one single was released from these Luniverse overdubs—"Somewhere Over The Rainbow"/ "Hey Senorita".

Johnson's Dot group had an extra advantage—he had been discharged from the USAF and his group could tour freely, while the original group needed to seek military leave in order to tour. Mercury sued, claiming it had sole rights to any spelling of the group's name, and the Dell-Vikings briefly became The Versatiles, with singles being billed to "Kripp Johnson and the Versatiles" or "Chuck Jackson and the Versatiles". The group broke up, with Chuck Jackson going on to a successful solo career.
Meanwhile, the original group had begun to fall apart. Gus Backus was re-stationed, leaving the group a quartet. They broke up soon after. Quick restructured the group with new talent from the Pittsburgh area—lead tenor, Billie Woodruff, Willie Green, Douglass White, and Ritzy Lee. By the end of 1957, with the breakup of the "Dell" Vikings, Kripp Johnson returned to the original group, making them a sextet. They signed to ABC-Paramount. While the nucleus of the group was back, they weren't able to chart any more hits, and the group split up in 1965.

The Del Vikings were back in 1970 with a near original line-up- Clarence Quick, Kripp Johnson, Norman Wright, Dave Lerchey, and William Blakely. The group re-recorded many of their old hits for Scepter Records; a new version of "Come Go With Me" made the Bubbling Under The Hot 100 chart in 1973 (it also wound up on the Easy Listening chart, where it peaked that year at #32). Things began to unravel quickly, however, as members began to leave once again. David Finley was in one of the lead spots from 1972-76. Another group, with lead singer Billy Woodruff, Ritzy Lee, Terry Young, Mona Lisa Young and Paul Moser lasted a short time in the mid-seventies. Later in the seventies, the group was Quick, Blakely, Louis C. Velez (whom Quick, now the only original member, selected to replace him when he was no longer able to perform), Arthur Martinez, and Jerry Williams.

In 1980, Kripp Johnson restarted the "Dell" Vikings with Dave Lerchey, 1960s member Ritzy Lee, and new member John Byas. Norman Wright rejoined this group in 1990. In the Del Vikings, Jerry Williams was replaced by Herbert McQueen.

Frank "Mingo" Ayers replaced William Blakely in the early 80s. He suffered some health problems after a short time and Dickie Harmon was brought in as a sub. The group lost its last original member, Clarence Quick, when he died on May 5, 1983. His place was taken by Lloyd "Butch" Phillips. Leroy Binns of the Charts supplied bass vocals for a time—later being taken over by Bernard "BJ" Jones (current member of the Dubs.) After Frank Ayers return, Dickie Harmon became a permanent member and Louis Velez took over bass vocals. They continued recording, and released an album in 1991 for BVM Records entitled Rock and Roll Remembered.

Kripp Johnson died in 1990. His group (John Byas, Dave Lerchey, Norman Wright, and Ritzy Lee) continued to perform at major resorts in the US, Canada, and Caribbean, as well as major cruise lines and various casinos. After the death of John Byas in 1999, Norman Wright left and reformed another group with his sons Anthony Wright and Norman Wright, Jr., and friend Mike Machado. Dave Lerchey retired but occasionally performed with this incarnation of the group and it was this group, with Lerchey, that was featured on the PBS special Doo Wop 50 in 1999.

Lerchey formed another Del Vikings group in the mid-90s shortly before his death on January 29, 2005. The group consisted of Lerchey, Danny Ardell, Tommy West, and Joe Rios.

Frank Ayers would later be out of the Clarence Quick group at which time the group would reorganize with bassman Les Levine entering and Harmon taking over lead vocals. Ayers died in 1999. 2002 marked Dickie Harmon leaving the group and becoming a member of The Teenagers and the death of Lloyd "Butch" Phillips. Phillips, Harmon, and Binns had backed up Joe Grier as The Charts that year. By the mid 2000s, the line-up was Velez, Martinez, Les Levine, Ron Coleman, and Reggie Walker. Unfortunately, after a long battle with ill health, "Sweet" Lou Velez died on May 31, 2008. Shelly Wengrovsky joined the group in the middle of 2008. During the latter part of 2009, Ron Coleman joined "The Channels". Reggie Walker died on January 25, 2010. The addition of Lewis McMillan and Bobby Walker in April 2010 now completes the quintet.

Norman Wright died on April 23, 2010.

The group's biggest hits have been used in such films as American Graffiti, American Hot Wax, The Hollywood Knights, Diner, Stand By Me, and Joe Versus the Volcano.

Ritzy Lee, who was a member of The Del-Vikings from 1959 until his retirement in 2003, is now part owner of a recording company titled Rock Bottom Blues Company based in Beverly Hills, CA. Along with Robert "Junior" Brantley, and Sam McWhorter, co-founders of the company, Lee is recording, and producing entertainers in the blues, rock, and pop fields in the US and Asia.

Gus Backus (September 12, 1937 – February 21, 2019) was stationed as an Airman in the U.S. Air Force at Wiesbaden Air Base in 1957, Backus had to leave The Del-Vikings but he later became a popular singer of Schlager music in 1960s West Germany. He sang all his songs in German with an American accent. 19 of his songs between 1960 and 1967 made the charts, including eight Top Ten hits. He landed a Number 1 hit in the German charts with his song Der Mann im Mond (The Man in the Moon) in 1961. Backus also did German cover versions of songs by Elvis Presley, Paul Anka and Conway Twitty.
Genre not found
Artist not found
Album not found
Search results not found
Song not found
We have lyrics for 'Watching The Moon' by these artists:



Jacco Gardner Into the forest deeper we go Trees look up on us…
Second I've got no doubts About her film She's been acting Day a…



We have lyrics for these tracks by The Del-Vikings:



#241. Come Go With Me Well, love, love me darlin' Come and go with me Don't send…
A Sunday Kind Of Love I want a Sunday kind of love A love to last…
Come Along With Me Dom-dom dom-dom dom-de-doo-be Dom dom dom dom dom dom-de-doo…
Come And Go With Me Well, love, love me darlin' Come and go with me Don't send…
Come Go With Me Dom-dom dom-dom dom-de-doo-be Dom dom dom dom dom dom-de-doo…
Come Go With Me (Master) The Dell-vikings Miscellaneous Come Go With Me COME GO WITH …
Come With Me Well, love, love me darlin' Come and go with me Don't send…
Cool Shake And I found a new thrill... And I found a…
Don't Be a Fool Don't be a fool and let your loved one go Don't…
Flat Tire guy making car sounds cool intro down the road and over the…
I Hear Bells I can hear the angels singing As I walk this rocky…
I'm Spinning I'm spinning All over love Yes, I'm spinning I can a hear so…
In The Still of the Night In the still of the night As I gaze out of…
Oh Tonight I grab your hand and you say "wait." I say "no…
Over The Rainbow Somewhere over the rainbow, way up high There's a land that…
That's Why The way you make me feel like I belong The way…
The Big Beat The big beat keeps you rockin' in your seat The big…
The Voodoo Man Theres that man again! Who is he? Lets ask him. Who are you?…
When I Come Home Tell me please, tell me please Won't you tell me please? Let…
Whispering Whispering bells, Whisper low, Whispering bells, Love you…
Whispering Bells Whispering bells Been so long Whispering bells Love you so B…
Whispering Bells (Re-Recorded / Remastered) Sokaklar sanki bahçesi ve elde 9 milimetresi Ucuzlar artık …

The lyrics can frequently be found in the comments below, by filtering for lyric videos or browsing the comments in the different videos below.