Jump to: Overall Meaning | Line by Line Meaning
Oh Lord, it's hard to be humble
When you're perfect in every way
I can't wait to look in the mirror
'Cos I get better looking each day
To know me is to love me
I must be a hell of a man
Oh Lord, it's hard to be humble
But I'm doing the best that I can
I used to have, have a girlfriend
But I guess she just couldn't compete
With all of those love-starved women
Who keep clamoring at my feet
I probably could find me another
I guess they're in awe of me
Who cares, I've never been lonesome
'Cause I treasure my own company
Oh Lord, it's hard to be humble
When you're perfect in every way
I can't wait to look in the mirror
Hell, I get better looking each day
To know me is to love me
I must be a hell of a man
Oh Lord, it's hard to be humble
But I'm doing the best that I can
I guess you could say I'm a loner
A cowboy who's lost nothing proud
I could have lots of friends if I wanted
But then I wouldn't stand out from the crowd
Some folks say that I'm egotistical
Hell I don't even know what that means
I guess it has something to do with the way
That I fill out my skin-tight blue jeans
Oh Lord, it's hard to be humble
When you're perfect in every way
I can't wait to look in the mirror
Cos I get better looking each day
To know me is to love me
I must be a hell of a man
Oh Lord, it's hard to be humble
But I'm doing the best that I can
Oh Lord, it's hard to be humble
But I'm doing the best that I can, yeehaa!
Overall Meaning
The Dells's song "Could It Be" is a humorous take on self-love and self-confidence. The lyrics talk about a man who believes he is perfect in every way and gets better looking every day. He believes that everyone must love him because he is a hell of a man. The song also references his girlfriend leaving him as she couldn't compete with all the other women who admire him. The man is content with being alone as he treasures his own company. Although some people might call him egotistical, he doesn't really know what that means. He just loves his skin-tight blue jeans, and he seems to be happy being himself.
The song presents a rather amusing and sarcastic tone that is entertaining to listen to. It is a catchy song that celebrates self-love, but in a light-hearted and humorous way. The lyrics are relatable as everyone, at some point in their lives, has felt confident about themselves, and thought they were great. It is okay to love yourself, but this song shows that too much of it might not be the best thing. The catchy tune and relatable lyrics make this a great song that people can laugh along with.

Line by Line Meaning
Oh Lord, it's hard to be humble
Expressing that being humble is not easy
When you're perfect in every way
When someone believes they are perfect
I can't wait to look in the mirror
Excited to see their good looks
'Cos I get better looking each day
Believing that they are becoming more attractive
To know me is to love me
Believing that people love them because of who they are
I must be a hell of a man
Believing that they are an amazing man
But I'm doing the best that I can
Trying their best to be humble
I used to have, have a girlfriend
Talking about their past romantic relationship
But I guess she just couldn't compete
Their ex-girlfriend wasn't up to their standards
With all of those love-starved women
Talking about the many women who are interested in them
Who keep clamoring at my feet
The many women are vying for their attention
I probably could find me another
Thinking that they can easily find another girlfriend
I guess they're in awe of me
Believing that women are amazed by him
Who cares, I've never been lonesome
Not caring because they enjoy their own company
'Cause I treasure my own company
Finding value in being alone
I guess you could say I'm a loner
Identifying as someone who prefers to be alone
A cowboy who's lost nothing proud
Comparing themselves to a cowboy who hasn't lost their pride
I could have lots of friends if I wanted
Thinking that they could have many friends if they chose to
But then I wouldn't stand out from the crowd
Preferring to stand out instead of blending in
Some folks say that I'm egotistical
Others believe this person has an inflated ego
Hell I don't even know what that means
Dismissing the label without understanding it
I guess it has something to do with the way
Trying to understand the reason for the label
That I fill out my skin-tight blue jeans
Thinking that their clothing may contribute to their ego
But I'm doing the best that I can, yeehaa!
Finishing the song with enthusiasm, still trying to be humble
Lyrics © BMG Rights Management, O/B/O CAPASSO
Written by: Mac Davis

Lyrics Licensed & Provided by LyricFind
To comment on or correct specific content,
highlight it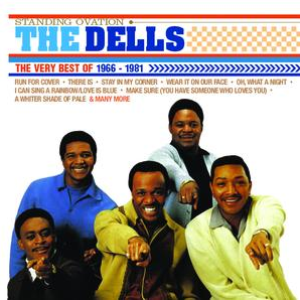 The Dells were an American doo-wop group. Formed in high school in 1952 in Harvey, Illinois by founding members Marvin Junior, Verne Allison, Johnny Funches, Chuck Barksdale, and Mickey and Lucius McGill, under the name The El Rays. They released their first recording in 1954 and two years later had their first R&B hit with "Oh What a Nite". After disbanding due to a near-fatal car crash in 1958, the band reformed in 1960 with Funches being replaced by Johnny Carter.
Read Full Bio
The Dells were an American doo-wop group. Formed in high school in 1952 in Harvey, Illinois by founding members Marvin Junior, Verne Allison, Johnny Funches, Chuck Barksdale, and Mickey and Lucius McGill, under the name The El Rays. They released their first recording in 1954 and two years later had their first R&B hit with "Oh What a Nite". After disbanding due to a near-fatal car crash in 1958, the band reformed in 1960 with Funches being replaced by Johnny Carter. This lineup remained together until Carter's death in 2009. In 2004 The Dells were inducted into both the Rock and Roll Hall of Fame and the Vocal Group Hall of Fame. The group performed until illness forced longtime lead singer Marvin Junior and bass vocalist Chuck Barksdale into retirement, ending the group's 60-year run.

The Dells grew up in Harvey, Illinois and began singing together while attending Thornton Township High School. Forming in 1952 under the name the El-Rays, the group initially consisted of Marvin Junior, Mickey McGill, Lucius McGill, Verne Allison, Chuck Barksdale, and Johnny Funches. Lucius soon left the group and the remaining quintet signed with Checker Records, releasing their first single, "Darling I Know," which flopped.

In 1955, the group renamed themselves the Dells and signed with Vee-Jay Records. In 1956, they recorded their first hit, "Oh, What a Nite" (a song co-written by Johnny Funches, who also sang lead on the recording alongside Marvin Junior), which hit the Top 5 of the R&B singles chart. It sold over one million copies, and was awarded a gold disc. The song is ranked #260 on the Rolling Stone magazine's list of The 500 Greatest Songs of All Time. In November 1958, the Dells suffered a car accident that left McGill in a hospital in Ohio for six months. The group temporarily disbanded and Barksdale sang as a member of Harvey Fuqua's spinoff Moonglows act, Harvey and the Moonglows, which included a young Marvin Gaye. In 1961, the Dells reunited and auditioned for Dinah Washington. After Washington agreed to hire them, Johnny Funches left the group to take care of his family. Funches was replaced by Flamingos founding member Johnny Carter and sang background for Washington for two years. In 1966, they were hired to open for Ray Charles, only to be fired after a performance resulted in several standing ovations. The group would also sing background for Barbara Lewis, mainly on Lewis' 1963 hit, "Hello Stranger", while also working with Quincy Jones, who helped to fine-tune their vocals for standards and jazz material.

In 1966, the Dells returned to Chess under the label's Cadet subsidiary working with Bobby Miller and future Earth, Wind & Fire arranger Charles Stepney. In 1967, the Dells issued the album There Is which included their first R&B chart-topper in years with the title track, which showcased the sharp baritone of Marvin Junior and the harmonies with the four other Dells. The song was also their first top 20 pop hit.

Subsequent R&B hits included "Wear It on Our Face," "Always Together" (Top 20 Pop, "I Can Sing a Rainbow - Love is Blue (medley)" (UK #15), and their first #1 R&B hit and first Top Ten pop hit, 1968's "Stay in My Corner," which reached #10 on the pop chart and showcased both Carter and Marvin in lead vocals. In the following year, 1969, The Dells' soulful remake of their debut hit, "Oh What a Night" gave the group their second chart-topping R&B single and also reached the top ten on the Billboard Hot 100. For a second time, the song sold over a million copies. Subsequent hits included "Open Up My Heart," "Oh What A Day," and "On the Dock of the Bay." In 1971, the Dells' "The Love We Had Stays on My Mind" became another Top Ten hit on the R&B charts, also reaching the pop Top 30. By this time Charles Stepney had taken over production duties from Bobby Miller. 1973's "Give Your Baby a Standing Ovation" was their third certified gold record. The song was written by L.V. Johnson and produced by Don Davis.

Leaving Cadet around the end of 1974 with the parent company in financial difficulties, the group would continue recording in order under the Mercury, ABC, and Virgin labels finding some hits, including 1980's "I Touched a Dream", which returned the group to the top 40 on the R&B charts. The Dells were confined mostly to the oldies market afterwards until they were asked to be creative consultants to Robert Townsend's acclaimed 1991 film, The Five Heartbeats, which was loosely based on the lives of The Dells and other groups of its era. The group recorded a composition titled "A Heart Is a House for Love". The song reached number 13 on the Billboard R&B chart, making them only one of two groups to have hit singles in five decades. The following year, signing with PIR, they released the album, I Salute You. The Dells continued performing and recording sporadically in the early years of the new millennium. In 2004, the group were inducted to both the Vocal Group Hall of Fame and the Rock and Roll Hall of Fame. The group continued performing until 2012.

Original Dells vocalist Johnny Funches died of pneumonia on January 23, 1998, at the age of 62.

Johnny Carter died of cancer on August 21, 2009, at the age of 75. Carter is one of the few artists to be a double Rock and Roll Hall of Fame inductee, having been inducted with The Flamingos in 2001, and the Dells in 2004.

On May 29, 2013, founding member Marvin Junior died in his sleep at his home in Harvey, Illinois, succumbing to complications of kidney failure and a weak heart at the age of 77.

Chuck Barksdale died on 15 May 2019, at the age of 83.

Members
Marvin Junior (born Marvin Curtis Junior, January 31, 1936, Harrell, Arkansas – May 29, 2013) - lead baritone, lead vocals (1952-1958, 1960–2012)
Verne Allison (b. June 22, 1936, Chicago) - second tenor, background vocals (1952-1958, 1960-2012)
Mickey McGill (b. February 17, 1937, Chicago) - baritone, background vocals (1952–1958, 1960-2012)
Chuck Barksdale (January 11, 1935 - May 15, 2019) - bass, background vocals (1952–1958, 1960-2012)
Johnny Funches (July 18, 1935, Chicago – January 23, 1998) - first tenor, lead vocals (1952–58, 1960-1961)
Lucius McGill (b. 1935, Chicago) - second tenor, background vocals (1952–54)
Johnny Carter (June 2, 1934, Chicago – August 21, 2009) - first tenor/falsetto, lead vocals (1961–2009)
Genre not found
Artist not found
Album not found
Search results not found
Song not found