Someone To Call Me Darling
The Dells Lyrics
Escupo skill style only baby you feel me, vámonos de una vez niggas como to kill me
hay mucho humo acá y no puedo ni verte, no sé con quién estés yo solo quiero
tenerte, Full verde, muérdeme como tu desees, si te dejas llevar será mejor
de lo que crees y si sedes en estás cuatro paredes BOMBON, voy a verte moverte y a
prenderte cual BLOND.
Ando chino y no estoy en hong Kong.
HEY!, está sonando el timbre ding dong
es el MURDER con un flow de King Kong.
Sin sonki envolvámonos en esto solo
tu y yo y nos olvidamos del resto, le encesto como lebrón, le rapeo cabrón
y me gano ese hembrón motherfuckers this from.
Surkilla the hip hop dillaz
vayan haciendo una fila esto no se ventila, demasiado denso, sobre ese lienzo
plasmaré tu deseo intenso si te gusta bien, so-lo llama y ven yo- traigo a my friend
y tu amiga y estaremos al cien.
What's again pa que acabes cansanda, borracha y volada dale una calada más
y si quieres te vas baby call me si en regresar piensas…
(GIRU)
No te hagas la inocente yo sé bien lo que quiere tu mente, vente vayámonos al point del frente
que en vez de llenarnos de palabreos te haga el amor con rimas y complazca tu deseo que es lo que veo.
Tú te me estás acercando escondes mi new era y me sigues coqueteando
vayámonos para fuera que todos están volando para chillear un toque mientras te voy freestyleando…
Tú te derrites cuando fluyo al son del saxo, relájate que yo ni sé si esto acabe en sexo
deja que el trago nos enganche en el contacto y quédate en silencio que nadie se entere de esto.
Me vuelves crazy cuando me miras sexy, no soy tan jay-z pero contigo no hay mercy
Tu buscas hombre que te rime y que te asombre; que no te parezca raro si ya no sé ni tu nombre.
(EFE JOTA)
Gerla tranqui vámonos los dos en un viaje donde puedas botar todo ese deseo salvaje que-nadie
baje esta locura hey, que gata siempre muere en su ley, okey!
Chica vente, sabes que yo soy diferente, lo mío es cero dramas y a la acción de frente
ardiente tu cuerpo en mi cama caliente empiezo y nunca dices detente… (hey hey hey).
Nena nena morena mueve la cadera tú me gustas más que cualquiera, vámonos pa fuera
que está noche eres pa mi entera, si tus daddy's supieran… Todo lo que hacemos los dos en mi cuarto, tú madre se desmaya y a tu viejo juro que le da un infarto, tienes toda mi atención morena
deja que fluya esto que nadie nos frena, duro y sin pena, nadie lo hace como tu nena, le damos unos toques y la cosa se pone buena y sin pena nadie lo hace como tu nena le damos unos toques y la cosa se pone buena.
(SLOOWTRACK)
Leona llego tu lion waio si tu callas callo, si tu fallas fallo, con un fallo el telón callo…
ni con el tiempo pararé y si tu gritarás callaré, pero tus huellas digitales están sobre mi pared.
Tendré que quitarme las ganas porque mi mente es insana y no tomo en cuenta que eres niña y puedo irme en cana, pero mañana serás mundana, con todos mis discos sobre tu cama, y fácil tu madre me llamará para que me haga otro drama girl.
Calma tienes mi flow sobre tu palma y sobre mis palmas tengo tu flow y tus naaaaaaalgas.
No salga de la habitación que estamos en conexión mi son mi don y este reglón de salón.
Las edades son un destello y yo estallo cada que tú me chapas del cuello.
Miedo debería darte yo ya no voy a desquiciarme pero no te prometo naaa, yo no sé controlarme
y me equivoco, se elevan tus hormonas y me choco pero es que tienes un tumbao que a mí me tiene loco… Niña lista, sabes que yo soy corista pero en vista que estás en lista en todo lo que yo quiero, haremos una excepción porque lloras y me quiebras, no existe otro sloow ni debajo de las piedras.
Haremos una excepción porque lloras y me quiebras, un rudeboy como yo ni debajo de las piedras…
Writer(s): Verne Allison

Contributed by Henry L. Suggest a correction in the comments below.
To comment on specific lyrics,
highlight them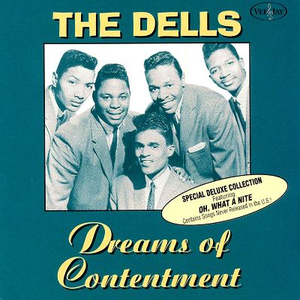 Someone To Call Me Darling
The Dells were an American doo-wop group. Formed in high school in 1952 in Harvey, Illinois by founding members Marvin Junior, Verne Allison, Johnny Funches, Chuck Barksdale, and Mickey and Lucius McGill, under the name The El Rays. They released their first recording in 1954 and two years later had their first R&B hit with "Oh What a Nite". After disbanding due to a near-fatal car crash in 1958, the band reformed in 1960 with Funches being replaced by Johnny Carter.
Read Full Bio
The Dells were an American doo-wop group. Formed in high school in 1952 in Harvey, Illinois by founding members Marvin Junior, Verne Allison, Johnny Funches, Chuck Barksdale, and Mickey and Lucius McGill, under the name The El Rays. They released their first recording in 1954 and two years later had their first R&B hit with "Oh What a Nite". After disbanding due to a near-fatal car crash in 1958, the band reformed in 1960 with Funches being replaced by Johnny Carter. This lineup remained together until Carter's death in 2009. In 2004 The Dells were inducted into both the Rock and Roll Hall of Fame and the Vocal Group Hall of Fame. The group performed until illness forced longtime lead singer Marvin Junior and bass vocalist Chuck Barksdale into retirement, ending the group's 60-year run.

The Dells grew up in Harvey, Illinois and began singing together while attending Thornton Township High School. Forming in 1952 under the name the El-Rays, the group initially consisted of Marvin Junior, Mickey McGill, Lucius McGill, Verne Allison, Chuck Barksdale, and Johnny Funches. Lucius soon left the group and the remaining quintet signed with Checker Records, releasing their first single, "Darling I Know," which flopped.

In 1955, the group renamed themselves the Dells and signed with Vee-Jay Records. In 1956, they recorded their first hit, "Oh, What a Nite" (a song co-written by Johnny Funches, who also sang lead on the recording alongside Marvin Junior), which hit the Top 5 of the R&B singles chart. It sold over one million copies, and was awarded a gold disc. The song is ranked #260 on the Rolling Stone magazine's list of The 500 Greatest Songs of All Time. In November 1958, the Dells suffered a car accident that left McGill in a hospital in Ohio for six months. The group temporarily disbanded and Barksdale sang as a member of Harvey Fuqua's spinoff Moonglows act, Harvey and the Moonglows, which included a young Marvin Gaye. In 1961, the Dells reunited and auditioned for Dinah Washington. After Washington agreed to hire them, Johnny Funches left the group to take care of his family. Funches was replaced by Flamingos founding member Johnny Carter and sang background for Washington for two years. In 1966, they were hired to open for Ray Charles, only to be fired after a performance resulted in several standing ovations. The group would also sing background for Barbara Lewis, mainly on Lewis' 1963 hit, "Hello Stranger", while also working with Quincy Jones, who helped to fine-tune their vocals for standards and jazz material.

In 1966, the Dells returned to Chess under the label's Cadet subsidiary working with Bobby Miller and future Earth, Wind & Fire arranger Charles Stepney. In 1967, the Dells issued the album There Is which included their first R&B chart-topper in years with the title track, which showcased the sharp baritone of Marvin Junior and the harmonies with the four other Dells. The song was also their first top 20 pop hit.

Subsequent R&B hits included "Wear It on Our Face," "Always Together" (Top 20 Pop, "I Can Sing a Rainbow - Love is Blue (medley)" (UK #15), and their first #1 R&B hit and first Top Ten pop hit, 1968's "Stay in My Corner," which reached #10 on the pop chart and showcased both Carter and Marvin in lead vocals. In the following year, 1969, The Dells' soulful remake of their debut hit, "Oh What a Night" gave the group their second chart-topping R&B single and also reached the top ten on the Billboard Hot 100. For a second time, the song sold over a million copies. Subsequent hits included "Open Up My Heart," "Oh What A Day," and "On the Dock of the Bay." In 1971, the Dells' "The Love We Had Stays on My Mind" became another Top Ten hit on the R&B charts, also reaching the pop Top 30. By this time Charles Stepney had taken over production duties from Bobby Miller. 1973's "Give Your Baby a Standing Ovation" was their third certified gold record. The song was written by L.V. Johnson and produced by Don Davis.

Leaving Cadet around the end of 1974 with the parent company in financial difficulties, the group would continue recording in order under the Mercury, ABC, and Virgin labels finding some hits, including 1980's "I Touched a Dream", which returned the group to the top 40 on the R&B charts. The Dells were confined mostly to the oldies market afterwards until they were asked to be creative consultants to Robert Townsend's acclaimed 1991 film, The Five Heartbeats, which was loosely based on the lives of The Dells and other groups of its era. The group recorded a composition titled "A Heart Is a House for Love". The song reached number 13 on the Billboard R&B chart, making them only one of two groups to have hit singles in five decades. The following year, signing with PIR, they released the album, I Salute You. The Dells continued performing and recording sporadically in the early years of the new millennium. In 2004, the group were inducted to both the Vocal Group Hall of Fame and the Rock and Roll Hall of Fame. The group continued performing until 2012.

Original Dells vocalist Johnny Funches died of pneumonia on January 23, 1998, at the age of 62.

Johnny Carter died of cancer on August 21, 2009, at the age of 75. Carter is one of the few artists to be a double Rock and Roll Hall of Fame inductee, having been inducted with The Flamingos in 2001, and the Dells in 2004.

On May 29, 2013, founding member Marvin Junior died in his sleep at his home in Harvey, Illinois, succumbing to complications of kidney failure and a weak heart at the age of 77.

Chuck Barksdale died on 15 May 2019, at the age of 83.

Members
Marvin Junior (born Marvin Curtis Junior, January 31, 1936, Harrell, Arkansas – May 29, 2013) - lead baritone, lead vocals (1952-1958, 1960–2012)
Verne Allison (b. June 22, 1936, Chicago) - second tenor, background vocals (1952-1958, 1960-2012)
Mickey McGill (b. February 17, 1937, Chicago) - baritone, background vocals (1952–1958, 1960-2012)
Chuck Barksdale (January 11, 1935 - May 15, 2019) - bass, background vocals (1952–1958, 1960-2012)
Johnny Funches (July 18, 1935, Chicago – January 23, 1998) - first tenor, lead vocals (1952–58, 1960-1961)
Lucius McGill (b. 1935, Chicago) - second tenor, background vocals (1952–54)
Johnny Carter (June 2, 1934, Chicago – August 21, 2009) - first tenor/falsetto, lead vocals (1961–2009)
Genre not found
Artist not found
Album not found
Search results not found
Song not found