Even the devil was an angel before he tried to rush the throne
Lord, they threw him down in hell there all alone
and now he builds a castle out of the sinners' bones
You'd be angry too if you could never go home
Well now, I ain't no preacher, no preacher man's son
I done some bad things but I like to have my fun
A thousand ways to heaven, a thousand ways to hell
Well I say, the good Lord helps those that help themselves
So help yourselves now
Old man Nicodemus could not make his heart believe
He could see that Jesus had some tricks up his sleeve
Said now, Oh man, Jesus I can't do things your way
But I can see you work with somebody big, so I'm backing your play
Old man Nicodemus, his pockets they were deep
But on the day the Romans decided to put Jesus to sleep
Jesus could not care for money now or any such thing
Old Nicodemus paid to have Jesus just buried like a king
Well now, I ain't no preacher, no preacher man's son
I done some bad things but I like to have my fun
A thousand ways to heaven, a thousand ways to hell
Well I say, the good Lord helps those that help themselves
So help yourselves now
Our father art in heaven hallowed be thy name
Told Noah "build a boat" on the driest of days
And everybody in the neighborhood said old Noah was insane
I guess when the waters receded now, the truth was plain
Well now, I ain't no preacher, no preacher man's son
I done some bad things but I like to have my fun
A thousand ways to heaven, a thousand ways to hell
Well I say, the good Lord helps those that help themselves
So help yourselves now
Moses was a great man, parted the waters of the Red Sea
Down the road to Egypt, he made sure the slaves were free
Well he could speak to God, so they say, yes indeed
Well the noise of his voice would have made our poor ears bleed
Moses, he had an army I tell you all his own
They stood in circles outside his very home
and when the the Pharaohs got to killing they left old moses alone
but the Romans drove their nails through old Jesus' bones
Well now, I ain't no preacher, no preacher man's son
I done some bad things but I like to have my fun
Why they got Jesus now and not Moses, who can tell?
But they do say, the good Lord helps those that help themselves
So help yourselves now
--- This is pretty close to correct. - Ryan
Contributed by Ryan H. Suggest a correction in the comments below.
To comment on specific lyrics,
highlight them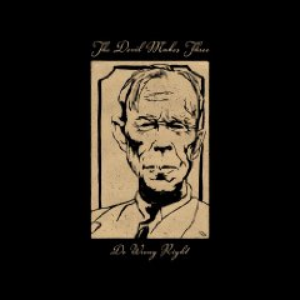 The Devil Makes Three is an Americana band from Santa Cruz, California, United States. The group blends bluegrass, old time, country, folk, blues, jazz, and ragtime music. The group's members are guitarist Pete Bernhard, upright bassist Lucia Turino, and guitarist and tenor banjo player Cooper McBean.

"The rhythm is what our band is about." Says Pete Bernhard: Guitarist, Front Man. The Devil Makes Three are quite possibly the best band that you have never heard of.
Read Full Bio
The Devil Makes Three is an Americana band from Santa Cruz, California, United States. The group blends bluegrass, old time, country, folk, blues, jazz, and ragtime music. The group's members are guitarist Pete Bernhard, upright bassist Lucia Turino, and guitarist and tenor banjo player Cooper McBean.

"The rhythm is what our band is about." Says Pete Bernhard: Guitarist, Front Man. The Devil Makes Three are quite possibly the best band that you have never heard of. They have been constantly on tour, selling out dates across the country and in their neck of the woods on the West Coast drawing near capacity crowds nightly. This is all word of mouth. Over the years, the Devil Makes Three have garnered fans the old school way, playing a city, making friends, conquering fans and moving on.

Laced with elements of ragtime, blues, country, folk and rockabilly, the critically praised, drummer-less trio - consisting of Vermont native, guitarist/front man Pete Bernhard, stand-up bassist Lucia Turino and guitarist Cooper McBean, also of rural Vermont - brings forth a genuine approach to acoustic music. The sound is deeply steeped in rhythm and alive with three part harmonies, while keeping a slightly punk aesthetic to their music and especially their live shows.

Note: the following songs belong to a different band with the same name, a small local metal band from Northern Ireland:

A Lesson Unlearnt
Dead
Feed the Greed
Heaven Descent
Genre not found
Artist not found
Album not found
Search results not found
Song not found