Don't want your love anymore
Don't want your kisses, that's for sure
I die each time I hear this sound
Here he comes, that's Cathy's clown
I gotta stand tall
You know a man can't crawl
When he knows you're tellin' lies and he hears 'em passing by
He's not a man at all
Don't want your love anymore
Don't want your kisses, that's for sure
I die each time I hear this sound
Here he comes, that's Cathy's clown
When you see me shed a tear
And you know that it's sincere
Don't you think it's kinda sad that you're treating me so bad
Or don't you even care?
Don't want your love anymore
Don't want your kisses, that's for sure
I die each time I hear this sound
Here he comes, that's Cathy's clown
That's Cathy's clown
That's Cathy's clown
Lyrics © Sony/ATV Music Publishing LLC
Written by: Donald I Everly

Lyrics Licensed & Provided by LyricFind
To comment on specific lyrics,
highlight them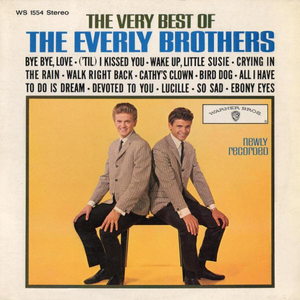 The Everly Brothers were an American country-influenced rock and roll duo, known for steel-string acoustic guitar playing and close harmony singing. Consisting of Isaac Donald "Don" Everly (February 1, 1937 – August 21, 2021) and Phillip "Phil" Everly (January 19, 1939 – January 3, 2014), the duo was raised in a musical family, first appearing on radio singing along with their father Ike Everly and mother Margaret Everly as "The Everly Family" in the 1940s.
Read Full Bio
The Everly Brothers were an American country-influenced rock and roll duo, known for steel-string acoustic guitar playing and close harmony singing. Consisting of Isaac Donald "Don" Everly (February 1, 1937 – August 21, 2021) and Phillip "Phil" Everly (January 19, 1939 – January 3, 2014), the duo was raised in a musical family, first appearing on radio singing along with their father Ike Everly and mother Margaret Everly as "The Everly Family" in the 1940s. When the brothers were still in high school, they gained the attention of prominent Nashville musicians like Chet Atkins, who began to promote them for national attention.

They began writing and recording their own music in 1956, and their first hit song came in 1957, with "Bye Bye Love", written by Felice and Boudleaux Bryant. The song hit No. 1 in the spring of 1957, and additional hits would follow through 1958, many of them written by the Bryants, including "Wake Up Little Susie", "All I Have to Do Is Dream", and "Problems". In 1960, they signed with the major label Warner Bros. Records and recorded "Cathy's Clown", written by the brothers themselves, which was their biggest selling single. The brothers enlisted in the United States Marine Corps Reserve in 1961, and their output dropped off, though additional hit singles continued through 1962, with "That's Old Fashioned (That's the Way Love Should Be)" being their last top-10 hit.

Long-simmering disputes with Wesley Rose, the CEO of Acuff-Rose Music, which managed the group, a growing drug usage in the 1960s, as well as changing tastes in popular music, led to the group's decline in popularity in its native U.S., though the brothers continued to release hit singles in the U.K. and Canada, and had many highly successful tours throughout the 1960s. In the early 1970s, the brothers began releasing solo recordings, and in 1973 they officially broke up. Starting in 1983, the brothers got back together, and would continue to perform periodically until Phil's death in 2014. Don died seven years later.

The group was highly influential on the music of the generation that followed it. Many of the top acts of the 1960s were heavily influenced by the close-harmony singing and acoustic guitar playing of the Everly Brothers, including the Beatles, the Beach Boys, the Bee Gees, and Simon & Garfunkel. In 2015, Rolling Stone ranked the Everly Brothers No. 1 on its list of the 20 Greatest Duos of All Time. They were inducted into the Rock and Roll Hall of Fame as part of the inaugural class of 1986, and into the Country Music Hall of Fame in 2001. Don was inducted into the Musicians Hall of Fame and Museum in 2019, earning the organization's first Iconic Riff Award for his distinctive rhythm guitar intro to the Everlys' massive 1957 hit "Wake Up Little Susie".

Full Wikipedia article: https://en.wikipedia.org/wiki/The_Everly_Brothers
Genre not found
Artist not found
Album not found
Search results not found
Song not found