Wish I had a kind of sense
Wish I had a bit of that everlastning hand that makes it
All so intense
Wish I said the words again
Wish I saved the night but I do not understand to let the
Right one come in
Now should I stay ore could I fail
Would I let it all away
Ore do you feel the same await
The desperation await
Now can I change the life I know
Can I change this life from an everlasting low that keeps
Our hearts in our hole
Can I say the words again
Can I save the night so I really understand to let the
Right one come in
Should I stay, could I fail?
Would I let it all away
Ore do you feel the same await
The desperation await
Contributed by Jack F. Suggest a correction in the comments below.
To comment on specific lyrics,
highlight them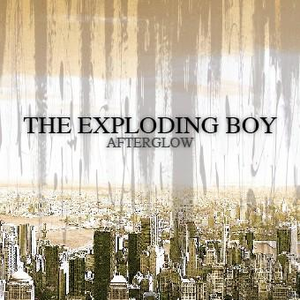 Lineup 2010
Johan Sjöblom: Vocals/Guitar, Lars "Les" Andersson: Lead Guitar, Stefan Axell: Vocals/Guitar, Nick Isgren: Keyboards


2006
- The Exploding Boy is a indie/post-punk band formed in Stockholm, Sweden in 2006 by Johan Sjöblom (Prune, Fake Moss) and Les Andersson (Kodji, Run Level Zero).

- First demo-recording reached electronic-pop-queen Sophie Rimheden that took the band to her hears and offered to produce the next coming material.
Read Full Bio
Lineup 2010
Johan Sjöblom: Vocals/Guitar, Lars "Les" Andersson: Lead Guitar, Stefan Axell: Vocals/Guitar, Nick Isgren: Keyboards


2006
- The Exploding Boy is a indie/post-punk band formed in Stockholm, Sweden in 2006 by Johan Sjöblom (Prune, Fake Moss) and Les Andersson (Kodji, Run Level Zero).

- First demo-recording reached electronic-pop-queen Sophie Rimheden that took the band to her hears and offered to produce the next coming material.

- In March of 2006 the demand of seeing the band was huge. New member was added and the first rehearsal as a full band was done on the 5th of April the same year.

- The Exploding Boy made their live debut at Fight Club in Stockholm, Sweden the 5th of May, one month after the first rehearsal, and only 5 month after the start of the band. The gig was totally sold out.

- Within the first six month the band had been interviewed by both radio and TV and done several interviews for different magazines.

- In September of 2006 the band went into Big Island Studios (most famous for their work with German band Rammstein and Swedish acts like Mustasch and Covenant) together with producer and technician Tom Van Heesch.

2007
- On the bands one year anniversary of their first rehearsal they released their self titled debut album.

- During the spring and summer of 2007 the band did several live shows to support their well acclaimed album.

2008
- In the beginning of 2008 the band reassembled, now as a four piece band, but still with the same energy and catchy pop/rock tunes.

- Springtime 2008 - The Exploding Boy is stretching the frames and are now releasing their first album in selected European territories.

- April/May 2008 The Exploding Boy went on their first European tour to France.

- At the end of the summer the first promo copies of the new single, "40 Days" started to hit radio stations across the globe.

- 7th of September; the release party for the single was held at one of the most popular live-scenes/clubs in Stockholm, called Mosebacke. This was the first time that The Exploding Boy presented three of their new songs to the public.

- In the turn of September the new single "40 Days" was available for download at all major digital shops around the world, including iTunes.

2009
- The 15th of march the new single "London" was released as a digital download.

- April/May - The Exploding Boy went on their second European tour. This time German gigs only. Plays at the Wave Gotik Treffen in Leipzig - the biggest goth/indie festival in Europe.

- May - The new album "AFTERGLOW" is released in Sweden.

- The 3d of august - "Afterglow" is released & promoted in Germany, France and Holland.

- September - The Exploding Boy signs a deal with the German booking agency "Wings Of Destiny" and a two week tour the same month is made.

- December - The Tour continues to the south of Germany and Switzerland. Some of the gigs are as support act to "The Crüxshadows" from the US.

- The 1:st of december the new single "Heart of Glass" was released as a digital download.

2010
- Reviews of the "Afterglow"-album is still coming in from all over the world.

- March - The promo-CD "Afterglow Club Ep" is made exclusively for the German promotion company "Hardbeat Promotion". It contains the 3 singles of the "Afterglow" album + "The Right Spot", and is only made for Dj promotion.

- The 18:th of March - "Afterglow Club Ep" is entering the German Alternative Charts (DAC), and the 29th of April it is reaching its best position, number 9.

- July - The Band is going on another tour in Europe, and for the first time to Belgium, at the amazing "Gothic Festival 2010".

- September - The Exploding Boy are doing their last shows for the year. A new album is in the works, and the band is not going to do any gigs until spring 2011.
If you are intrested of having The Exploding Boy on your stage next year, get in touch with the booker "Wings of Destiny" at www.wod.de, or with The Band at [email protected]


OFFICIAL MYSPACE
www.myspace.com/theexplodingboyse


RELEASED
2011 - CD - The Black Album
2010 - Promo - Afterglow Club Ep
2009 - Single - Heart of Glass
2009 - CD - Afterglow
2009 - Single - London
2008 - Single - 40 Days
2007 - CD - The Exploding Boy
2006 - Single - Cold Things Start to Burn
2006 - Demo - Vampire Ep
Genre not found
Artist not found
Album not found
Search results not found
Song not found