Seven seas - and a one year anniversary
It's all been so exciting but I feel like I've been hiding
Seven seas - between me and my whole family
I'm feeling uninspired because I'm seasick and I'm tired
Yesterday I made a friend I woke up and she flew in
Feathers carried by the wind while you were laughing with the men
And I noticed that the colors she wore were red and orange glow
Reminding me of home and I say no I can't do this alone
Seven seas - and the tank is full of gasoline
I need to get it started because the engine is where my heart is
Seven seas - and I'm buried underneath
The oxygen is clouded but I'll suffocate without it
No more lying in our bed waiting up 'till you get in
You've forgotten what you said and I can't sit here and pretend
That I'm happy as the only one out here that's far away from home
Out here on my own and I say no I can't do this alone
Seven seas and a one year anniversary
It's not for lack of trying, but I'm drowning without flying
Contributed by Liliana H. Suggest a correction in the comments below.
To comment on specific lyrics,
highlight them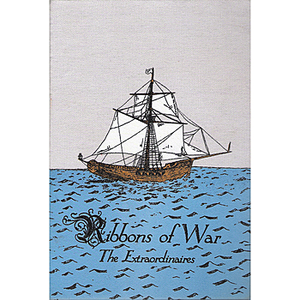 An indie rock group from Philadelphia, Pennsylvania currently signed to Punk Rock Payroll in South Philly, The Extraordinaires are a unique act. Their albums are released as handmade, hand-screened cloth-bound storybooks. Their shows are theatrical and energetic. Their singer's guitar is shaped like a fish.

The Extraordinaires have produced three full-length albums to date. Their first, "Ribbons of War," is a brilliant themed CD telling the operatic love tale of the brooding Captain, the fair Annelies, and their forbidden love.
Read Full Bio
An indie rock group from Philadelphia, Pennsylvania currently signed to Punk Rock Payroll in South Philly, The Extraordinaires are a unique act. Their albums are released as handmade, hand-screened cloth-bound storybooks. Their shows are theatrical and energetic. Their singer's guitar is shaped like a fish.

The Extraordinaires have produced three full-length albums to date. Their first, "Ribbons of War," is a brilliant themed CD telling the operatic love tale of the brooding Captain, the fair Annelies, and their forbidden love. Their second full-length - "Short Stories" - is a collection of stand-alones featuring tracks such as "The Arsonist" "Warehouse Song" and "Neighborhood Watch". In '08 they opened for Man Man on their acclaimed US tour and released "Battle of the Vans" a split 7-inch with label mates Kill You in the Face.

The Extraordinaires' newest album, entitled "Electric and Benevolent," is set for release on June 19th, 2009, as they kick off their US summer tour in Philadelphia. Music and updates can be found at their myspace: http://myspace.com/theextraordinaires
Genre not found
Artist not found
Album not found
Search results not found
Song not found