Wilson
Well, now, court is in session and my heart is the one on trial
Well, court is in session, baby, and my heart is the one on trial
It's been a long, long time, since my case been put on the file
Will you deliver me a verdict, I'm gonna have to rest my case
I want a quick decision, I got no more lovin' time to waste
Court is in session and my heart is the one on trial
It's been a long, long time, since my case been put on the file
Well, all your lovers are on the jury, the heartbreaker is the D.A.
Can't you see, now, baby, they wanna see me framed and put away
Yes, the court's in session and my heart is the one on trial
It's been a long, long time, since my case been put on the file
Well, now, can't you see baby, I'm gonna have to serve my time
I'm sentenced to keep on lovin' you, for committing a lover's crime, yeah
I'm bein' framed, the jury's all wrong
There's only two men and six women, yeah
I need a drink, can I get just one more phone call
Contributed by Audrey O. Suggest a correction in the comments below.
To comment on specific lyrics,
highlight them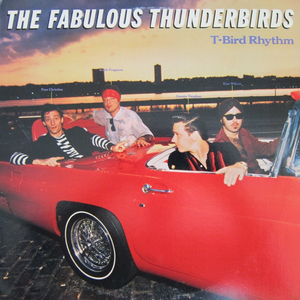 The Fabulous Thunderbirds is a blues rock band that got started in 1974, the group being best known for the massive 1986 hit "Tuff Enuff". The band's original line-up included guitarist Jimmie Vaughan, the older brother of the influential blues guitarist Stevie Ray Vaughan, and got popular in Texas' underground rock scene. After performing for several years in the Austin, Texas area, the guys earned a recording contract with Chrysalis Records and later signed to Arista.
Read Full Bio
The Fabulous Thunderbirds is a blues rock band that got started in 1974, the group being best known for the massive 1986 hit "Tuff Enuff". The band's original line-up included guitarist Jimmie Vaughan, the older brother of the influential blues guitarist Stevie Ray Vaughan, and got popular in Texas' underground rock scene. After performing for several years in the Austin, Texas area, the guys earned a recording contract with Chrysalis Records and later signed to Arista. The first two albums, released in 1979 and 1980 (with Keith Ferguson on bass and Mike Buck on drums), did not initially sell well but are now regarded as classic blues rock recordings.

Their style has mixed Texas blues with the harmonica-laced swamp blues sounds of the likes of Slim Harpo and Lazy Lester, both of whom the T-Birds have covered. Their third album, 1981's 'Butt Rockin'', took the band closer to classic rhythm and blues while featuring added piano and brass section sounds played by additional musicians. The band broke into the mainstream in 1986 with their album 'Tuff Enuff'. The single of the same name was featured in the Kirk Douglas and Burt Lancaster film 'Tough Guys' alongside their follow-up single, which they titled "Wrap It Up". A lively, powerful tune, "Tuff Enuff" has been played frequently over the years on many rock n roll stations. The band's music was also played in John Cusack's 1987 movie 'Hot Pursuit'.

The Fabulous Thunderbirds' next album, titled 'Hot Number', fell off the charts quickly and alienated many of the bands' long-time fans due to its slick, pop-oriented sound. The band then began a long series of line-up changes and obscure, yet somewhat improved, albums throughout the 90s. Drummer Mike Buck left the band in 1980, and guitarist Jimmie Vaughan left in 1990. More recently, the group has had line-up made up of original member Kim Wilson alongside guitarist/vocals Nick Curran, guitarist Kirk Flecther, Jimi Bott on drums, Ronnie James Weber on bass, and former Canned Heat member Gene Taylor on keyboards.

The official T-Birds website is at http://www.fabulousthunderbirds.com/

Alumni of the T-birds include:

Duke Robillard Fran Cristina Gene Taylor Jimi Bott Keith Ferguson Kid Bangham Kirk Fletcher Mike Buck Preston Hubbard Richard Innes Ronnie James Weber Steve Hodges Willie Campbell Kid Ramos Jimmie Vaughan Nick Curran Troy Gon
Genre not found
Artist not found
Album not found
Search results not found
Song not found