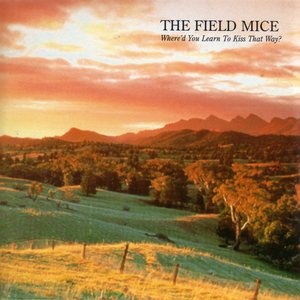 The Field Mice were an indiepop group which formed in 1987 in London, England. Along with Heavenly, they were the most popular group on the legendary and influential Sarah Records label.

The band originally consisted of Bobby Wratten (vocals, guitar) and Michael Hiscock (bass), but for most of their lifespan also included Harvey Williams (guitar), Annemari Davis (keyboards), and Mark Dobson (drums). The band split up in 1991 after an unctuous tour to promote the For Keeps album
Read Full Bio
The Field Mice were an indiepop group which formed in 1987 in London, England. Along with Heavenly, they were the most popular group on the legendary and influential Sarah Records label.

The band originally consisted of Bobby Wratten (vocals, guitar) and Michael Hiscock (bass), but for most of their lifespan also included Harvey Williams (guitar), Annemari Davis (keyboards), and Mark Dobson (drums). The band split up in 1991 after an unctuous tour to promote the For Keeps album, during which lead singer/guitarist Bobby Wratten announced he was leaving. He then, along with Davis and Dobson, formed Northern Picture Library. In 1995, Wratten founded Trembling Blue Stars.

Their first EP, Emma's House was released in late 1988, but it was with their 2nd single Sensitive that they first received significant critical attention with a subsequent placing in John Peel's 1989 Festive 50.

Over a three year career the band were often dogged with the reputation of having a post C86 indie pop or generic Sarah Records sound despite producing tracks with numerous styles and influences. Early singles and even their sleeves harked back to early Factory Records bands such as New Order and The Wake, with many tracks often featuring sequencers and samples. Many of the group's recordings, notably Triangle and their epic seven-minute swan song, Missing the Moon, displayed a strong influence from the popular dance music of the time. Most of the group's records were produced by Ian Catt, who later went on to perfect the pop dance sound of Missing The Moon with Saint Etienne and many other British bands of the early to mid 1990s.

A double-album compilation of the long-deleted Field Mice releases, Where'd You Learn To Kiss That Way?, was released in 1998 on the Shinkansen label and sold more copies than any Field Mice record ever sold at the time. Their entire back catalogue was reissued on CD for the first time by LTM Records in 2005.
Genre not found
Artist not found
Album not found
Search results not found
Song not found
We have lyrics for these tracks by The Field Mice:



A Wrong Turn and Raindrops Killing time on London Bridge before Catching the last train…
And Before the First Kiss You were low, we were so far from home Didn't think…
Anyone Else Isn't You Sad am I I'm sadder than sad I miss you so I miss…
Between Hello and Goodbye Correction. -- I love the way you look at me When…
Canada It breaks, time after time, your heart in two It breaks,…
Coach Station Reunion I'm so looking forward to tomorrow cause tomorrow I see you…
Couldn't Feel Safer In this dark room, in this bed When you hold me…
Emma's House Early morning by the harbour the clouds above form one sheet…
End of the Affair This is it, isn't it? This is the end For you and…
I Can See Myself Alone Forever Now and then it occurs to me I am still on…
If You Need Someone If you need someone to hold you when you are afraid I'll hol…
Let's Kiss and Make Up Without beforehand thinking sometimes I say things I could n…
Missing the Moon I believe As long as we- Two are in the world We'll…
Other Galaxies You are warm and sleepy I'm holding you You are warm and…
Sensitive We all need to feel safe Then that's taken away Sometimes I…
September's Not So Far Away I will, I'll always remember The days, the nights we spent…
So Said Kay Where'd you learn to kiss that way I don't know from…
The Last Letter Here is the letter The last letter The last ever I am so…
Think Of These Things That you have a life, A life besides me Bothers the hell, …
This Is Not Here We are friends close close friends you and I I told…
This Love Is Not Wrong Why is it they cannot see any love this precious? It…
Willow I said to you I'd always Want you and want you…
You're Kidding Aren't You When you say that you no longer love me When you…

The lyrics can frequently be found in the comments below, by filtering for lyric videos or browsing the comments in the different videos below.