Just watch the wrecking balls
Razing last year's crown
Burning bright like the best of falls
And so audible the sound
Just watch and watch
Stare and stare
Shed a tear and pretend to care
Oh to care
Shoved you face down in the muck
They said goodbye but not good luck
Oh just for a dime
I'd be obliged to watch you waste my time
My time
These statues they don't mean a thing
Your voice is gold my love
Please sing
My monuments they go unseen
I built them up just to see you dream
Oh just to see you dream
To see you dream
All rivers to the sea
And all roads back to me
Still just for a dime
I'd be obliged to watch you waste my time
My time
These statues they don't mean a thing
Your voice is gold my love
Please sing
My monuments they go unseen
I built them up just to see you dream
Oh just to see you dream
To see you dream
Contributed by Charlie C. Suggest a correction in the comments below.
To comment on specific lyrics,
highlight them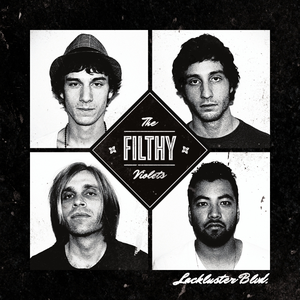 The Filthy Violets are an American rock band from San Diego, California, formed in 2010. They're commonly referred to as "T.F.V." by fans, and have taken the pseudonym to heart by implementing various logo designs onto merchandise and band paraphernalia. The band consists of Jesse Lafica (lead vocals/rhythm guitar), Jeremiah Lafica (lead guitar), Cesar Canjura (bass guitar) and Timothy Sams (drums).

Just weeks after forming, The Filthy Violets recorded their debut album, Lackluster Blvd.
Read Full Bio
The Filthy Violets are an American rock band from San Diego, California, formed in 2010. They're commonly referred to as "T.F.V." by fans, and have taken the pseudonym to heart by implementing various logo designs onto merchandise and band paraphernalia. The band consists of Jesse Lafica (lead vocals/rhythm guitar), Jeremiah Lafica (lead guitar), Cesar Canjura (bass guitar) and Timothy Sams (drums).

Just weeks after forming, The Filthy Violets recorded their debut album, Lackluster Blvd., and officially released it on Groopease.com, as the first band ever to be featured on the newly created site. Despite only having been together for 2 months, The Filthy Violets were nominated for and won the LA Deli Magazine's Top Emerging Artist of 2010 Fan Poll.

TFV has often been compared to The Arctic Monkeys, The Strokes, and The Libertines, for their Brit influenced, guitar-infused, upbeat retro rock. But their musical influences reach as far back as Jeff Buckley and even Jimi Hendrix.

The band is currently planning their first tour and will be on the road for the better part of 2012 to promote Lackluster Blvd. and test out new material for their follow-up album.

Official website: http://thefilthyviolets.com
Genre not found
Artist not found
Album not found
Search results not found
Song not found