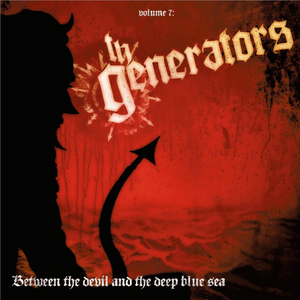 punk rock band from Los Angeles, started in 1997. they have recorded 9 studio albums. Lyrical themes: right-wing, nationalism, football, beer, girls... some members come from: Doug & The Slugz . Street Dogs .
Genre not found
Artist not found
Album not found
Search results not found
Song not found
We have lyrics for these tracks by The Generators:



13 You know, it's like, ah, you know, It's just a, it's…
30 Seconds Came in with the wind Got up and under my skin I…
All Night Long I like this right here, yeah Bad Boy, and we…
Down in the City it roars like a lion the sound of the streets rats in…
Fallen World From sea to poisoned sea. To the deserts of darfur. The…
Freedom I won't let you down I will not give you up Gotta…
Hanoi 68 charlie hurst was a rolling stone when he'd get his poison h…
In My Oblivion Tick, tick, tick, The ticking of the clock The second hand…
Lonely Boulevard No need to turn on the lights Itґs not a mystery…
New Disease The time has come Come undone I gotta run I…
Out of the Shadows I've washed my hands of this Walked away from it I've got…
Roll Out the Red Carpet BEEN WRITTEN OFF FOR DEAD AND GONE NOW TURNED YOUR BACK…
Room With a View Here I am In the inside looking out again I hang out…
Skeletons Is that you crawling Outside My Window Creeping me out ton…
Somewhere In the Rain Here I am, Off in the distance But Iґm still calling…
Sound Off The Alarms Lock the doors Iґm sensing danger Every day thing gets a lit…
Trainwreck Coming right down Coming right down the line The pistons fir…
Voices In The Night Sirens are ringin' The junk yard dog starts barking Anoth…
Wasting Your Time Let me drop the weight of my world on your…
Wonderland Searching for diamonds in a sulphur mine, Leaning on props t…
You Against You Everybody's gone, everybody's gone Me, you Thank god everybo…

The lyrics can frequently be found in the comments below, by filtering for lyric videos or browsing the comments in the different videos below.