Four Letter Word
The Gossip Lyrics
Oooh
Oooh, oooh, ooh, ooh, oooh
Put my best foot forward
Trying to ignore the events of the day
Pacing back and forth
Slowly going nowhere
Running in place
And it looks like it's gonna rain again
Ohhh another four letter word
Never gonna be the same again
Ohhh another four letter word
Oooh
Oooh, oooh, ooh, ooh, oooh
Oooh, oooh, ooh, ooh, oooh
Staring out my window
Look down at the street below
Children at play
Round and round and round it goes
Where it stops no one knows
Their faces seem to say
That it looks like it's gonna rain again
Ohhh another four letter word
Never gonna fall in love again
Ohhh another four letter word
Love is a four letter word
That should never be heard
Love is a four letter word
A four letter word
Yeah
L is for leaving
O is for on time
V is for the voices warning me I'll lose my mind
E is for the ending
The unhappy ending of the four letter word
And it looks like it's gonna rain again
Ohhh another four letter word
I never want to see your face again
Ohhh another four letter word
Oooh
Oooh, oooh, ooh, ooh, oooh
Oooh, oooh, ooh, ooh, oooh
Yeah
Never gonna fall in love again
Never wanna to see your face again
Never gonna fall in love again
I never wanna see your face again
Lyrics © Warner/Chappell Music, Inc., BMG RIGHTS MANAGEMENT US, LLC
Written by: HANNAH BLILIE, MARY BETH PATTERSON, NATHAN HOWDESHELL

Lyrics Licensed & Provided by LyricFind
To comment on specific lyrics,
highlight them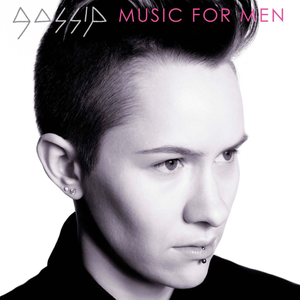 There is more than one artist with this name:

1) A 3-piece band which changed their name to Gossip in 2003, originally from Searcy, Arkansas, United States. Their most recent release is Music For Men. They formed in 2000 in Olympia, WA and are now based in Portland, OR. They have opened for bands such as Sleater-Kinney, Le Tigre and Sonic Youth. The members are Beth Ditto (vocals), Brace Paine (guitar) & Hannah Blilie (drums, replaced Kathy Mendonca - left the band to become a midwife).
Read Full Bio
There is more than one artist with this name:

1) A 3-piece band which changed their name to Gossip in 2003, originally from Searcy, Arkansas, United States. Their most recent release is Music For Men. They formed in 2000 in Olympia, WA and are now based in Portland, OR. They have opened for bands such as Sleater-Kinney, Le Tigre and Sonic Youth. The members are Beth Ditto (vocals), Brace Paine (guitar) & Hannah Blilie (drums, replaced Kathy Mendonca - left the band to become a midwife).

2) gossip (gossip) is a Japanese indies visual band with a dark and sinister edge that was formed in Tokyo in early 2005 by vocalist Hiro. Their first live took place at Takadanobaba AREA on May 11th. Currently they have released one mini-album, "obscene", and one maxi-single, "Newborn" with two new singles entitled "smell of skin" and "butterfly" planned for release late April and May, respectively.

Member lineup is as follows--

Vocals: 緋絽 / Hiro (ex-Visage)
Guitar: kaname (ex-Dystopia)
Guitar: 公佑 / Kousuke (ex-Deuse)
Bass: 卓也 / Takuya (ex-Pawn)
Drums: 雅美 / Masami (ex-Faust)
Genre not found
Artist not found
Album not found
Search results not found
Song not found