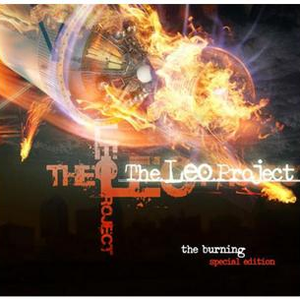 Founded in 2005 as an acoustic effort, The Leo Project has not so much found its…
Read Full Bio ↴
Founded in 2005 as an acoustic effort, The Leo Project has not so much found its niche as created one. Front man Tyler Lyon is joined by his cousin Lance Bennett on percussion and Sean Hamel on bass. Together they developed a sound and stage show that left acoustic in the dust but retained the musicality synonymous with that genre, becoming electric in every sense of the word. In 2007, the band's search for the perfect complement to their already bold and virtuosic ensemble was completed by the addition of guitarist Creighton Bibbs. Exploring the Metal edge of Rock with searing instrumentals, the combined vocal talents of all four members gives The Leo Project a mature lyric and harmonic presence.

From their combined talents and influences The Leo Project distills a unique sound. On first listen, one will detect the eclectic elements of such diverse artists as Pantera, Phil Collins, ZZ Top and Van Halen but ultimately the aural experience will be all The Leo Project. All of this is packaged in an intense live show that offers the audience an event unlike any other. Touring relentlessly in support of their debut album "The Burning" they have established a reputation as one of the premiere acts in the Midwest. The Leo Project is sought after by a variety of venues that promise their patrons the ultimate concert experience. Fans and industry professionals alike have been impressed when The Leo Project shares the stage with performers like Breaking Benjamin, Chevelle, 3 Days Grace, Seether, Slipknot, Sevendust, Godsmack, Rob Zombie, Shinedown, As I Lay Dying, Unearth, 36 Crazyfists, Hinder, Powerman 5000, Bobaflex, Hypnogaja, and many more.

Early 2009 will see the release of The Leo Project's much-anticipated second album. Studio work has been completed in collaboration with producer Fred Archambault (deftones, Avenged Sevenfold). This album showcases the bands special blend of soulful vocals, blistering guitars and pyrotechnic percussion while capturing the energetic yet intimate connection to the audience that is the hallmark of their live performances. Now on the indie label Burning Scissors Records, this is only the beginning for The Leo Project.
We have lyrics for 'The Burning' by these artists:
Axenstar
In the darkest of all ages, there was a wondrous…
British Lion
There's a place that I come from Where the disenchanted live…
Corpus Christii
Burning Sun so high above Will you ever hurt Me When I…
Crying Vessel
Watching the flames reflection in your eyes Wondering what …
D.U.S.T.
Burning in my heart- burning in my soul Gotta have it…
Elis
Burn! Destroy! Die! Now the time has come To destroy everyt…
From Graves of Valor
Stomach slashed and the rat is resurrected cold blades are…
Gargoyle
Hear me there is an evil among us We've got to…
Ghoultown
Never did hear what you say I don't need it anyway Never…
Graves Of Valor
Stomach slashed and the rat is resurrected cold blades are…
Insides Out
I'll reach out my hand and you'll turn the other…
Iron Curtain
As a star collapsed and died In a corner of the…
Khosouf
The preaching has begun The books have grown old The strings…
Noumena
Breathing, breathing This morning still shadows the night …
Paradox
[How the crusaders burnt the Cathars as punishment for their…
Richard Einhorn
Dominus condit sibi unum ignem dicendo sic: "vides hunc ign…
ruin-official
There´s a poison in my head There´s an evil inside on…
Seven
Мне плевать на твое пустое мнение. Посмотри в окно, за ним…
State and Madison
Ever since you woke me up in the night Stirring…
State Of Mind & Chris.Su
Shut up in my bones Burning flame Shut up in my bones It's…
We have lyrics for these tracks by The Leo Project:
Better Days
Sit down child, I'll tell you a story Whatever you do,…
Broken Wings
Baby I don't understand Why we can't just hold on To each…
Facedown
Something has changed in me... And I can′t believe Ten years…
Half As Good
Help me, S.O.S. I need your hand I don′t know if I…
Tonight
it's been a really really messed up week Seven days of…
Without The Sunshine
I can see it comin' and the sky is weary, bleak. Someone…
The lyrics are frequently found in the comments by searching or by filtering for lyric videos
Genre not found
Artist not found
Album not found
Search results not found
Song not found