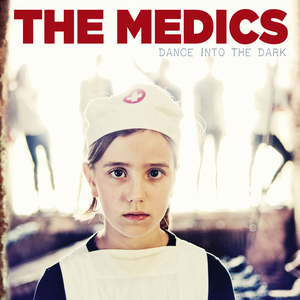 There are two artists with this name:
1. An Australian rock band
2. A Dutch indie rock band

1. The Medics are a rock band from Australia. The band consists of Kahl Wallace (vocals, guitar), Andrew Thomson (guitar), Charles Thomas (bass) and Jhindu Lawrie (drums). The band released the "This Boat We Call Love" EP in 2010 and have 2 full length albums to date. (Latest: Foundations 2012)

The band's story started in Cairns, Far North Queensland and
Read Full Bio
There are two artists with this name:
1. An Australian rock band
2. A Dutch indie rock band

1. The Medics are a rock band from Australia. The band consists of Kahl Wallace (vocals, guitar), Andrew Thomson (guitar), Charles Thomas (bass) and Jhindu Lawrie (drums). The band released the "This Boat We Call Love" EP in 2010 and have 2 full length albums to date. (Latest: Foundations 2012)

The band's story started in Cairns, Far North Queensland and has seen their emergence as one of Australia's most genuinely exciting new bands performing at Splendour in the Grass, Big Day Out, Laneway, Groovin' the Moo, Woodford and The Dreaming Festivals.

2. The Medics are an indie band which formed in Utrecht, The Netherlands in 2008. Along the way, The Medics have been labeled as 'Morrissey on speed', but gain also heavy influences from bands like The Strokes, Vampire Weekend and The Killers. Early 2009 The Medics released a three song EP. In October 2010 The Medics released the first single called City. Their debut album Dance Into The Dark with the same titled single Dance Into The Dark has been be released at the end of august 2011. Here's some well-produced synth rock mixing britrock sound of Franz Ferdinand (listen to City and wonder if Netherlands-based The Medics are secretly the Scottish alt rockers from the '00s) with the arena sound of The Naked and Famous. The Medics were featured on the the popular soccer video game FIFA 2012 alongside alt rock stars like The Strokes and The Vaccines. Since this publicity bump, the band has gotten positive response in soccer-obsessed nations Brazil and England.
Genre not found
Artist not found
Album not found
Search results not found
Song not found
A little bit of love
The Medics Lyrics
We have lyrics for 'A little bit of love' by these artists:



Alvin Lee Well the times have changed, and it's getting cold And I…
Andreas Johnson We gotta make a move Take a chance while the night…
Brenda Russell A little bit of love can go a long long…
Brenton Wood I was walking dead stuck inside my head I couldn't get…
DJ Luck Feat. MC Neat Ta na ne, ta na ne, ta na ne, ta…
Emilie Gassin I don't want to lose your heart And I don't want…
Fabiola Roudha Since I laid eyes on you I can't stop thinking of…
Jimmy Barnes You and IDon't mean nothing when were left out on…
Mr. Blotto Give a little love (3x) Give me something you can't get…
N.S.M. I just wanna get a little bit (Gladwin you're an angel) I…
New Edition Yeah Woo, ooh, ooh, ooh You say you want to be the…
Paul Williams She's the kind who says goodbye to houses When she's leavin…
Paul Young I believe If you give a little bit of love…
Ricochet I knew she was trouble when she asked me to…
Ru Paul times getting tough bringin' you down, down to the ground te…
RuPaul times getting tough bringin' you down, down to the ground …
The Mahones A little bit of love is what she wants Love is…
Wynonna Got a wishbone in my pocket, money to burn I ain't…



We have lyrics for these tracks by The Medics:



City Heartache takes me to town This could be a problem It look…
Dance into the dark Critical mass (About to boil over) Cycling fast (Oscillating…

The lyrics can frequently be found in the comments below or by filtering for lyric videos.