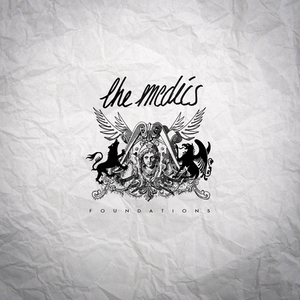 There are two artists with this name:
1. An Australian rock band
2. A Dutch indie rock band

1. The Medics are a rock band from Australia. The band consists of Kahl Wallace (vocals, guitar), Andrew Thomson (guitar), Charles Thomas (bass) and Jhindu Lawrie (drums). The band released the "This Boat We Call Love" EP in 2010 and have 2 full length albums to date. (Latest: Foundations 2012)

The band's story started in Cairns, Far North Queensland and
Read Full Bio
There are two artists with this name:
1. An Australian rock band
2. A Dutch indie rock band

1. The Medics are a rock band from Australia. The band consists of Kahl Wallace (vocals, guitar), Andrew Thomson (guitar), Charles Thomas (bass) and Jhindu Lawrie (drums). The band released the "This Boat We Call Love" EP in 2010 and have 2 full length albums to date. (Latest: Foundations 2012)

The band's story started in Cairns, Far North Queensland and has seen their emergence as one of Australia's most genuinely exciting new bands performing at Splendour in the Grass, Big Day Out, Laneway, Groovin' the Moo, Woodford and The Dreaming Festivals.

2. The Medics are an indie band which formed in Utrecht, The Netherlands in 2008. Along the way, The Medics have been labeled as 'Morrissey on speed', but gain also heavy influences from bands like The Strokes, Vampire Weekend and The Killers. Early 2009 The Medics released a three song EP. In October 2010 The Medics released the first single called City. Their debut album Dance Into The Dark with the same titled single Dance Into The Dark has been be released at the end of august 2011. Here's some well-produced synth rock mixing britrock sound of Franz Ferdinand (listen to City and wonder if Netherlands-based The Medics are secretly the Scottish alt rockers from the '00s) with the arena sound of The Naked and Famous. The Medics were featured on the the popular soccer video game FIFA 2012 alongside alt rock stars like The Strokes and The Vaccines. Since this publicity bump, the band has gotten positive response in soccer-obsessed nations Brazil and England.
Genre not found
Artist not found
Album not found
Search results not found
Song not found