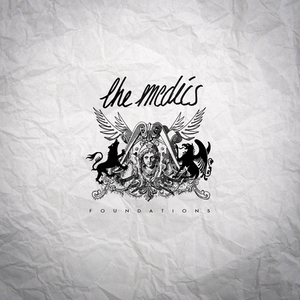 There are two artists with this name:
1. An Australian rock band
2. A Dutch indie rock band

1. The Medics are a rock band from Australia. The band consists of Kahl Wallace (vocals, guitar), Andrew Thomson (guitar), Charles Thomas (bass) and Jhindu Lawrie (drums). The band released the "This Boat We Call Love" EP in 2010 and have 2 full length albums to date. (Latest: Foundations 2012)

The band's story started in Cairns, Far North Queensland and
Read Full Bio
There are two artists with this name:
1. An Australian rock band
2. A Dutch indie rock band

1. The Medics are a rock band from Australia. The band consists of Kahl Wallace (vocals, guitar), Andrew Thomson (guitar), Charles Thomas (bass) and Jhindu Lawrie (drums). The band released the "This Boat We Call Love" EP in 2010 and have 2 full length albums to date. (Latest: Foundations 2012)

The band's story started in Cairns, Far North Queensland and has seen their emergence as one of Australia's most genuinely exciting new bands performing at Splendour in the Grass, Big Day Out, Laneway, Groovin' the Moo, Woodford and The Dreaming Festivals.

2. The Medics are an indie band which formed in Utrecht, The Netherlands in 2008. Along the way, The Medics have been labeled as 'Morrissey on speed', but gain also heavy influences from bands like The Strokes, Vampire Weekend and The Killers. Early 2009 The Medics released a three song EP. In October 2010 The Medics released the first single called City. Their debut album Dance Into The Dark with the same titled single Dance Into The Dark has been be released at the end of august 2011. Here's some well-produced synth rock mixing britrock sound of Franz Ferdinand (listen to City and wonder if Netherlands-based The Medics are secretly the Scottish alt rockers from the '00s) with the arena sound of The Naked and Famous. The Medics were featured on the the popular soccer video game FIFA 2012 alongside alt rock stars like The Strokes and The Vaccines. Since this publicity bump, the band has gotten positive response in soccer-obsessed nations Brazil and England.
Genre not found
Artist not found
Album not found
Search results not found
Song not found
We have lyrics for 'Rust' by these artists:



A Tortured Soul I love the rain as it falls from the sky Washing…
Akase This home is overrun We payed for it with rust Why so…
Anchor & Braille We're just machines rusting to breathe Hopeless, helpless, d…
Bears In Trees How do I explain Or even articulate That every day that I'm…
Black Label Society Living, fighting, obsessing Just as long as I can share it…
BLACK LABEL SOCIETY (feat. Zakk Wylde) Living, fighting, obsessing Just as long as I can share it…
Bombus Rust from before, all bright They came from the north, then…
BONES & GREAF Take your time it's only life or death Nothing too pressing…
Caitlyn Scarlett And all within a minute, I saw you look away I…
Charlie Lim Love You're just a war You shoot me down Like the morning st…
Charon Lost inside yet I found what brought me here Deep where…
Chugger I watched you shed your skin Peeled of the paint, leaving…
Darkthrone I come from a land Of systematic erasure of optimism and…
Discreation Show me your face Take off your mask Show me your face Revea…
DJ Krush Wait for (...) muscle…
Earthmother Oh, forgive me festering planet earth. Humans doth lay waste…
Echo & the Bunnymen I wish that you were here Down amongst the dust I need…
Echo And The Bunnymen I wish that you were here Down amongst the dust I need…
Heavy Hearts Drag me into the furnace, and let me sleep Tired of…
Holehearted Found your way in, Inaugurated your authentic skin, Now what…
Holy Soldier Sitting On A Weathered Bench In The Middle Of A Park, The…
Lagwagon They make your bed, don't they Long ago they fought and…
Life Awaits Do you remember when you said that this ain't love? We…
Lynn Miles Every line in your face is a road you've been…
MBLAQ Nae maeume nogi seuleossda Ijgo salajwo na eobsda Saenggagha…
Miles Lynn Every line in your face is a road you've been…
Miss May I Corners terrify when triggers are pulled. All sights await …
Monolord You are the reason that I lied You are the reason…
Must Must make distance fast Before that tender touch Makes my jo…
No Really I am not afraid of you You will not slow me…
Platon Karataev You, you were the ground on Which Jesus spit And put it…
QuietKind I am sickened, Toxic, Iron and salt. The shattered remains A…
Richie Kotzen Tell me please how a woman Can move you in so…
Rubberneck She says it's that time of the month, well now…
Sam Moss Oh it seems with us Though never quite the fools Shaking off…
Se7enSided Hello how are you feeling When your cell phone isn't ringin…
Semmelweis Reflex Dust scattered in the wind Countless lives swept away Rust…
Shelter Belt Wait for the time When we see it through I'm here inside …
Sordid Pink Who are Who are we I'm a machine Who are Who are they A fles…
Stalgia I am a ghost and I live in the dust I…
The Hellblinki Sextet The future seems to follow us into the distant past We…
Therapy? The letching corpse of rock 'n' roll The letching corpse of…
Tyson Motsenbocker You told me that all metal rusts If you wait long…
Unjust Doors to the lords With my words who deserves someone! no o…
VTB Tried to think for myself I fucked up, yeah I get…
Wester I don't get much light in here. These walls are…
Why We Run There′s a ghost I can't shake off my mind A distant…
Wide Mouth Mason There's nothing here I couldn't break If I loved it hard…
Yurmaine Visie was kortzichtig niet eens lang geleden 3 hete mannen…
Zakk Wylde Living, fighting, obsessing Just as long as I can share…



We have lyrics for these tracks by The Medics:



City Heartache takes me to town This could be a problem It look…
Dance into the dark Critical mass (About to boil over) Cycling fast (Oscillating…

The lyrics can frequently be found in the comments below or by filtering for lyric videos.