Is this really true
or am i dreaming?
I used to think that love
was not for someone like me
deep inside my heart i know
this feeling is true
Now that I Have you
by my side
i believe in love again
Baby tell me what you need
I'll be right there for you
baby tell me what you want
I'll show you the way
(bis)
Waiting for... waiting for...
you need me...
(bis)
Oh girl, let me tell you
how I feel...
Through after years
my heart belongs to you...
Contributed by Caleb I. Suggest a correction in the comments below.
To comment on specific lyrics,
highlight them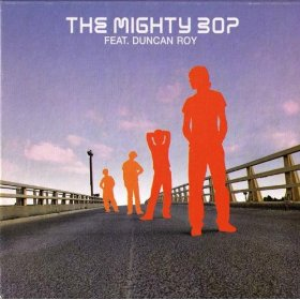 The Mighty Bop is a pseudonym of Christophe Le Friant, better known by the alias Bob Sinclar. Born 10 May 1967, he is a Grammy Award-nominated French record producer, House music DJ, remixer and owner of the label Yellow Productions.
Sinclar started DJing in 1986, when he was 18 years old, specialising in funk and hip-hop music, with the name Chris The French Kiss. His first club hit was "Gym Tonic", which was co-produced by Thomas Bangalter of Daft Punk, featuring vocals illegally taken from a Jane Fonda fitness tape.
Read Full Bio
The Mighty Bop is a pseudonym of Christophe Le Friant, better known by the alias Bob Sinclar. Born 10 May 1967, he is a Grammy Award-nominated French record producer, House music DJ, remixer and owner of the label Yellow Productions.
Sinclar started DJing in 1986, when he was 18 years old, specialising in funk and hip-hop music, with the name Chris The French Kiss. His first club hit was "Gym Tonic", which was co-produced by Thomas Bangalter of Daft Punk, featuring vocals illegally taken from a Jane Fonda fitness tape. The Bob Sinclar persona was based on a character from Philippe de Broca's film Le Magnifique.
Le Friant is famous for popularising the "French touch" of house music, with heavy use of sampled and filtered disco strings. His track "I Feel For You", a tribute to French musician Cerrone, from his second album Champs Elysées, hit #9 in the UK Top 40. On track "Darlin'", he worked with vocalist James "D-Train" Williams.
Le Friant has also worked under other pseudonyms. Under the aliases The Mighty Bop and Reminiscence Quartet, he has dabbled in hip-hop and acid jazz. He also created the Africanism project, where an ensemble of artists produce house music with a combination of Latin, jazz, African and tribal flavours.
In 2005 he scored a hit with the single "Love Generation", that reached #1 on the Australian ARIA Singles Charts and the German Media Control Single Charts in 2006. The song was a huge success throughout Europe, also peaking at no. 2 in the Dutch Top 40 and it stood 39 weeks in the Ultratop 50 in Belgium. It also became one of the official anthems for the World Cup 2006 held in Germany. The follow-up hit was "World, Hold On", that features Steve Edwards and also managed to chart in the top ten in most of the European countries. "Rock This Party (Everybody Dance Now)" followed on 22 August 2006.
The remix of "World, Hold on" by E-Smoove is nominated for a Grammy 2007 in the category Remixed Recording. Also, "World, Hold On" topped in Billboard Magazine as Number One Hot Dance Club Play Single of 2006, beating Madonna and Christina Aguilera.
The fourth single of the album Western Dream, called "Tennessee" was supposed to be released in April 2007, but it was cancelled due to the rumour of a new album being released[citation needed].
His latest album is Soundz of Freedom. It came out in France on 21 May 2007. The remix of "Rock This Party" reached number 1 in the Billboard Hot Dance Club Play
Source: http://en.wikipedia.org/wiki/Bob_Sinclar
Genre not found
Artist not found
Album not found
Search results not found
Song not found