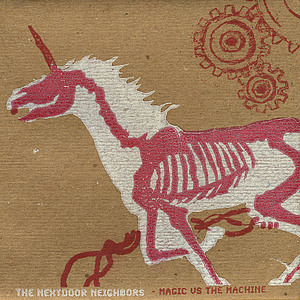 Jessie Hill supplies the words and melodies, framed by the electronic alchemy of Kathy Cote. Whether you call it folktronic or electro-folk-hop, the psychic link between these two neighbors is clearly heard in this organically-grown bedroom pop.
Genre not found
Artist not found
Album not found
Search results not found
Song not found
Greener
by
The Nextdoor Neighbors
We have lyrics for 'Greener' by these artists:



All The Day Holiday I look at the trees and I wonder: what's on…
Motorpsycho She wore her hair like a rock'n'roll star with that «wound…
One Inity Oooooooooh Ooooooh Thought life would be better If you spen…
Tally Hall Here's that part again Where everything's more than it shou…
Wideawake They say the grass is greener On the other side Time…
Zealand Worship I turn it over in my mind Thinking back, have we…



We have lyrics for these tracks by The Nextdoor Neighbors:



Magic Vs. the Machine I only count on What no one can remember No one will…

The lyrics can frequently be found in the comments below, by filtering for lyric videos or browsing the comments in the different videos below.

Help us build the world's largest lyrics collection by contributing lyrics in the comments below.